Team Lead Co-Op Intern - Atlanta and Athens, Georgia
Apply Now
Job ID: R0000111216
job family: Intern
schedule: Variable
Location: 3065 Atlanta Hwy, Athens, Georgia, United States, 30606-3334;
ALL ABOUT TARGET
As part of our collaborative and guest-obsessed team, you help us create an experience that makes guests say, "I love Target!" When you work at Target, you're helping every family discover the joy in everyday life. You're working alongside a dedicated team that brings their passion and pride to all that they do.
ALL ABOUT STORES LEADERSHIP
As a Co-Op Team Leader Intern, you will gain a valuable realistic job preview of a Team Leader role over a defined period of time and in multiple areas of the business to drive guest experience and impact your store's financial, team and operational performance. During this minimum 6 week (up to maximum 6 month) program, you will work closely with a mentor while learning different departments and functions within our stores. You will spend your days leading and motivating a team, driving sales results, merchandising products and providing an exceptional experience for our guests.
At Target we believe in our team members having meaningful experiences that help them build and develop skills for a career. The role of a Co-Op Team Leader Intern can provide you with:
·Knowledge of guest service fundamentals and experience building a guest-first culture on your team
·Experience supporting daily/weekly stores' workload to support business priorities and deliver sales goals
·Knowledge of retail business fundamentals: department sales trends, inventory management, guest shopping patterns, pricing and promotions strategies
·Skills in planning department(s) daily/weekly workload to support business priorities and deliver sales goals
·Skills in process improvements and workload efficiency
·Experience leading a team of hourly team members; including skills in interviewing, developing, coaching and motivating, evaluating and retaining talent
As a Co-Op Team Leader Intern, no two days are ever the same, but a typical day will most likely include the following responsibilities:
·Deliver an exceptional guest experience by ensuring team members are knowledgeable and empowered to make it right for guests.
·Provide new ideas and recommend solutions to business or team opportunities.
·Take initiative to learn how to be a Target leader by seeking out opportunities for growth and development; continuously learn throughout the internship experience.
·Commit to learning Target's expectations of leaders and use them to personally develop by asking questions and seeking feedback.
·Actively participate in internship program training activities, developmental opportunities and events.
·Demonstrate willingness to take risks, step out of comfort zone and take on new assignments.
·Partner with leaders to hold team members accountable to their performance by teaching, coaching, training and delivering timely performance feedback.
·Demonstrate a culture of ethical conduct, safety, and compliance; lead team to work in the same way and hold others accountable to this commitment.
·Stay current on your store's financial, team and operational performance; identify the root cause of problems and take action to achieve performance goals. Work with store leaders each day to set goals and expectations.
·Understand business reporting and guest insights to understand, troubleshoot and follow-up on opportunity areas.
·Gain understanding of all business areas to develop business acumen.
·Foster an inclusive, diverse, safe and secure culture.
·Carry out principle duties and responsibilities by department through internship rotations as trainedAll other duties based on business needs.
WHAT WE ARE LOOKING FOR
We might be a great match if:
·Working in a fun and energetic environment makes you excited…. We work efficiently and as a team to deliver for our guests
·Providing service to our guests that makes them say "I LOVE TARGET!" excites you…. That's why we love working at Target
·Leading teams who are stocking, setting and selling Target product sounds like your thing… That's the core of what we do
·You aren't looking for Monday thru Friday job where you are at a computer all day… We are busy all day (especially on the weekends), making it easy for the guest to feel welcomed, inspired and rewarded
The good news is that we have some amazing training that will help teach you everything you need to know to be a Co-op Team Leader Intern. But there are a few skills you should have from the get-go:
·Currently enrolled in a 2- or 4- year academic or vocational program
·High school diploma or equivalent
·Must be at least 18 years of age or older
·Previous retail experience preferred, but not required
·Strong interest in working in retail
·Lead and hold others accountable
·Learn and adapt to current technology needs
·Work independently and as part of a team
·Manage workload and prioritize tasks independently
·Welcoming and helpful attitude
·Effective communication skills
We are an awesome place to work and care about our teams, so we want to make sure we are clear on a few more basics that we expect:
·Access all areas of the building to respond to guest or team member issues
·Interpret instructions, reports and information
·Accurately handle cash register operations
·Climb up and down ladders
·Scan, handle and move merchandise efficiently and safely, including frequently lifting or moving merchandise up to 40 pounds
·Flexible work schedule (e.g., nights, weekends and holidays) and regular work attendance necessary, including working a minimum of 20 hours per week
Americans with Disabilities Act (ADA)
Target will provide reasonable accommodations (such as a qualified sign language interpreter or other personal assistance) with the application process upon your request as required to comply with applicable laws. If you have a disability and require assistance in this application process, please visit your nearest Target store or Distribution Center or reach out to Guest Services at 1-800-440-0680 for additional information.
Apply Now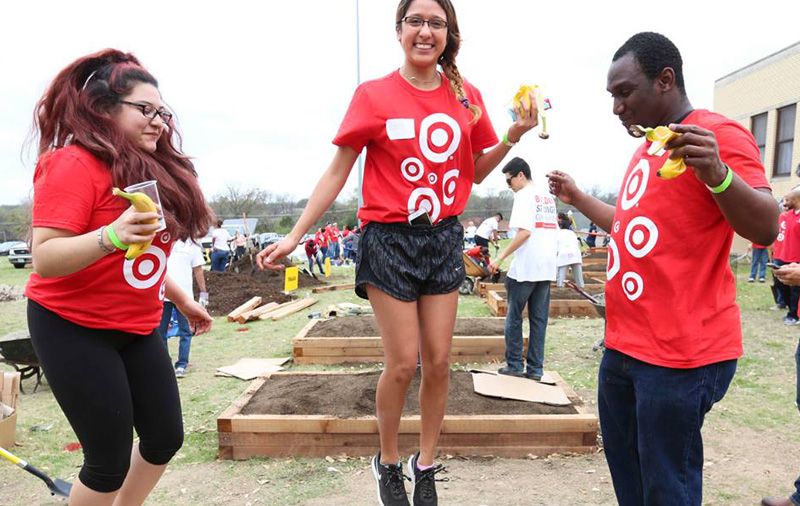 culture
What's it like to work here? We're asked that a lot. Target respects and values the individuality of all team members and guests—and we have lots of fun in all that we do.
experience our culture