Analyst Vendor Income
Apply Now
Location: Target Corporation India Pvt. Ltd., Bangalore, Karnataka, India, 560045;
job id: R0000214889
job family: Accounts Payable/Receivable
schedule: nullAnalyst Vendor Income
PRIMARY FUNCTION
     Track and log all check ,wire payments received in US bank in share point site. Work closely with collection team, vendors , buyers & merchant specialist to get the remittance and apply payments accordingly. Applying payments would involve application of payment to vendor income agreements, debit balance upload for vendors who are having outstanding due to Target  & transfer of payments to other general ledger in SAP if the payment is not realted to cash application team.
Review all vendor disputes in VCR and close them within the agreed SLA. Respond to vendor/internal partners email in the vendor income & coupon mailbox.
PRINCIPAL DUTIES AND RESPONSIBILITIES
Focus and clear the high dollar payments for cash application. Process the GL Reclass entries. Transfer payments to other GL's as per the details updated by payment owners in sharepoint and ensure the transfer to be approved by Manager. Frequently monitor the SAP balance and make sure the team to have very minimal cash balance outstanding in the month ends. Month end close - Review aged items for the team and ensure to escalate things to the appropriate partners Hanger VI payment application - Sales report needs to be extracted from Merch IQ and the vendor income needs to be calculated for dept wise allocation for entering online manual. Partner with reconciliation team clear the open items and ensure to have the changes updated in SAP. Post the month end close, prepare and publish the worklist summary details to all stakeholders. Update the Trail balance summary before the due date with detailed explanation of the outstanding cash Prepare the deck for monthly governance call with partners. Manage the team in the absence of team lead and ensure all the business needs are meet Drive the team for Innovative Ideas to streamline the existing process and add value to business. Review existing process to identify scope for automation and eliminate inappropriate process steps. Support the team for new projects. Collaborate with technical team and business teams for upstream fixes.
REPORTING/WORKING RELATIONSHIPS
Reports to the Cash application / Collection  Supervisor, Target India.  Works with Vendor Income , Collection & other Internal teams.
JOB REQUIREMENTS
MINIMUM REQUIREMENTS:
Degree in Accounting or Business
Minimum 5-7 years business experience
Sound reconciliation knowledge
Work load planning and allocation
Trouble shooting and solving technical problems ( Application , System issues)
Ability to draw conclusions from relevant information
Good presentation skills
Basic skills in Excel, Power point & Word
Ability to identify opportunities for improvements
Ability to effectively prioritize work
Understands and uses computer applications effectively 
Self Starter
Ability to communicate effectively with individuals and in groups
Ability to work and contribute in a team environment
Willing to work in flexible shifts
DESIRED REQUIREMENTS:
Previous Cash Application experience
Previous Accounting / Reconciliation experience
Previous Audit experience
Experience in Quality systems
Experience in Retail business
Experience in Transition
People management experience
Apply Now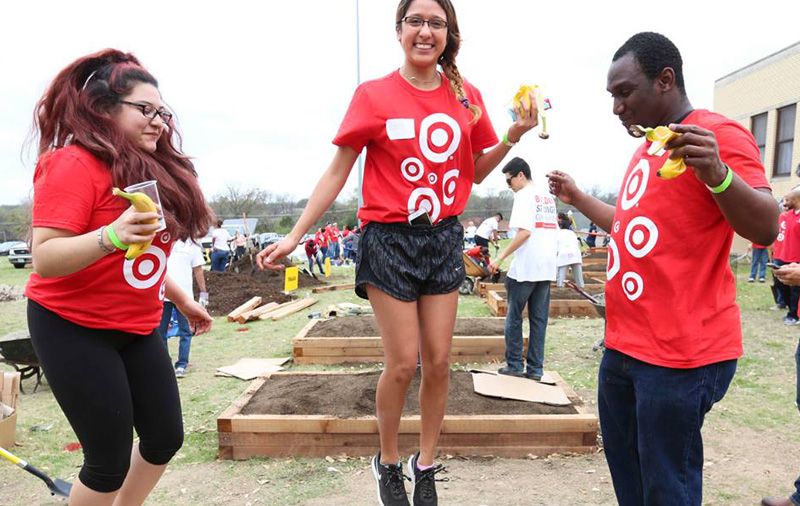 culture
What's it like to work here? We're asked that a lot. Target respects and values the individuality of all team members and guests—and we have lots of fun in all that we do.
experience our culture