Audit Analyst
Apply Now
Location: Target Corporation India Pvt. Ltd., Bangalore, Karnataka, India, 560045;
job id: R0000196916
job family: Process Engineering
schedule: Full time
About us:
Target is an iconic brand, a Fortune 50 company and one of America's leading retailers.
Right on pace with Target's distinctive retail brand, in a role in Target Finance and Accounting, you will
be a truly collaborative partner with a seat at the table. You'll bring your unique point of view, experience
and passion for the work to your team and internal clients. In Finance, you'll be an integral voice in
discussions that lead to Target's unparalleled shopping experience. Your analysis and recommendations
will be directly applied to critical business decisions, from sales to merchandising and beyond. Within
Finance, you'll enjoy the interesting challenges of the competitive retail space. You'll see your
contributions come to life in virtually every area of this dynamic enterprise. And you'll grow and be
challenged in your career while having a healthy balance with life outside of work.
Internal Audit provides independent assurance and risk insights to and collaborates with business owners
across the enterprise. You'll use professional judgment, analytics, agile concepts and other innovations
daily. You'll understand, assess the effectiveness of and help improve risk management capabilities (e.g.,
processes and controls) for Target's strategic, business and compliance objectives.
Roles & Responsibilities:
As an Audit Analyst with the Internal Audit team, you will be responsible for

Driving Internal Audit's data analytics strategy & efforts.

Working closely with the Internal Audit Management team in order to identify opportunities for
use of data analytics across an engagement lifecycle including Risk Assessment, Audit Plan
development, Fieldwork, Findings management, Quality assessment, Management Reporitng,etc.

Engaging with different internal audit teams to gather their data requirements and build data
models & tools that will enable them to have meaningful risk insights.

Providing data support for Internal Audit operations & use data visualization tools like DOMO to
build MIS reports & dashboards that can be leveraged by the leadership team in forums like the
Board Meetings, SOX Steerting Comitee, Audit & Finance Committee.

Being a valued partner in all the Automation efforts initiated by Internal Audit team by providing
the necessary data support in order to achieve the automation goals.

Supporting the management efforts in improving the Data Analytics acumen of the Internal Audit
team members through training, workshops & knowledge sharing.

Developing a strong understanding of Target's Enterprise Risks & Strategic priorities and the role
data analytics plays in support of the organization's goals.

Partnering closely with the Data Sciences team at Target to obtain acess to the different enterprise
level data stores like Big Data, Teradata and build custom dashboards.

Using quantitative & qualititiative analysis of control issues/findings identified by audit,
management or regulators, to identify potential risk themes emerging across the enterprise.

Leveraging enterprise data analytics tools like DataStream to perform ETL functionalities across
enterprise & financial applications like Archer eGRC,SAP, SharePoint,etc.

Demonstrating a high level of engagement at work by closely interacting with HQ Internal Audit
Team, participation in Internal Audit trainings, team building & community relations activities.

Being independent, innovative & proactive in taking steps for your personal development by
willingly taking on stretch assignments, cross-functional engagements & acquiring of new skills.
Job duties may change at any time due to business needs.

3 or 4 year college degree (IT, Accounting, Engineering or related field is preferred).

2 - 4 years of Data Analyst experience supporting an Audit, or Risk/Control function within a
large organization.

Hands on experience in working & solving complex business problems using a variety of data
mining & data analysis techniques like exploratory analysis, statistical modelling, etc.

Proven expertise in one of the database/programming languages like SQL,VB, R, SAS, Python,
etc.

Hands on experience in database technologies like Big Data, Teradata & visualization tools like
MS-Excel,Tableau, DOMO, QlikView, etc.

Hands on experience in projects involving complex ETL processing & operations.

Possess strong verbal and written communication, interpersonal and negotiating skills
demonstrated in dealing with varied stakeholders.

Self-driven, inquisitive, problem solver & a team player.
Preferences:

Big 4, Retail Industry Experience is a plus.

Data Science Certification in BigData/Hadoop/R/SAS, etc.
Apply Now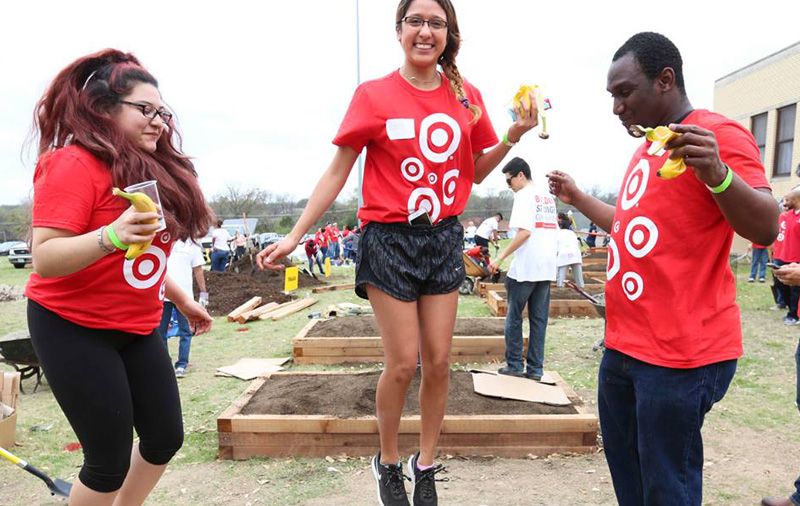 culture
What's it like to work here? We're asked that a lot. Target respects and values the individuality of all team members and guests—and we have lots of fun in all that we do.
experience our culture