BP Space & Presentation
Apply Now
Job ID: R0000152823
job family: Merchandising Presentation
schedule: Full time
Location: Target Corporation India Pvt. Ltd., Bangalore, Karnataka, India, 560045;
JOIN US AS  BUSINES PARTNER- SPACE PRESENATION & TRANSITIONS (SPT)
About us:

Target is an iconic brand, a Fortune 50 company and one of America's leading retailers.

Target Merchandising is evolving at an incredible pace. We are constantly reimagining how this $70 billion retailer offers the innovative, guest-inspiring items that Target is known and loved for. Our goal is to deliver exceptional value, quality and style to elevate Target as the premier retailer in a competitive global marketplace. Through intelligent and progressive business strategies that make the most of Target's resources and partnerships worldwide, merchandising works across product categories to create a localized shopping experience online and in our 1800 stores. Are you a creative problem solver who loves to see your work translate into real results? Can you collaborate effectively, execute a plan efficiently and positively influence how Target chooses and presents the right product in the right place at the right time? If so, you will have success on one of our dynamic teams.
As a part of Space, Presentation & Transitions, we are on a mission to optimize store space & product allocation, create most appealing product presentations and enhance in-store experiences for our guest while maximizing sales. We are responsible for ensuring the right item is on the right shelf in the right store. We do this by using data insights & analytics to determine the optimal footage for each assortment for every store ("adjacency") during the Space phase. Each store's assortment, which is curated keeping in mind guest & demographic needs, is then assigned to a planogram (POG) developed during the Presentation phase. These planograms are built using presentation best methods and are then assigned to the correct location in a store. We believe that strategically planning space allocation and presentation decisions will increase sales, improve guest satisfaction and reduce out-of-stocks. As a part of this team, you will partner with diverse cross-functional teams such as Store Design, Supply Chain, Marketing, Store Operations and Non-Retail Procurement from strategy to execution to achieve an inspiring and convenient in-store guest experience.
As a Business Partner in the SPT Operations team, you will act as a consultant to core business teams and play a key role in defining process best practices, process optimization as well as product integration that will enable these teams to implement the most suitable product placement & presentation in our stores.
As process owners, you will collaborate not just with the global team but also with various cross-functional teams across the merchandising pyramid to understand key strategic priorities & develop the most optimal processes that can be used by business teams to implement those strategies in our stores.
As pyramid owners, you will play a key role in providing these teams with the right knowledge resources & resolution support to enable them to deliver flawless outcomes.
You will also be a thought partner to our product development teams & help them develop the right technology solutions that can generate value for the global team.
As subject matter experts, you will own preparing documentation for all process/product changes and lead new hire trainings as well as peer mentoring sessions.
You will Lead/ participate in large scale projects with multiple CFT.
You will provide insights/ recommendations to enable fact based decision making by business leadership.
You will shape processes and solutions for the future and undertake process diagnostics.
You will Analyze/ recommend key metrics and create reports (fact packs) on strategic objectives to enable the business objectives
You will conduct working sessions with business stakeholders that drive to improvements and outcomes
Core responsibilities are described within this job description. Job duties may change at any time due to business needs.

About you:
MBA degree (Operations Mgt/ Project Mgt preferred) or 4+ yrs. experience in retail operations
Advanced project management skills
Strong logical thinking & analytical reasoning abilities
Structure problem solving skills (such as Lean/ Six Sigma) with application experience of process improvement tools & techniques
Peer leadership skills
Ability to navigate through ambiguous situations and guide others
Strong verbal & written communication skills
Excel in developing strong partnership and stakeholder management
Change agent- influence change and influence without authority
Action and results oriented, demonstrating flexibility and agility
Have an understanding on how various products/ technologies interact "architecture"
Team player and capable of originating, shaping and delivering value led projects
Strong communication and presentation skills
Adequate knowledge of data collection methods (polls, focus groups, surveys etc)
Strong analytical and critical thinking
Willing to take risks, challenge the status quo and work under ambiguous circumstances
Able to use data to influence senior leaders and defend his/her perspective
Ability to structure ambiguous problems, analyze complex processes, synthesize data and results, and drive toward insight and solutions
Ability to build a strong network within Target; has the ability to leverage resources and relationships to get things done
Empathetic; ability to inspire team members and leaders to achieve results
Competent in project management; has the ability to manage tight deadlines
Strong interpersonal skills (listening and communication) characterized by effective interactions with a diverse range of internal and external constituents, stakeholders, and audiences.
Desire to learn new capabilities and enable others to do the same
Apply Now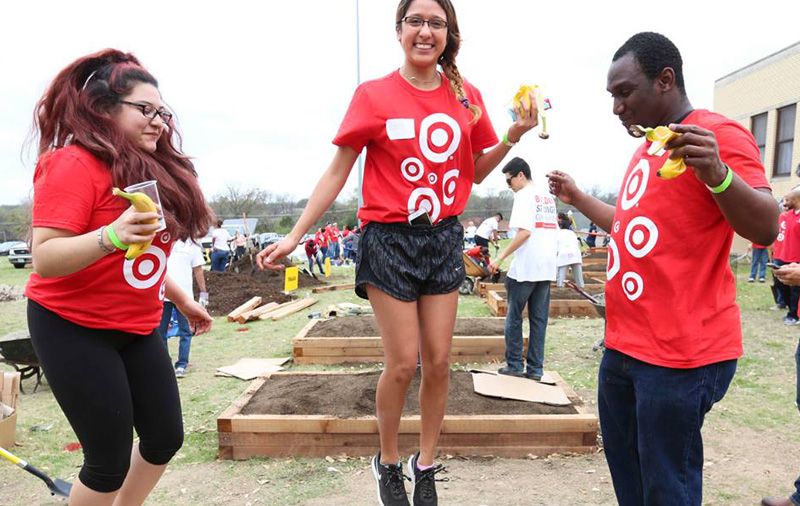 culture
What's it like to work here? We're asked that a lot. Target respects and values the individuality of all team members and guests—and we have lots of fun in all that we do.
experience our culture