Copywriter
Apply Now
Location: Target Corporation India Pvt. Ltd., Bangalore, Karnataka, India, 560045;
job id: R0000253498
job family: Editing/Writing
schedule: Full time
About us
Target is an iconic, beloved, and well-recognized brand, a Fortune 50 company and one of America's leading retailers.

Fueling the continued success of one of the world's most beloved and recognized brands is a distinctly capable, creative, and innovative Marketing organization. Target Marketing is well known for inspiring and surprising guests, and we pride ourselves on connecting them to the products and experiences they expect and deserve from Target. We study our guests to discover new needs and insights, and then craft every interaction to build brand love. We are market experts who insist on a clear and cohesive understanding of our business objectives, guest segments and behaviors, strategies, and tactics, overcoming obstacles and measuring success. Our commitment to partnering both internally and with external agencies gives us a wide range of capabilities, from award-winning creative work to exciting and unique promotional marketing. Leveraging our collective assets and fostering a healthy, supportive, and open team culture, we deliver a holistically gratifying experience that guests can only get at Target.
We are a creative unit dedicated to bringing one of the world's most beloved and recognizable brands to life. Whether through design, marketing, or brand work, we are the driving force behind delivering Target's dynamic, inventive and unmistakable storytelling to its massive global audience. Our mission is to inspire a sense of joy, wonder and excitement, and to take our guests—and ourselves—somewhere new. Never resting on past wins or settling for anything less than extraordinary, our origin story built us to thrive in the competitive and changing retail marketplace. We tell a compelling and cohesive brand story, maximizing our messages across multiple platforms—whether via a digital art gallery or a new $1 billion children's clothing brand. Operating as one fully integrated team in both Bengaluru and the U.S., we comprise of the best and brightest talent to execute market-leading creative strategy, design, writing, video production, operations, digital, UX, social media and more. We leverage smart and rewarding external partnerships while closely aligning with our Target teams. Together, we tackle every creative challenge with our amplified strengths, ultimately bearing the groundbreaking creative work that helps make Target the decisive guest favorite, year after year.
About this Opportunity
We're looking for a Copywriter to work on digital content for Target's website. You will be required to collaborate with a team of art directors, site merchants, project managers & business councils to write copy for brands across different categories. There will be partners in MPLS with whom you will have to liaise, collaborate and communicate with on a regular basis. You will have to consistently come up with innovative, eye-catching work that is in line with the Target brand, which should increase guest loyalty and, ultimately, drive sales.
Roles and Responsibilities
Write content for Target's website across categories such as F&B, Health & Beauty, Clothing and more.
Collaborate & brainstorm with creative teams on concepting and writing copy
Manage multiple projects, balance timelines and present work at various forums
Learn & use new tools and software that the role may require
Write copy that is consistently in-tune with the Target voice and stay current with the latest editorial, cultural and design trends
Interact with partners & teams both in India & Minneapolis
Promote commitment to the organization's purpose, values and direction
Stay up-to-date on emerging trends, innovations and advancements in brand & packaging
Adapt appropriately to competing demands and shifting priorities
Follow defined best methods and procedures
Ensure quality and accuracy of work
Seek creative solutions to overcome obstacles
Personal Attributes
Strong communication and organizational skills
Possesses excellent problem solving, critical thinking, presentation and communication skills
Ability to establish rapport with peers
Flexible and willing to unlearn just as much as to learn.
Ability to take direction and be flexible and open to change
Having a worldview & global exposure
Requirements
Minimum 2 - 5+ years at an Advertising agency
A completed 3-year college degree
Strong portfolio demonstrating breadth of writing capabilities, particularly in retail
Strong understanding of US culture & trends
Excellent command over the English language, both spoke & written
Benefits:
About Target®
Expect the Best. At Target, we have a vision: to become the best – the best culture and brand, the best place for growth and the company with the best reputation. We offer an inclusive, collaborative and energetic work environment that rewards those who perform. We deliver engaging, innovative and on-trend experiences for our team members and our guests. We invest in our team members' futures by developing leaders and providing a breadth of opportunities for professional development. It takes the best to become the best, and we are committed to building a team that does the right thing for our guests, shareholders, team members and communities.
Minneapolis-based Target Corporation serves guests at stores nationwide and at Target.com. Target is committed to providing a fun and convenient shopping experience with access to unique and highly differentiated products at affordable prices. Since 1946, the corporation has given 5 percent of its income through community grants and programs like Take Charge of Education®.
Apply Now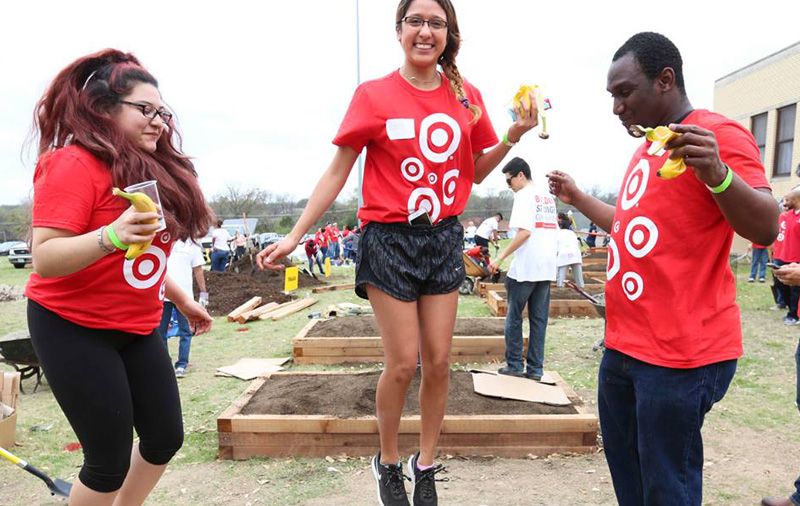 culture
What's it like to work here? We're asked that a lot. Target respects and values the individuality of all team members and guests—and we have lots of fun in all that we do.
experience our culture