Corporate Security Consultant
Apply Now
Job ID: R0000135233
job family: Security & Loss Prevention
schedule: Full time
Location: Target Corporation India Pvt. Ltd., Bangalore, Karnataka, India, 560045;
PRIMARY FUNCTION:
The C3A - Corporate Command Center Asia Consultant is responsible for implementation of daily operations of the security center to ensure a safe and secure work environment for Target by responding, to all incidents that are impactful or potentially impactful to security, brand and team members. The C3A Consultant supports security initiatives through methods of prevention, detection, analysis, and response. This position is responsible for using best practices for communicating information surrounding incidents to both Target India and partner teams as appropriate.
PRINCIPAL DUTIES AND RESPONSIBILITES
Threat Intel monitoring: The C3A consultant will monitor multiple internal and external open source intel (OSINT) resources to proactively identify, analyze and alert potential physical security vulnerabilities and/or threats to Target in India and APAC. The consultant will also assist with the regional security measures by providing timely accurate information to the relevant teams by discerning what information is important and relevant to operations.
Travel Security: The consultant will also support business travelers by implementing Target's Travel Security Program policies, advising on security issues and producing ad-hoc travel risk assessments for APAC business travelers.
Crisis Management, Communication and Dissemination: During a crisis or a developing situation the consultant will be responsible for working closely with the team to monitor, research, and produce analysis of gathered intelligence as well as optimally communicating with necessary business partners to support crisis management processes and situations. Uses multiple internal and external resources to manage information and intelligence about that can potentially impact team members. This includes monitoring of open sources, publishing communication products for Target India.
Monitoring and Surveillance: Will be responsible for certainly managing the security and safety for multiple locations and team members. This includes, managing security apparatus including CCTV systems for multiple locations, leading significant activities such as cameras layout and mapping. CCTV and alarm monitoring, creating/managing the CCTV functionality report along with pulling together the metrics and scoreboard.
Access Control: Manage and lead access control for multiple locations including access reconciliation and granting of access, revoking of access along with managing contract team member access reconciliation. A key ingredient if thin role will also include ensuring that all access control policies and procedures are well implemented and adhered to.
Alarm Monitoring: Will lead the monitoring alarms across multiple locations along with taking timely action on critical alarms as per best practices. This includes, but no unlimited alarms for CCTV, door alarms, fire safety, evacuations, duress alarms, building temperature alarms, transport panic alarms, natural disasters etc. This includes ensuring a security check of restricted accesses and managing the daily alarm reports.
Transport Security- Monitoring and Emergency Responses: Will be responsible for leading efforts on providing safe and secured transportation in collaboration with multiple external and internal partners. A key focus for Target, this includes timely action on any panic alarm for cabs, ability to any crisis during transportation, creating transport panic alarm reports, collating the GPS status as well as ensuring airport travelers escort support for women business travelers.
Serviceability of Security Equipment: Ensures smooth functioning of all critical equipment by identifying and driving resolution of systems (both software and hardware) when malfunction occurs. This includes serviceability of all safety equipment including door alarms, CCTV cameras),  C3A applications, fire alarms systems and all other C3A equipment, Partnering with the facility security team to identify if the doors, readers and other security equipment that are not working properly and work with external vendors to have the same rectified.
Proficient in Microsoft Office suite, particularly SharePoint and Excel. Basic understanding and experience of SharePoint management required (advanced proficiency will be preferred).
REPORTING/WORKING RELATIONSHIPS:
This position will report directly to the C3A Senior Manager. These team members will also interact with Global crisis Management team, the Business Continuity team, Risk Intelligence apart from various levels of Target India Leadership, and other key partners.
JOB REQUIREMENTS
Minimum Requirements:
5 Years' experience in security or crisis management
Excellent verbal and written communication skills
Strong analytical and problem solving skills
Self-Motivated and able to work with little or no direct supervision
Strong decision making ability during both security, crisis and non-crisis situations
Able to work with highly confidential information
Able to work and communicate effectively with all levels of leadership
Flexible schedule, willing to work shifts during non-business hours (includes weekends and public holidays)
DESIRED REQUIREMENTS
Graduate in any stream
Previous crisis management experience
Previous security operations center experience
Apply Now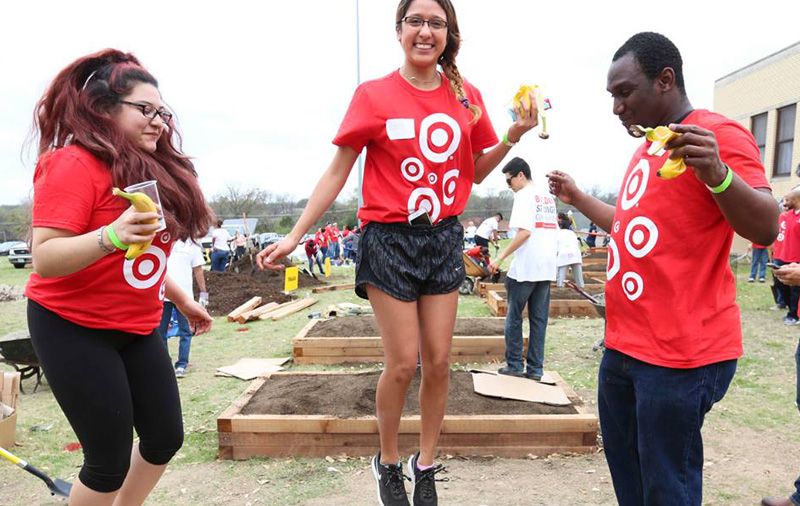 culture
What's it like to work here? We're asked that a lot. Target respects and values the individuality of all team members and guests—and we have lots of fun in all that we do.
experience our culture