Director Product Management - Finance
Apply Now
Location: Target Corporation India Pvt. Ltd., Bangalore, Karnataka, India, 560045;
job id: R0000300392
job family: Technology Product Management
schedule: Full time
About Us:
As a Fortune 50 company with more than 400,000 team members worldwide, Target is an iconic brand and one of America's leading retailers.
Working at Target means the opportunity to help all families discover the joy of everyday life. Caring for our communities is woven into who we are, and we invest in the places we collectively live, work and play. We prioritize relationships, fuel and develop talent by creating growth opportunities, and succeed as one Target team. At our core, our purpose is ingrained in who we are, what we value, and how we work. It's how we care, grow, and win together.
Right on pace with Target's distinctive retail brand, Target Finance and Accounting are transforming for the better. As so much more than a financial analyst or a behind-the-scenes number-cruncher, you will be a truly collaborative partner with a seat at the table. You'll bring your unique point of view, experience and passion for the work to your team and internal clients. In Finance, you'll be an integral voice in discussions that lead to Target's unparalleled shopping experience. Your analysis and recommendations will be directly applied to critical business decisions, from sales to merchandising and beyond. Within Finance, you'll enjoy the interesting challenges of the competitive retail space, and you'll have a 360-degree impact—rather than on just one part of the business. You'll see your contributions come to life in virtually every area of this dynamic enterprise. And you'll grow and be challenged in your career while having a healthy balance with life outside of work.
A role in Finance Capabilities means partnering with Finance, technology, data science and analytics leaders to co-create solutions that maximizes business value and enables key strategies that are critical to the enterprise and for the experiences we create for our guests.  Truly an owner and expert of your product and underlying processes, you will set the vision, align on the roadmap and mobilize teams to deliver needed outcomes. Given most strategies have a Finance impact, you will also serve as a trusted resource to guide other enterprise partners in their solutions to ensure the success and integrity of end-to-end deliverables.
About the Job:
Product Teams at Target Corporation are accountable for the delivery of business outcomes enabled through technology and analytic products that are easy to use, easily maintained and highly reliable.  Product teams have one shared backlog that is inclusive of all product, technology and design work to support the capabilities (people, process, and technology) assigned.
As a Product Director, you will set the overall strategic vision for the Accounts Payable, Fixed Assets, and Project Accounting product space, including understanding the landscape of current technology, how trends will affect the product in the future, and how to communicate with technology teams to ensure they understand the business needs and objectives. You will play a significant role in the future design for how Target leverages SAP to enable critical capabilities, including managing through the upgrade to SAP S/4 HANA, as well as have the opportunity to leverage your creative skills in exploring new technology solutions for Accounts Payable capabilities. You will take the lead on:
Being accountable for succeeding against identified business outcomes and metrics, will set and manage the product's budget and financials, set the short and long term product goals, and quarterly Objectives and Key Results (OKRs).

Building and maintaining the broader product capability roadmap. Make final decisions on any scope changes to prioritize key features. 

Collaborating with outside stakeholders to ensure that their needs are met and that the product team is getting any support it needs. 

Own business value generation and the economic cost to deliver. Select and manage vendors for the product. 

Lead broad scale transformation of the Finance product portfolio, including stakeholder and change management. 
You will drive product discovery with key stakeholders to validate hypotheses and concepts with customers before committing engineering time, as you lead highly complex work across multiple pyramids, with interrelated specialties. You will leverage data to provide competitive analysis, drive decision making, assess the health and effectiveness of your products and related P&L impacts, and to deliver recommendations to key stakeholders.
In addition to product, you will provide leadership to the data analytics and automation team which provides critical data, insights and reporting capabilities to Finance, and the systems operations team charged with critical functions related to month-end accounting processes and maintaining appropriate control environments. Your impact will be magnified by bringing together all these vital enabling capabilities in service of driving greater outcomes for Target.
You will be accountable for building, coaching, and mentoring a strong team while also building a strong team culture of progress, transparency, and efficiency across teams. You will be responsible to build and develop a strong performing product, data analytics, and systems operations organization while also working with senior leadership and peers across pyramids to negotiate and remove execution related barriers for your teams.
You will leverage your understanding of retail, finance, or similar area, relevant technologies and design principles and expert problem-solving and relationship management skills to drive innovative and scalable solutions across multiple pyramids within Target.
Job duties may change at any time due to business needs.
About You:
Four-year degree or equivalent experience

10+ years of product management experience or equivalent domain experience, preferably in Finance

Experience with technology and data – particularly SAP and in the Finance space - and ability to facilitate communication between business and technology teams

Strong communication skills and proven ability to influence both at a strategic leadership level and cross functionally

Expert at working in the agile environment (e.g. user stories, iterative development, scrum teams, sprints, personas)

Strategic mindset and bias for action with strong ability for strategic planning, defining OKRs and driving business outcomes

Ability to lead and influence a team while fostering relationships across multiple enterprise wide teams

Expert problem-solving, critical thinking, and data-driven decision making skills

Strong stakeholder relationship management skills

Experience leading through major SAP upgrades at mid-to-large corporations preferred
Apply Now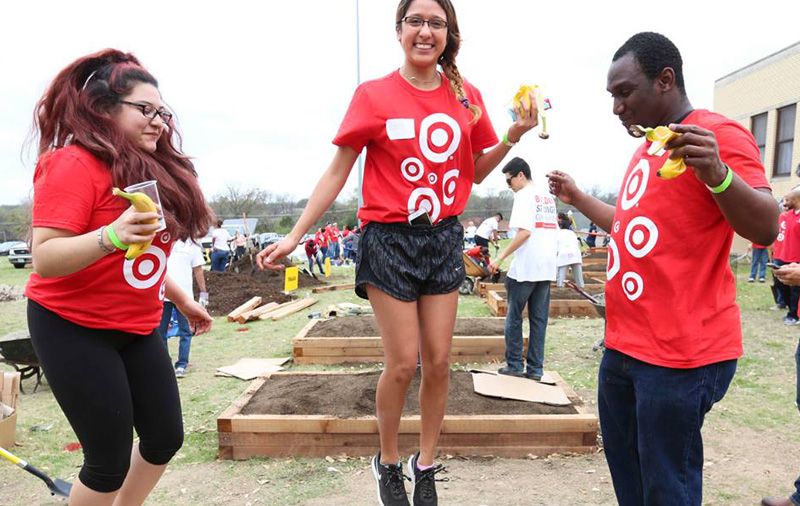 culture
What's it like to work here? We're asked that a lot. Target respects and values the individuality of all team members and guests—and we have lots of fun in all that we do.
experience our culture