Engineering Management Immersion Program (eMIP) Sr. Engineering Manager
Apply Now
Job ID: R0000078167
job family: Technology Engineering
schedule: Full time
Location: Target Corporation India Pvt. Ltd., Bangalore, Karnataka, India, 560045;
Description:
About This Opportunity
Target is an iconic brand, a Fortune 50 company and one of America's leading retailers. Target as a tech company? Absolutely. We're the behind-the-scenes powerhouse that fuels Target's passion and commitment to cutting-edge innovation. We anchor every facet of one of the world's best-loved retailers with a strong technology framework that relies on the latest tools and technologies—and the brightest people—to deliver incredible value to guests online and in stores. Target Technology Services is on a mission to offer the systems, tools and support that guests and team members need and deserve. Our high-performing teams balance independence with collaboration, and we pride ourselves on being versatile, agile and creative. We drive industry-leading technologies in support of every angle of the business, and help ensure that Target operates smoothly, securely and reliably from the inside out.
As an Engineering Manager in our eMIP, you will be in Target's exclusive 12-month on-the-job training program focused on the leadership of engineering teams.

You will receive a mentor, an individualized curation of training, and an advisory board to help connect you at Target during and after the program. Up to 50% of your week will be devoted to hands-on learning and development while working in a Lead Engineer role. After the 12-month program, the goal is for you to be ready to be considered for a Sr. Engineering Manager role within one of Target's Technology teams.

This program is aligned with Target's commitment to diversity and to building diverse teams. To help accomplish those goals, the on-the-job training program will focus on groups that are under-represented in the engineering industry. We are looking for driven, motivated, female engineering professionals for our Sep 2020 Cohort, starting at Target between now and July. Please apply directly to the requisition and further application
instructions will be emailed to you. This program is open to qualified female
candidates for the eMIP cohort. By submitting this application, you confirm
that you self-identify as female.

Required:
 • Experience with software development or infrastructure cloud engineering within the modern technology stack. Experience with at least 8+ years
• Strong technical aptitude – Java/J2EE, Python, Golang, Spring Boot, Kotlin and other open-source web frameworks
• Strong computer science fundamentals in algorithms, data structures, databases, operating systems, etc
• Good Experience in coding best practices in including unit test case code coverage and Performance testing.
• Good to have experienced in microservice Architecture with a strong understanding of disturbed systems design.
• Hands of experience in object-oriented Design and principles (SOLID Principles)
• Very strong communication, ability to read, understand, fix, and document code written by other engineers. Experience in any of the database. (RDBMS, NO SQL Stores like Cassandra, HBase etc)
• Experience taking the lead in a development/engineering team. Desire to move into a formal engineering management role while remaining hands-on and close to technology.
• Agile Mindset (ability to adapt/change direction vs. 2yr plan) and understanding of concepts
Apply Now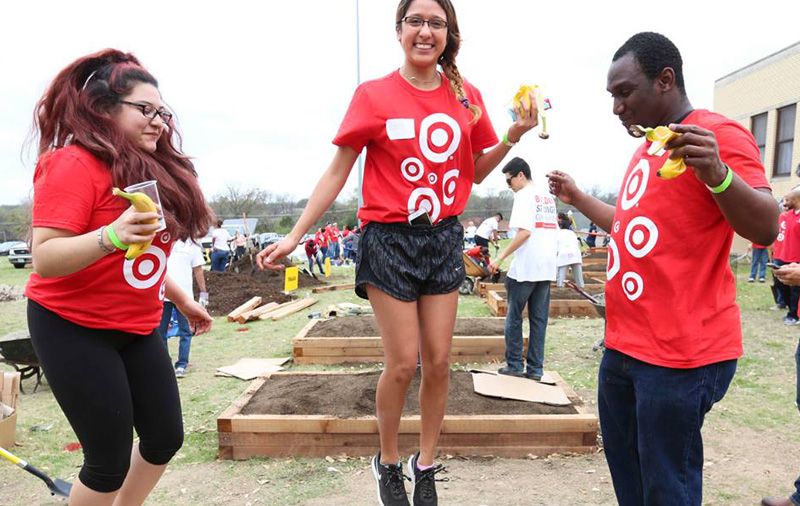 culture
What's it like to work here? We're asked that a lot. Target respects and values the individuality of all team members and guests—and we have lots of fun in all that we do.
experience our culture