L7-Director, Product Management-Target India
Apply Now
Location: Target Corporation India Pvt. Ltd., Bangalore, Karnataka, India, 560045;
job id: R0000216405
job family: Technology Product Management
schedule: nullDirector Product Management
DIRECTOR PRODUCT MANAGEMENT – Initial Item
The Initial Item Product Director will drive the product strategy of Target's Item Catalogue.  This team focuses on data acquisition, automation of item attribution, ontology & classification, and item system management.  The ideal candidate will have a deep understanding of how item data should be leveraged across the Enterprise to power operational execution and the Guest Experience with an eye towards innovation and operational excellence.  In this role, you will partner with the Item Intelligence and Curation teams to unlock the new strategy that leverages Item data management as an accelerant and amplifier to Target's curated assortment strategy.
As a people leader, you will be responsible for building a team of highly capable product managers of varying levels of experience to deliver outsized impact. In this capacity, you will act as coach and mentor to build a strong team culture that is pragmatic in its approach to ambitious goals. You are experienced and comfortable using constructive feedback and insights to motivate the team, guiding their development and continued growth as influencers, visionaries and impact drivers.

As the Director of Product Management, you are accountable for succeeding against identified business outcomes and metrics, driving alignment with all partner teams within the Digital, Merchandising, Data Sciences, Stores and Supply Chain organizations. You are an excellent storyteller, able to influence without authority and distill technically complex concepts into non-technical, easily understandable elements. You are able to work with and present to team members at all levels, including senior leadership, as you negotiate and remove barriers for your team.
About us:
Target is an iconic brand, a Fortune 50 company and one of America's leading retailers.
Right along with Target's distinctive retail brand, we are constantly improving and innovating our digital shopping experience. Are you ready to excel in the fast-changing retail environment? Are you a customer service enthusiast who's curious about the guest and can see the shopping journey through their eyes? Then you'll have success on the Digital Strategy & Platform team, whose goal is to offer guests a seamless online shopping experience across our platforms—including Target.com and the store network's fulfillment capabilities. Here, you'll collaborate to create and implement the digital strategies that enrich the online experience through the right mix of personalization, simplicity and intuitiveness. Your ideas will support Target in complementing the beloved in-store shopping interaction with a convenient, reliable and instantly gratifying digital experience. 
  As a Director Product Management, you'll take the lead as you… 
Set key product objectives and develop product, business, and customer strategy. Understand the landscape of current technology, how trends will affect the product in the future, and how to communicate with technology teams to ensure they understand the business needs and objectives. 
Coordinate across product scrums to ensure that every team has defined scope and clear objectives. 
Oversee progress against product backlogs to ensure work and priorities are in line with product strategy and goals. 
Build and maintain the broader product capability roadmap. Make final decisions on any scope changes to prioritize key features. 
Collaborate with outside stakeholders to ensure that their needs are met and that the product team is getting any support it needs. 
Own business value generation and the economic cost to deliver. Select and manage vendors for the product. 
Lead broad scale transformation of the Initial Item product portfolio, including stakeholder and change management. 
Build and develop a strong performing product management organization.
Core responsibilities of this job are described within this job description. Job duties may change at any time due to business needs.
About you: 
Four-year degree or equivalent experience. 

10+ years of hands-on product experience or equivalent domain experience, including SDLC and Agile methodologies, building large-scale systems with a Customer centric, iterative and data driven approach.

Experience with big data and machine learning, including analytics and data science tools

Prior experience with intelligent process automation and digital transformation.

Strong relationship management skills and proven ability to influence at a strategic leadership level, cross functionally and facilitate communications between business and technology teams.

Strategic mindset and bias for action with strong ability for strategic planning, defining OKRs and driving business outcomes.

Ability to lead and influence a team while fostering relationships across multiple enterprise-wide teams

Strong technical acumen, customer-obsessed mindset, understanding of how to simplify complex workflows, and data-driven decision making. 

Previous Digital Retail experience preferred, but not required.
Apply Now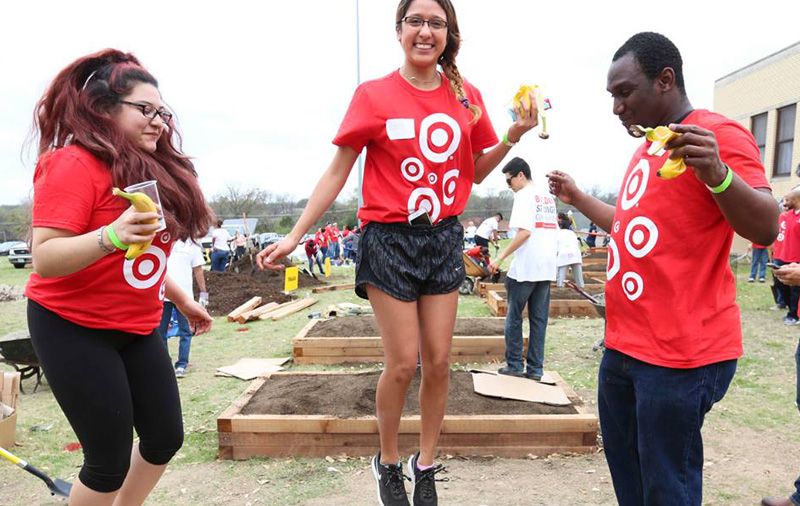 culture
What's it like to work here? We're asked that a lot. Target respects and values the individuality of all team members and guests—and we have lots of fun in all that we do.
experience our culture