Lead Counsel
Apply Now
Location: Target Corporation India Pvt. Ltd., Bangalore, Karnataka, India, 560045;
job id: R0000263384
job family: Law
schedule: Full time
JOIN US AS A SENIOR COUNSEL
About this Opportunity
Provide guidance and support for Target Corporation India Private Limited, a wholly-owned subsidiary of U.S. based Target Corporation by utilizing your expertise in Corporate Law, general Law, Government Affairs, Brand or Corporate Risk. Use your knowledge to ensure proper governance, assist and direct our business, and interpret the laws that govern Target India.
Use your skills, experience and talents to be a part of groundbreaking thinking and visionary goals. As a Sr Counsel, you'll be required to manage:
General Corporate Advisory:
Provide general legal advice to Target India business clients in areas such as, contracts, litigations, regulatory, laws applicable to special economic zones and corporate laws
Review and monitor changes to Indian law, applicable to Target India
Assist with Target India's Compliance program
Participate in Learning and Development (L&D) activities and initiatives
Commercial Contracting:
Draft, review and negotiate sourcing and procurement contracts for Target India
Draft, review and negotiate technology contracts and other business related contracts for Target India
Establish and maintain clear communication and grow relationships between Target India Law Team and Target HQ Law Department and the various business clients regarding key initiatives, project scope, timelines, issue resolution and deliverables
Employment Law Advisory
Provide advice and counsel to Target India HR Team on routine employment law matters;
Advice on issues relating to issuance of routine HR letters and communication
Review employee counseling and corrective action (CCA) documents
Collaborate with Target India HR Team on policy reviews and revamp
Assist SR. Director, Legal Affairs as requested with legal research in areas such as workplace restructurings, employee separations, severance matters, retrenchment & Investigations support.
Litigation:
Provide support managing any potential dispute or litigation with a third party including coordinating with outside counsels
Maintain accurate litigation records
Miscellaneous:
Identify and evaluate for implementation at Target India, industry best practices in areas of contract drafting, compliance and document retention;
Develop client training tools in relevant areas of law;
Provide assistance in any other function/role of the Target India Law team as required or as requested by the manager.Job duties may change at any time due to business needs.
Requirements
Law ( Bachelors and/or Masters) degree from a tier one law school in India;
8+years of experience working in a law firm or in-house with a focus on  contracting ( Commercial, sourcing, property documentation, etc) ;
Proficiency in MS Word, MS Excel, MS PowerPoint;
Excellent written and verbal communication skills;
Ability to build trust with business partners and deal with disagreements in a constructive and successful manner;
Ability to react positively to change, ambiguity and uncertainty;
Ability to organize, coordinate and manage resources and time to achieve key goals and objectives.
Benefits:
Eligible team members will receive market competitive package including competitive pay, health, accidental and life insurance coverage, gratuity and provident fund, training and development and other perks and benefits. Target is an Equal Employment Opportunity Employer and is a drug-free workplace.
Target is committed to a diverse and inclusive workplace. Target is an equal opportunity employer, and does not discriminate on the basis of race, regional/national origin, color, religion, sex, gender, gender identity, sexual orientation, disability, age, veteran status, marital status, career breaks or any other legally protected group.
Target is committed to providing reasonable accommodations, if needed. Please specify any reasonable accommodation you may need to your recruiter. Your voluntary disclosures will not have any negative impact at any stage with respect to your job application or recruitment.
Legal Affairs Pyramid Overview:
To match the signature style and passion of Target's distinctive retail brand, Target Legal Affairs is a dynamic and deeply knowledgeable team of experts. Whether specializing in law, government affairs, employee relations, risk, compliance, ethics, data privacy, security or food safety, we use our expertise and influence to advocate for Target, support Target's business and mitigate risk for the company. We work with both internal and external entities on key issues that affect Target's ability to productively, ethically and securely conduct business. Through our understanding of Target's business models and operations, we help facilitate Target's growth, and provide guidance that leaders rely on to make appropriate, well-informed decisions. Simultaneously, we help protect the business by applying our comprehensive understanding of risk and the law on issues that impact our brand, guests, team members, stores, supply chain facilities, and corporate locations. 
Here, you'll enjoy working autonomously with a healthy work-life balance. Your passion for learning the business, collaborating with others and building relationships with senior leaders and key business partners that you support will be essential to tackling the ever-changing legal and risk-based challenges we face in a dynamic and fast-paced retail environment. 
About Target®
Expect the Best. At Target, we have a vision: to become the best - the best culture and brand, the best place for growth and the company with the best reputation. We offer an inclusive, collaborative and energetic work environment that rewards those who perform. We deliver engaging, innovative and on-trend experiences for our team members and our guests. We invest in our team members' futures by developing leaders and providing a breadth of opportunities for professional development. It takes the best to become the best, and we are committed to building a team that does the right thing for our guests, shareholders, team members and communities.
Minneapolis-based Target Corporation serves guests at stores nationwide and at Target.com. Target is committed to providing a fun and convenient shopping experience with access to unique and highly differentiated products at affordable prices. Since 1946, the corporation has given 5 percent of its income through community grants and programs like Take Charge of Education®.
Apply Now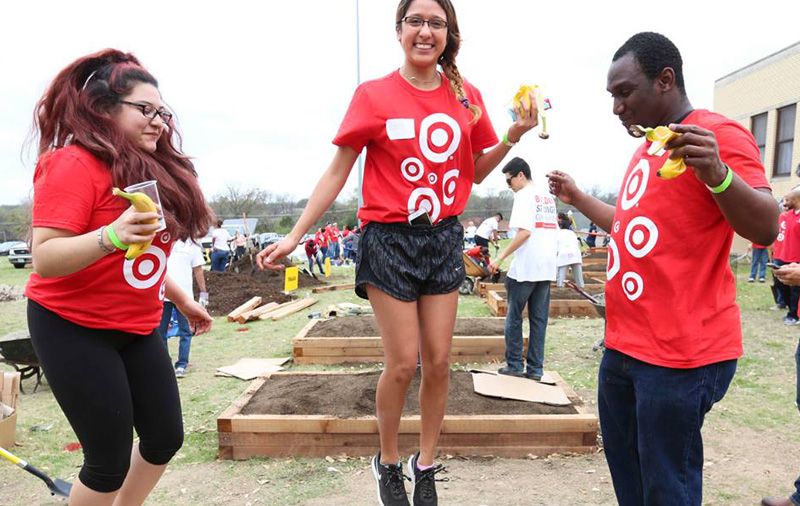 culture
What's it like to work here? We're asked that a lot. Target respects and values the individuality of all team members and guests—and we have lots of fun in all that we do.
experience our culture