Lead Engineer- Data Engineering
Apply Now
Job ID: R0000114288
job family: Business Intelligence Engineering
schedule: Full time
Location: Target Corporation India Pvt. Ltd., Bangalore, Karnataka, India, 560045;
About us:
Target is an iconic brand, a Fortune 50 company and one of America's leading retailers.

Behind one of the world's best loved brands is a uniquely capable and brilliant team of data scientists, engineers and analysts. The Target Data & Analytics team creates the tools and data products to sustainably educate and enable our business partners to make great data-based decisions at Target. We help develop the technology that personalizes the guest experience, from product recommendations to relevant ad content. We're also the source of the data and analytics behind Target's Internet of Things (iOT) applications, fraud detection, Supply Chain optimization and demand forecasting. We play a key role in identifying the test-and-measure or A/B test opportunities that continuously help Target improve the guest experience, whether they love to shop in stores or at Target.com.

A role as a Business Intelligence Engineer is an opportunity to play on innovation's next frontier. We recognize that Target's competitive advantage in offering even more value to our guests hinges on our ability to leverage the full capability of our data assets. Here, we build technical solutions to collect, manage and store data from a wide range of sources, the output of which is used to inform Target's most important strategic objectives for creating compelling, differentiated experiences for our guests. Our work enables intelligent, efficient execution across our market-leading retail operation. And our global agile product teams develop products and strategies to manage enterprise data efficiently in bigData and MPP/RDBMS data platforms with end-to-end technology platform ownership. Join our team to have the latest open source technologies available to support streaming, event-based and batch data ingestion to engineer data solutions.

The Lead BI Engineering is responsible for providing technology leadership and hands-on contributions towards a global team of BI Engineers that deliver relevant, timely and insightful information to the business. Accountable for developing code and configuring software that generates required data in support of reporting and analysis. Also builds and maintains foundational data sets for business units and internal groups.
Use your skills, experience and talents to be a part of groundbreaking thinking and visionary goals. As a Lead BI Engineer, you'll take the lead as you…
• Manage overall development cycle, driving best practices and ensuring development of high quality code for common assets and framework components
• Provide technical guidance and heavily contribute to a team of high caliber Data/BI Engineers by developing test-driven solutions and BI Applications that can be deployed quickly and in an automated fashion
• Manage and execute against agile plans and set deadlines based on client, business, and technical requirements
• Drive resolution of technology roadblocks including code, infrastructure, build, deployment, and operations
• Advocate for technologies, frameworks, design patterns, processes and guiding values of BI Engineering
• Embrace the DevOps mentality by building solutions designed for availability and scalability in an iterative manner
• Ensure all code adheres to development & security standards
About you:
• 5+ years of Data/BI Engineering experience
• 3+ years of working within a Data/BI Engineering or Software Development team with a strong track record of project delivery for large, cross-functional products
• Experience with test-driven development and software test automation
• Strong written and verbal communication skills with the ability to present complex technical information in a clear and concise manner to variety of audiences

Desired Qualifications:
• 4 year degree in Computer Science or equivalent experience
• Experience with core programming skills in languages like Java, C#, or C++
• Experience with Hadoop technologies (Map reduce, PIG, SQOOP, HIVE, SPARK, HADOOP Connectors)
• Extensive experience with a variety of database technologies (HBase, Postgres, Teradata, Cassandra, SQL Server, Oracle)
• Experience with building data integrations using APIs, streaming technologies (Kafka), ETL, ELT, and other data integration patterns
• Extensive experience working in an agile environment (i.e. user stories, iterative development, etc.)
• Experience with CI/CD toolchains
Apply Now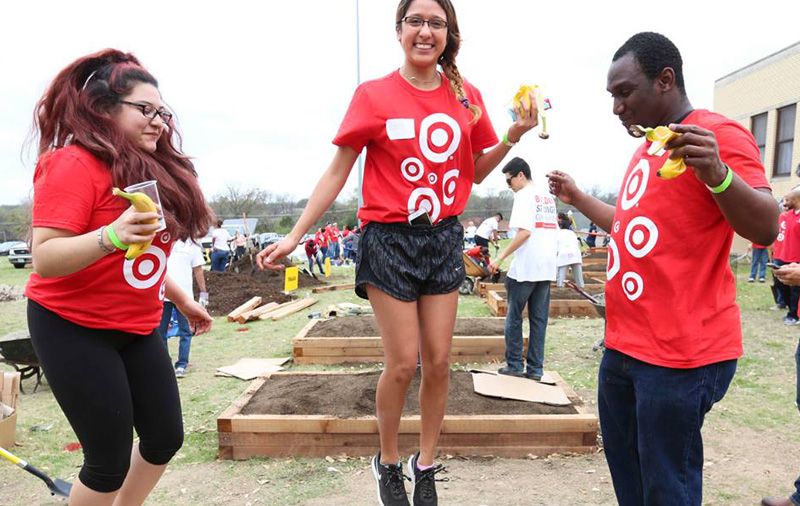 culture
What's it like to work here? We're asked that a lot. Target respects and values the individuality of all team members and guests—and we have lots of fun in all that we do.
experience our culture