Lead Engineer-Target India-1
Apply Now
Job ID: R0000166329
job family: Technology Engineering
schedule: Full time
Location: Target Corporation India Pvt. Ltd., Bangalore, Karnataka, India, 560045;
JOIN US AS AN Lead Engineer – Java with open source
About this Opportunity
The Target Technology Services (TTS) team designs and creates innovative solutions for a variety of applications, platforms and environments. TTS not only gives Target a competitive advantage in the marketplace, but also enhances the guest experience through the smart use of technology in the retail industry.
Site Reliability Engineers (SRE) at Target Corporation fill the mission-critical role of ensuring that our complex systems are healthy, monitored, automated, and designed to scale. You will use your background as an engineering generalist to work closely with our development teams from the early stages of design all the way through identifying and resolving production issues. The ideal candidate will be passionate about an operations role that involves deep knowledge of both the application and the product, and will also believe that automation is a key component to operating large-scale systems.
Our SRE team solve incredibly difficult problems using the best tools available for the job, and are rapidly extending the use of new technologies. They spend just as much of their time working on systems as they do writing code. You'll be tasked with all manner of work from building operational tooling, automating operational workflows, performing architecture and design reviews, investigating system failures and complex outages, improving our monitoring infrastructure, defining service level objectives and agreements for Target products and flows, and much more.
Use your skills, experience and talents to be a part of groundbreaking thinking and visionary goals. As an Lead Engineer, you'll take the lead as you
Gain deep knowledge of our complex applications.
Serve as a primary point responsible for the overall health, performance, and capacity of one or more of our technology products.
Strong experience with any of GCP, Azure, or AWS (design, SDKs, best practices).

Familiar with design principles of monitoring and alerting systems.

Designing, implementing, and maintaining robust monitoring and alerting to improve performance and reliability.

Experience implementing industry standard security best practices.

Experience with automation, configuration management, and developing infrastructure as code.
Use engineering best practices — deliver high-quality production code, utilize automated testing, and build reusable components
Develop tools to improve our ability to rapidly deploy and effectively monitor custom applications in a large-scale Linux environment.
Work closely with development teams to ensure that platforms are designed with "operability" in mind.
Function well in a fast-paced, rapidly-changing environment.
Participating in the operations on-call rotation, triaging and addressing production issues
Requirements
Engineering degree in any stream
Has at least 8 years of prior experience
Programming skills ( Python, Ruby, Java/Scala or C).
Database and big data knowledge is a plus.
Experience in designing, analyzing, and troubleshooting large-scale distributed systems.
Debug production issues across services and levels of the stack.
Experience using tools to create and manage CI (continuous integration) and CD (continuous delivery) pipelines.
PowerShell or Python experience, specifically for systems automation.
RESTful and WebSocket APIs.
Working knowledge of the TCP/IP stack, internet routing and load balancing.
Experience with monitoring alerting using technologies like Prometheus, Sensu, Nagios, Kafka, Wavefront, BigPanda, DataDog, PagerDuty.
Optional: Experience implementing, designing, deploying Docker, Kubernetes, Serverless (Function or Lambda's).
Previous experience working with geographically-distributed coworkers.
Strong interpersonal communication skills (including listening, speaking, and writing) and ability to work well in a diverse, team-focused environment with other SREs, Engineers, Product Managers, etc.

Creative thinker and strong problem solver with meticulous attention to detail

Highly organized, creative, motivated, and passionate about achieving results 
Benefits
Eligible team members will receive market competitive package including competitive pay, health, accidental and life insurance coverage, gratuity and provident fund, training and development and other perks and benefits. Target is an Equal Employment Opportunity Employer and is a drug-free workplace.
About Target®
Expect the Best. At Target, we have a vision: to become the best - the best culture and brand, the best place for growth and the company with the best reputation. We offer an inclusive, collaborative and energetic work environment that rewards those who perform. We deliver engaging, innovative and on-trend experiences for our team members and our guests. We invest in our team members' futures by developing leaders and providing a breadth of opportunities for professional development. It takes the best to become the best, and we are committed to building a team that does the right thing for our guests, shareholders, team members and communities.
Minneapolis-based Target Corporation serves guests at stores nationwide and at Target.com. Target is committed to providing a fun and convenient shopping experience with access to unique and highly differentiated products at affordable prices. Since 1946, the corporation has given 5 percent of its income through community grants and programs like Take Charge of Education®.
Apply Now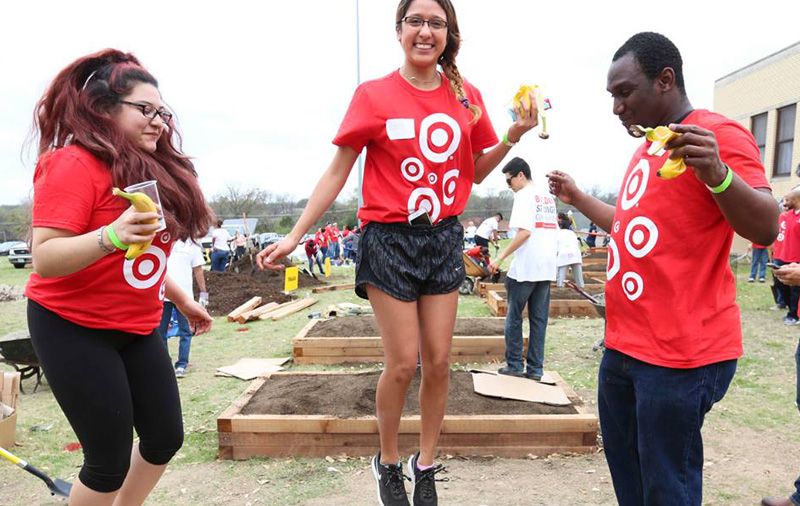 culture
What's it like to work here? We're asked that a lot. Target respects and values the individuality of all team members and guests—and we have lots of fun in all that we do.
experience our culture