Lead UX Design Program Manager
Apply Now
Location: Target Corporation India Pvt. Ltd., Bangalore, Karnataka, India, 560045;
job id: R0000302311
job family: User Experience & Interface
schedule: Full time
About us:
As a Fortune 50 company with more than 350,000 team members worldwide, Target is an iconic brand and one of America's leading retailers.
Working at Target means the opportunity to help all families discover the joy of everyday life. Caring for our communities is woven into who we are, and we invest in the places we collectively live, work and play. We prioritize relationships, fuel and develop talent by creating growth opportunities, and succeed as one Target team. At our core, our purpose is ingrained in who we are, what we value, and how we work. It's how we care, grow, and win together.
Target UX is a group of design, research, and accessibility practitioners and experts, with a passion for improving and innovating our digital experiences for Target's guests, team members, and partners. Here, we pride ourselves on designing tangible, inspiring, accessible, and impactful solutions that serve all aspects of our business– and being a part of the team means you will play a critical role for Target's digital experience by increasing ease, simplicity, value, and delight for every touchpoint.
About the job:
As a Lead UX Design Program Manager, you'll bring our purpose to life as you support our 100+ person UX organization. Our UX Design Operations practice focuses on the orchestration and optimization of the people, processes, and practice necessary to scale UX across the Target enterprise. As a member of our emerging UX Design Ops team, you will lean on your design program management expertise to support and develop best practices for our UX team on how we work together, how we get work done, and how our work creates impact.
In this role, you will create highly efficient processes and measures that generate high-quality outputs to support scalable solutions so that the team can focus on executing, while leaders can focus on leading. In collaboration with the UX leadership team, you will focus on establishing models that support the UX team in three key areas: business operations such as management reporting, standardization, and prioritization; team operations such as communication, collaboration and tools management; and people operations such as measuring success factors, coordinating professional development, and cultivating our team culture. You'll leverage user-centered and design-thinking processes to solve problems.
You'll oversee your own destiny in an environment that has strong support for work-life balance. We'll support you along the way with robust onboarding, as well as personal and career development. The exciting part of retail is that it's always changing!
What you'll be doing:
Collaborating with a multi-disciplinary team of UX leaders, product designers, content designers, engineers, product managers, accessibility consultants, data analysts and UX researchers.
Collaborate closely with the Design team based in the United States to establish the comprehensive Global Operating model.
Establishing a clear scheme of design delivery, helping to decide who needs to see the work, and when they need to see it.
Leading and contributing to the process for the team that drives the standardization, interpretation, and guardianship of Target's design operations.
Defining objectives and desired results with product, engineering and business partners.
Effectively using data and insights to identify critical gaps and weaknesses of existing processes.
Leading the developing and ongoing refinement of a framework that would optimize day-to-day workflow—maximizing engagement and reducing duplicated efforts. Close coordination with US based UX Ops teams would be expected
Sharing out to influence leaders and key stakeholders, getting them to buy into the processes and models needed to operationalize UX and amplify the value of design across the organization.
Tracking and actively sharing out to key stakeholders across the enterprise in order to increase the awareness of the impact of our work in order to ensure ongoing adherence to our processes and engagement with our team from key partners.
Working with other teams across Target (store operations, supply chain, marketing, etc) to ensure a cohesive operations strategy across the different silos and roles.
About you:
7+ years of experience in digital software product work, with inhouse or agency product design teams
A portfolio featuring program management and/or design operations work
Demonstrated expertise with modern product development methodologies like Agile and Scrum
Demonstrated knowledge of UX design processes and best practices
Proven track record in leading the process among peers to improve team best practices in order to continue to scale and improve the operations function within the organization
Ability to work on multiple, high profile workstreams at once; Managing prioritization, execution and stakeholder/leader management in order to complete work and deliver results on time
Able to work well in a large organization with many partners, with a demonstrated track record of building deep relationships and influencing peers and leaders
Track record in using a strategic approach to solve complicated problems and strong collaboration skills in order to pull partners into your work process
Strong communication skills in order to be able to articulate and defend design decisions with grace, logic and data
Comfort level working directly with team leadership in order to help determine the roadmap and prioritization for the team
Experience mentoring and upskilling more junior members of the team
Apply Now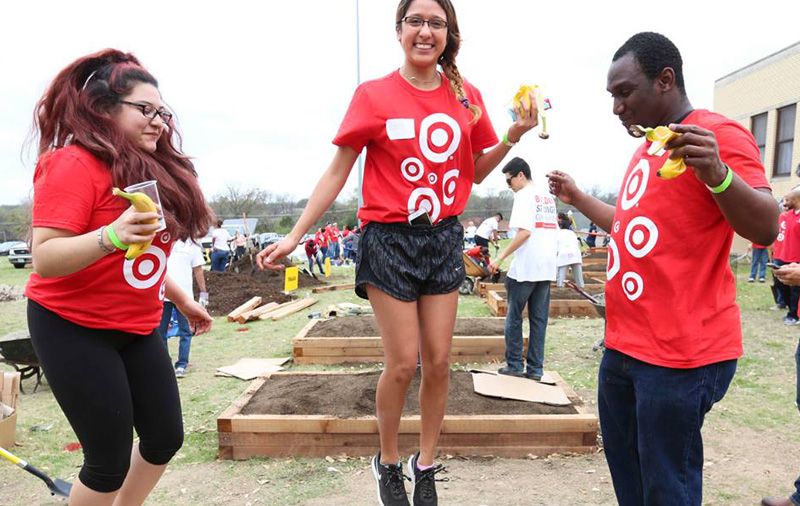 culture
What's it like to work here? We're asked that a lot. Target respects and values the individuality of all team members and guests—and we have lots of fun in all that we do.
experience our culture