Logistics Analyst
Apply Now
Location: Target Corporation India Pvt. Ltd., Bangalore, Karnataka, India, 560045;
job id: R0000218274
job family: Transportation
schedule: nullLogistics Analyst
Job Description
About us:
Target is an iconic brand, a Fortune 50 company and one of America's leading retailers. 

Target Global Supply Chain and Logistics is evolving at an incredible pace. We are constantly reimagining how we get the right product to the guest even better, faster and more cost effectively than before. We are becoming more intelligent, automated and algorithmic in our decision-making, so that no matter how guests shop—in stores or on Target.com—we deliver the convenience and immediate gratification they demand and deserve. We are on a mission to win decisively over any competitor, with a seamless and superior guest service experience unlike any they can offer. Our teams work with the agility our mission requires, and we constantly come together to implement new processes in record time. So we're looking for exceptional people who are proactive, creative, independent, innovative, risk-savvy and comfortable working in varying degrees of ambiguity. Are you a critical thinker who seeks the root cause and can analyze both qualitatively and quantitatively? Are you a creative problem-solver who simplifies problems, quickly identifies solutions, commits to a plan and then positively influences others to execute it? If so, you will have success on one of our dynamic teams. 
The primary function of this role is to support Target's Middle Mile Logistics operation through data analysis. Transportation Analysts will be responsible for identifying and exploring data sets in order to create actionable metrics and reports for operations teams. Analysts will also be responsible for managing and improving processes described by their analysis. They will use data and insights to influence peers, leaders, and third party partners. This includes mining the data for performance improvement and expense savings opportunities and recommending solutions to business problems by building quantitative business cases.
The team currently uses a wide variety of analytics tools such as Excel, R, SQL, and proprietary BI platforms (similar to Tableau) to work with small, sparse datasets as well as big data platforms like Hadoop. In situations where reliable data does not exist, analysts will look for creative ways to obtain data, influence system owners to build data, or create processes to capture data.
As a Logistics Analyst, you will:
Develop scalable solutions and key performance indicators to monitor supply chain performance
Perform complex data analysis to identify root causes and implement corrective actions using various BI analytical tools (R, Python, SQL).
Uncover opportunities, leverage data and analytics to create a business case, and implement continuous improvement work streams to evolve the business
Streamline and simplify complex business processes through technology
Use data and metrics to deeply understand the business, identify areas in need of improvement, influence others, and measure the impact of actions. 
Inspire intellectual curiosity around operational improvement opportunities.
Advocate for decisions based on what is good for Target holistically and act as agents for change instead of accepting the status quo.
Job Requirement
Bachelors in Supply Chain, Business/Management, Engineering or relevant experience as a business analyst/data analyst /statistical analyst role.
Robust critical thinking skillset with knowledge of root cause identification techniques.
Expertise in Microsoft Excel/ VBA
Excellent communication skills (verbal / written) – Ability to effectively communicate with both business and technical teams
Manage relationships with internal partners to keep them informed on the perspective and impact related to supply chain initiatives.
Communicates to share knowledge and findings

Presents results in a manner that the business partners can understand
Communicate impact of proposed solutions to business partners

Should be a team player
Should be able to demonstrate learning ability
Is curious and has a willingness to learn be it new skills/tools etc.
Ability to follow through with ideas and deliver on commitments
Preferred Qualification
Experience in any of the following technical Skills would be preferable; SQL, R or Python
1+ years of experience in supply chain (distribution, logistics, planning etc) would be preferable
Has handled analysis of large volume of data
Has prior experience in automating processes using various automation tools
Apply Now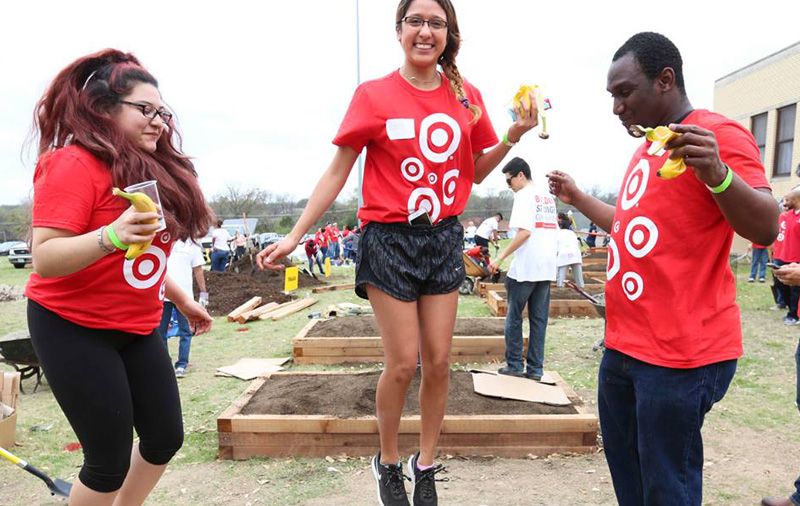 culture
What's it like to work here? We're asked that a lot. Target respects and values the individuality of all team members and guests—and we have lots of fun in all that we do.
experience our culture