Manager SPT Operations-1
Apply Now
Location: Target Corporation India Pvt. Ltd., Bangalore, Karnataka, India, 560045;
job id: R0000302440
job family: Business Process & Operations
schedule: Full time
About us:

Target is an iconic brand, a Fortune 50 company and one of America's leading retailers. We offer an inclusive, collaborative and energetic work environment that is rewarding and gratifying. We deliver engaging, innovative and on-trend experiences for our team members and our guests. We invest in our team members' future by providing a breadth of opportunities for professional development. We are committed to building a team that does the right thing for our guests, shareholders, team members and communities.

Target Merchandising is evolving at an incredible pace. We are constantly reimagining how this $106 billion retailer offers the innovative, guest-inspiring items that Target is known and loved for. Our goal is to deliver exceptional value, quality and style to elevate Target as the premier retailer in a competitive global marketplace. Through intelligent and progressive business strategies that make the most of Target's resources and partnerships worldwide, Merchandising works across product categories to create a localized shopping experience online and in our 1900+ stores.
As a part of Space, Presentation & Transitions, we are on a mission to optimize store space & product allocation, create most appealing product presentations and enhance in-store experiences for our guest while maximizing sales. We are responsible for ensuring the right item is on the right shelf in the right store. We do this by using data insights & analytics to determine the optimal footage for each assortment for every store ("adjacency") during the Space phase. Each store's assortment is curated keeping in mind guest & demographic needs, and is then assigned to a planogram (POG) developed during the Presentation phase. We believe that strategically planning space allocation and presentation decisions will increase sales, improve guest satisfaction and reduce out-of-stocks. As a part of this team, you will partner with diverse cross-functional teams to achieve an inspiring and convenient in-store guest experience.
The Manager Space Presentation & Transitions (SPT), Operations will have the responsibility for delivering operational excellence by driving continuous improvement and process optimization for our global SPT organization. You will lead, coach, and develop a team of 3- 5 Team Members, mostly L4 and above who are subject matter experts in their domains. Your success in the role will be determined by your ability to partner with various teams within and outside SPT (Merchants, Inventory, Store Ops, Store Design, Marketing, etc.) and deliver SPT outcomes taking into account the upstream and downstream complexities. You will enable the SPT vision implementing lean operating principles, systems, and tools and demonstrate leadership behaviors during the SPT organization transformation journey.
Your responsibilities will include, but will not be limited to:
Team:
Staffing & hiring: To understand job & skill requirements & conduct timely hiring to staff the team to manage expected outcomes.
Onboarding & Engagement: To enable a smooth & effective onboarding of a TM/peer onto Target, team, business & process
Performance management: To observe, assess & record TM performance on key metrics and leverage this data for pay & hike recommendations.
Responsible for resource planning, competency development, performance management, talent retention, career planning  and development
Succession planning: To identify, plan & activate back-ups in cases of TM movement, attrition etc. via timely training & coaching.
Define Roles and Responsibilities for each role within Operations together with goals and objectives
Operations:
Shape processes and solutions for the future while delivering improved business outcomes in collaboration with various global partner teams across US and India
Provide insights/ recommendations to enable fact-based decision making by business leadership.
Drive continuous improvement : Process optimization Implement process standardization, simplification and automation to enable efficient and effective delivery of SPT capabilities
Provide the right resolution and support to stakeholders internal and external to SPT and act as a critical thought partner to bring to life efficient and effective outcomes for SPT
Ownership of the following portfolios:

Support Services: Liaison between technology and business teams to resolve technical issues.
Product Ops: Collaborate with technology and data analytics teams on discovery, design and roll out of various reporting, applications and tools to generate value for the global SPT team.
About you:
Four-year degree or equivalent experience
8+ years of overall experience, preferably in retail with a minimum of 2 years as a people manager
Excellent planning, organizational, and data-driven decision making skills
Ability to communicate effectively, both verbal as well as written, together with storytelling and presentation skills.
Possess Strong cognitive skills with the ability to demonstrate courage, think critically, and drive results
Structured problem solving skills (such as Lean/ Six Sigma) with application experience of process improvement tools & techniques
Ability to structure ambiguous problems, analyze complex processes, synthesize data and results, and deliver insights and solutions
Demonstrated ability to drive complex projects and lead and coach other project team members
Ability to develop partnerships to collaborate effectively with various stakeholders as well as be a change agent with the ability to influence change without authority
Have an understanding on how various products/ technologies interact with each other.
Apply Now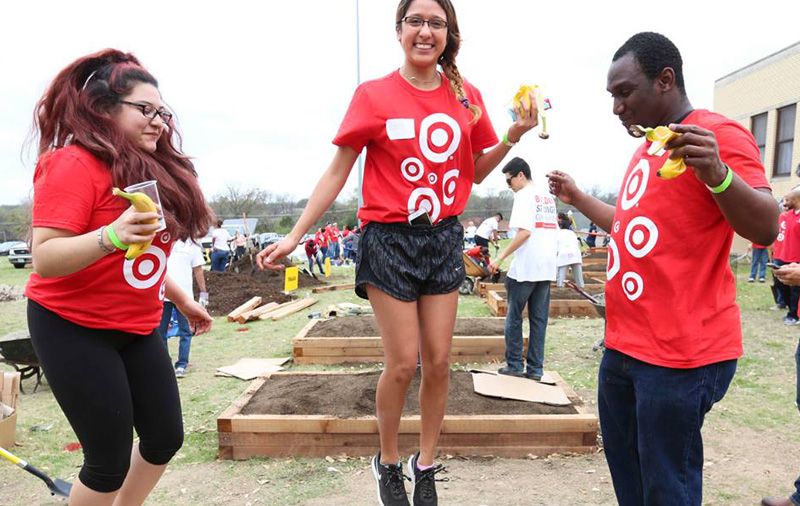 culture
What's it like to work here? We're asked that a lot. Target respects and values the individuality of all team members and guests—and we have lots of fun in all that we do.
experience our culture