Principal AI Scientist - ML Engineering, Supply Chain Optimization
Apply Now
Job ID: R0000085044
job family: Artificial Intelligence
schedule: Full time
Location: Target Corporation India Pvt. Ltd., Bangalore, Karnataka, India, 560045;
Description:
About this Opportunity
This role will support Target's ambitious supply chain transformation journey by building scalable data science products. In this role one will build decision support tools through Data analysis to help business teams make profitable decisions. It involves utilizing mathematical techniques and tools like Mixed Integer Linear Programming, decision trees, clustering, regression, Monte Carlo Simulation etc. This role requires one to leverage modern technologies and platforms like SPARK, Scala and Python to build production grade systems. This role will also involve Interfacing with supply chain and OR experts within Target and in academia to develop algorithms that solve the inventory planning and control problems.
Key Job Duties
Build mathematical algorithmic solutions to address business needs specifically in the area of supply chain management.
Execute solutions to business problems using data analysis, data mining, optimization, machine learning techniques, and statistics
Anticipate and Evaluate impact of solutions on related projects as part of the developing complex logical algorithm/solutions for various business problems
Execute large scale models using Monte Carlo Simulation, Mixed Integer Linear Programming, Reinforcement Learning etc.
Stays current with scientific advancements and provide thought leadership in choosing the right algorithm for solving a given business problem.
Collaborate with engineering teams so that the data science products are embedded in production systems.
Understands interrelationships and impacts of data and technology upon the Target environment
Participates in project estimation & reviews
Provides subject matter expertise to the broader organization
Identifies and escalates issues and, when necessary, pulls appropriate teams together to solve issues, etc
Encourages team members to deep dive into business problems to solve them.
Participates in different industry forums and discussions
Prioritize workload, ensure high quality of solutions that adhere to standards and best practices are delivered in timely fashion.
Requirements
B.Tech (+10 years of relevant exp), M.Tech, M.Sc. (+8 years of relevant exp), Ph.D. (+5 years of relevant experience) in Engineering, Operation Research, Mathematics, Engineering, Statistics preferred
Demonstrated ability to lead & steer collaborate technical reviews and guide architectural decisions
Experienced in Optimization, data analysis, data mining, mathematical modeling and programming, statistical analysis, forecasting/predictive modeling, simulations, optimization, visualizations, machine learning, etc.
Adept with numbers & excellent problem solving, and conceptual skills.
Demonstrated ability to work with ambiguous problem definitions, recognize dependencies and deliver impactful solutions through intellectual application
Ability to learn new concepts and technologies to apply in practical business problems
Must be able to prioritize and handle multiple tasks and changing priorities.
Good interpersonal, problem solving & logical reasoning skills
Ability to mentor junior data scientists and build a culture of technical excellence.
Self-starter with self-initiative and direction & open to collaboration.
Benefits
Eligible team members will receive market competitive package including competitive pay, health, accidental and life insurance coverage, gratuity and provident fund, training and development and other perks and benefits. Target is an Equal Employment Opportunity Employer and is a drug-free workplace.
About Target®
Expect the Best. At Target, we have a vision: to become the best - the best culture and brand, the best place for growth and the company with the best reputation. We offer an inclusive, collaborative and energetic work environment that rewards those who perform. We deliver engaging, innovative and on-trend experiences for our team members and our guests. We invest in our team members' futures by developing leaders and providing a breadth of opportunities for professional development. It takes the best to become the best, and we are committed to building a team that does the right thing for our guests, shareholders, team members and communities.
Minneapolis-based Target Corporation serves guests at stores nationwide and at Target.com. Target is committed to providing a fun and convenient shopping experience with access to unique and highly differentiated products at affordable prices. Since 1946, the corporation has given 5 percent of its income through community grants and programs like Take Charge of Education®.
Apply Now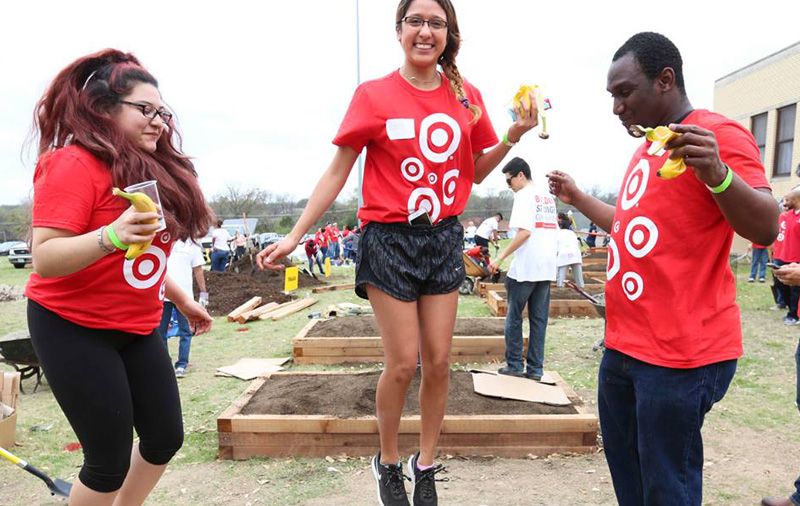 culture
What's it like to work here? We're asked that a lot. Target respects and values the individuality of all team members and guests—and we have lots of fun in all that we do.
experience our culture