Principal Engineer-Data Engg
Apply Now
Job ID: R0000145583
job family: Business Intelligence Engineering
schedule: Full time
Location: Target Corporation India Pvt. Ltd., Bangalore, Karnataka, India, 560045;
About us:

Target is an iconic brand, a Fortune 50 company and one of America's leading retailers.

Target as a tech company? Absolutely. We're the behind-the-scenes powerhouse that fuels Target's passion and commitment to cutting-edge innovation. We anchor every facet of one of the world's best-loved retailers with a strong technology framework that relies on the latest tools and technologies—and the brightest people—to deliver incredible value to guests online and in stores. Target Technology Services is on a mission to offer the systems, tools and support that guests and team members need and deserve. Our high-performing teams balance independence with collaboration, and we pride ourselves on being versatile, agile and creative. We drive industry-leading technologies in support of every angle of the business, and help ensure that Target operates smoothly, securely and reliably from the inside out.
The Principal Data Engineer should strive to design highly reliable, scalable and self-healing data engineering platforms to deliver high quality data for downstream users like Data Science teams, Engineering teams and/or other functional business units within Target. The Principal Data Engineer will technically guide the team to provide certified data for merchandising data products, resolve cross-cutting concerns across different data products through experiments, and build the framework to democratize the creation of data pipeline.
Responsibilities
• Design and develop highly scalable, reliable and self-heal data engineering pipelines to process very large volumes of data across disparate data sources effectively addressing functional and non-functional concerns while adhering to well established engineering concepts
• Stay ahead of the technology by researching and learning new technologies, developing innovative solutions for complex problems in data engineering to serve AI and Data Science needs of the future
• Design and develop data quality system to identify data issues proactively, rather than reactively
• Develop and promote best practices, reference architecture, engineering standards in data engineering
• Collaborate with Enterprise Architecture teams in setting technical direction across data engineering platform and drive technology lifecycle management and communication of standards/Outcomes to the engineering team
• Support the Data-Ops needs of multiple teams, systems and products. You will also be responsible for integrating them with the architecture used across the enterprise.
• Work with engineering leaders to build a high performing engineering team and provide technical leadership, coaching, motivation and participate in the selection of technical talent
• Develop whitepapers, patents, contribution to open source community, attend/present in conferences
• Mentor engineering teams to drive POT (Proof of Technology) and influence adoption of emerging technologies
Qualifications
• BS, MS or PhD degree in Computer Science, Informatics, Information Systems or equivalent with excellent communication skills
•10+ years' of proven expertise on engineering scalable applications with good expertise on modern big data tech stack in translating business needs into effective technical/data strategy and solution
• Experience in building highly scalable, reliable and self-heal data pipelines to process large datasets
• Deep understanding of Data Structures and algorithms
• Experience with relational SQL and NoSQL databases
• Hands on experience with advanced SQL
• Experience with Data and Model pipeline and workflow management tools: Azkaban, Luigi, Airflow, Dataiku, etc.
• Experience with stream-processing systems: Storm, Spark-Streaming, etc.
• Experience withobject-oriented/objectfunction scripting languages: Python, Java, C++, Scala, etc.
• Experience with Spark and other distributed processing frameworks.
• Understanding of code management, CI/CD concepts and their application in the Big-data universe
• Experience in building operational ETL data pipelines from a number of disparate sources in a Data lake environment
• Experience as a full stack developer with expertise in Agile development methodologies
• Proven leadership capabilities, the ability to influence others, interpersonal skills, and problem solving skills
Apply Now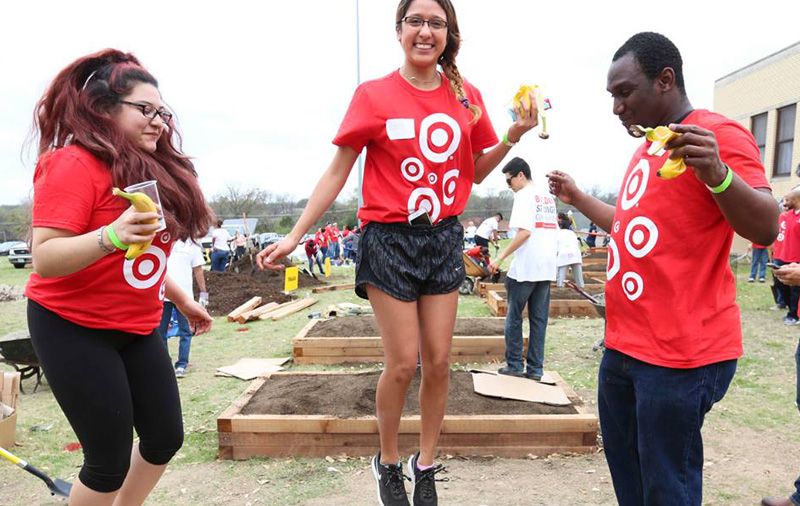 culture
What's it like to work here? We're asked that a lot. Target respects and values the individuality of all team members and guests—and we have lots of fun in all that we do.
experience our culture