Product Manager - Guest Order History
Apply Now
Location: Tower 02, Manyata Embassy Business Park, Bangalore, India, 540065;
job id: R0000274241
job family: Technology Product Management
schedule: Full time
About us:
As a Fortune 50 company with more than 350,000 team members worldwide, Target is an iconic brand and one of America's leading retailers.
Working at Target means the opportunity to help all families discover the joy of everyday life. Caring for our communities is woven into who we are, and we invest in the places we collectively live, work and play. We prioritize relationships, fuel and develop talent by creating growth opportunities, and succeed as one Target team. At our core, our purpose is ingrained in who we are, what we value, and how we work. It's how we care, grow, and win together.
Target Global Supply Chain and Logistics (GSCL) is evolving at an incredible pace. We are constantly reimagining how we get the right product to the guest even better, faster and more cost effectively than before. We are becoming more intelligent, automated, and algorithmic in our decision-making, so that no matter how guests shop—in stores or on Target.com—we deliver the convenience and immediate gratification they demand and deserve. We are on a mission to win decisively over any competitor, with a seamless and superior guest service experience unlike any they can offer. Our teams work with the agility our mission requires, and we constantly come together to implement new processes in record time. So, we're looking for exceptional people who are proactive, creative, independent, innovative, risk-savvy, and comfortable working in varying degrees of ambiguity. Are you a critical thinker who seeks the root cause and can analyze both qualitatively and quantitatively? Are you a creative problem-solver who simplifies problems, quickly identifies solutions, commits to a plan, and then positively influences others to execute it? If so, you will have success on one of our dynamic teams. 
About the Job:
Product Teams at Target Corporation are accountable for the delivery of business outcomes enabled through technology and analytic products that are easy to use, easily maintained and highly reliable. Product teams have one shared backlog that is inclusive of all product, technology and design work.
Enterprise Guest Order Management Product Portfolio at Target comprises of the Products that aim to orchestrate and manage millions of orders across both Store and Digital channels.
As a Product Manager for Guest Order History, you will work in the product model and will collaborate with your product team and key stakeholders to develop a plan and business objectives (OKRs) for your product.
Guest Order History is the Enterprise repository of all guest transaction data irrespective of the channel and is the source of truth for all operational guest order lookups such as guest order history, guest order details, open In Store Pick Up and Drive-up orders, returns etc.
The role must ensure scale and performance of this product to support projected business growth. The desired outcome is to manage all guest orders and feed the data to the many upstream and downstream systems in a complete, accurate and timely fashion. You will need to build a strong knowledge of your product through product discovery to collect customer feedback and work to collect other relevant data points that explain the value and help you prioritize the direction and desired outcomes for your product. You will work in unison with engineers, UX designers, data scientists and business partners to deliver the outcomes.
You will be the "voice of the product" with your product team and stakeholders to ensure that their needs are met, and you will be responsible to maintain and refine the product backlog (create user stories & acceptance criteria) while prioritizing the backlog to focus on the highest impact work for your team and stakeholders.
You will encourage the open exchange of information and viewpoints, as well as inspire others to achieve challenging goals and high standards of performance while committing to the organization's direction. You will foster sense of urgency to achieve goals and leverage resources to overcome unexpected obstacles.
Core responsibilities of this job are described within this job description. Job duties may change at any time due to business needs.
About you:
3 or 4-year college degree (or equivalent experience)
4+ years of retail experience or equivalent domain experience
Strong communication skills
Strong interpersonal skills and ability to maximize relationships 
Strong business, technology, and data acumen
Flexibility to work with stakeholders and partners across geo-locations.
Experience working in an agile environment
Apply Now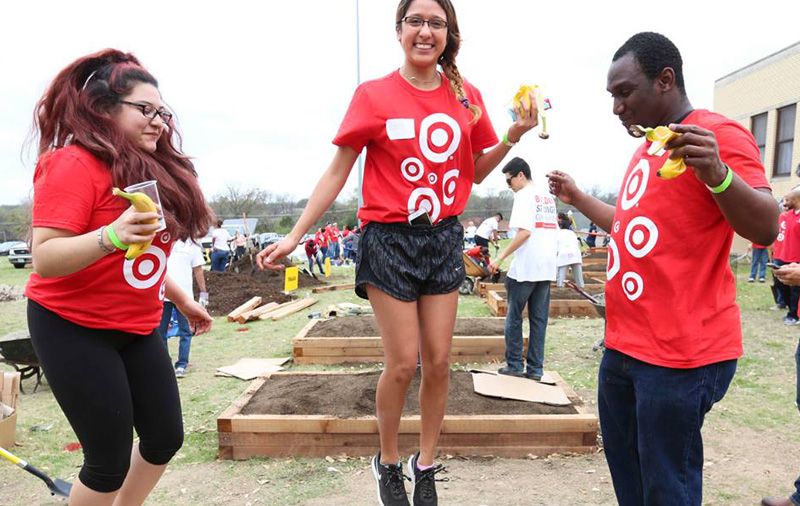 culture
What's it like to work here? We're asked that a lot. Target respects and values the individuality of all team members and guests—and we have lots of fun in all that we do.
experience our culture