Product Manager
Apply Now
Location: Tower 02, Manyata Embassy Business Park, Bangalore, India, 540065;
job id: R0000241726
job family: Technology Product Management
schedule: Full time
About us:
Target is an iconic brand, a Fortune 50 company and one of America's leading retailers.
Target Global Supply Chain and Logistics (GSCL) is evolving at an incredible pace. We are constantly reimagining how we get the right product to the guest even better, faster and more cost effectively than before. We are becoming more intelligent, automated and algorithmic in our decision-making, so that no matter how guests shop—in stores or on Target.com—we deliver the convenience and immediate gratification they demand and deserve. We are on a mission to win decisively over any competitor, with a seamless and superior guest service experience unlike any they can offer. Our teams work with the agility our mission requires, and we constantly come together to implement new processes in record time. So we're looking for exceptional people who are proactive, creative, independent, innovative, risk-savvy and comfortable working in varying degrees of ambiguity. Are you a critical thinker who seeks the root cause and can analyze both qualitatively and quantitatively? Are you a creative problem-solver who simplifies problems, quickly identifies solutions, commits to a plan and then positively influences others to execute it? If so, you will have success on one of our dynamic teams. 
A role in Network Planning and Global Intelligence means creating industry leading intelligence solutions to drive best in class omni-channel guest experiences at the lowest cost to Target. You might focus on enabling the future transportation operating model, optimizing inventory management, driving topology planning or leveraging deep business insights and analytics to propel Target's Supply Chain. As a network steward, we create forecasts, design inventory optimization strategies and leverage technology to ensure our inventory is available at the right time, in the right places and quantity to meet the needs of our guest, stores and operational goals. Super-powered first and foremost by our people, and supported by robust process and technology, we are a team of data-focused, curious minds who love to solve hard problems to enable a dynamic, fast paced Supply Chain Network. 
About the Job:
The Product Manager - ATP Digital Experience and Inventory Availability is responsible for executing the strategy and this role will lead the product capabilities focused on enhancing Target's guest experience through enhanced inventory availability messaging, increasing guest's Purchasability and improved inventory accuracy.
This role will work closely with product directors in the OMS portfolio supporting fulfillment and Digital (Checkout, Search and UX). This role will act as the subject matter expert (SME) for the engineering teams and lead the development of the prioritized features along with systematic scale and performance enhancements to support business growth.
Key functional areas of responsibility include:
Guest Messaging/Availability & Experience Management: Centralized source of truth for Guest inventory availability messaging focused on reducing negative impact driver due to inventory availability. New aggregator platform to integrate with all ATP products and develop an intelligent logic to drive consistent availability messaging across different steps (Search, PLP, PDP, & Checkout) in guest's path to purchase. New platform will also have a configurator designed to control guest messaging and provide maximum flexibility to teams to change messaging based on business needs.
Available to Promise and Fulfillment Aggregator: Existing system logic focused on providing network and location availability information to Digital, promise and allocation in order to accept and fulfill guest demand. Systems will continue to enhance in the coming years to add new logic to support GSCL strategies (e.g. L|R|N, Cluster availability etc.) and network expansion (e.g. Sortation centers, Flow centers etc.). These applications will continue to scale to meet (or exceed) business requirements.
Data Automation, Audit and Analytics: The individual will use analytical tools to accurately audit data to identify operational defects negatively impacting NPS, opportunities to improve inventory accuracy and availability metrics, and support downstream reporting

The Product Manager will cut across multiple product teams to system capabilities to develop new future & centralized inventory availability view and enhance inventory availability for Target guests. This role will develop strategy of the required system capabilities, tactical plans and lead other product owners to execute strategy. This individual will need to collaborate with other SPM's, Principals, Directors and Senior Directors across Target Technology Services, Digital, Global Supply Chain & Logistics, Store Operations, Target Guest Services, Target Finance and other key enterprise partners to gain alignment and make progress.
Product Teams at Target Corporation are accountable for the delivery of business outcomes enabled through technology and analytic products that are easy to use, easily maintained and highly reliable. Product teams have one shared backlog that is inclusive of all product, technology and design work.
As a Principal Product Owner, you will work in the product model and will lead the development of a comprehensive product strategy and set key business objectives (OKRs) for your respective product domain. You will need to leverage extensive knowledge of your product, as well as, customer feedback, key data and analytics, and other relevant data points to assess value, develop business cases, and prioritize the direction and desired outcomes for your product.
You will be the "voice of the product" to all outside stakeholders advocating for your product and ensuring their needs are met and that the product team is getting the leadership and support that it needs to be successful. You will need to cultivate strong relationships across the enterprise in order to drive collaboration and alignment with key partners and stakeholders across pyramids.
You will develop and actively maintain a product roadmap outlining prioritization for the customer themes, technical needs, and design challenges to be delivered and you will be accountable to make final decisions on scope and prioritization relative to the product backlog. You will be accountable to create and manage product objectives and key results, key metrics for your product, as well as related P&L impacts.
You will oversee progress against product backlogs to ensure work and priorities are in line with the product strategy while prioritizing themes, epics, and stories, to ensure work focuses on those with maximum value that are aligned with the product strategy. Job duties may change at any time due to business needs.
Reporting/Working Relationships
Reports to Director, Product Management (ATP)
Located at Target Minneapolis HQ.
Working Relationships:  Works closely with Target Tech engineering teams and business product teams in India and United States, Digital Product teams, Global Supply Chain & Logistics, Digital, Stores, Target Finance and Accounting, Target Guest Service and Data Science
About you:
4-year college degree (or equivalent experience)
2+ years of retail experience or equivalent domain experience
Experience with technology and ability to facilitate communication between business and technology teams
Strong communication skills with proven ability to influence peers, key stakeholders and leaders
Expert at working in an agile environment (e.g. user stories, iterative development, scrum teams, sprints, personas)
Strategic mindset and bias for action with strong ability for strategic planning, defining ORKs and driving business outcomes
Apply Now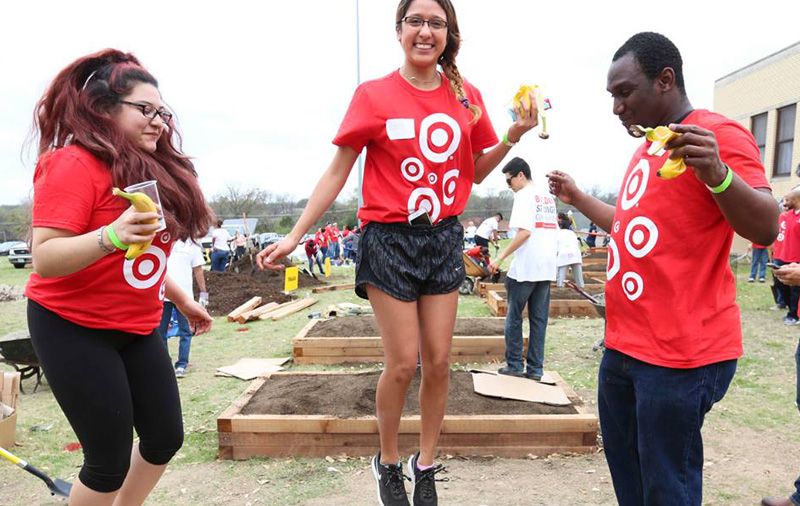 culture
What's it like to work here? We're asked that a lot. Target respects and values the individuality of all team members and guests—and we have lots of fun in all that we do.
experience our culture