Sr Agile Coach
Apply Now
Job ID: R0000051428
schedule: Full time
Location: Target Corporation India Pvt. Ltd., Bangalore, Karnataka, India, 560045;
Description:
JOIN US AS A Sr Agile Coach
About this Opportunity
The Target Technology Services (TTS) team designs and creates innovative solutions for a variety of applications, platforms and environments. TTS not only gives Target a competitive advantage in the marketplace, but also enhances the guest experience through the smart use of technology in the retail industry.
The Dojo at Target is an immersive learning environment comprising a team of coaches with expertise in Product, Agile and Engineering dimensions. Teams within Target leverage dojo to learn and adopt right mindset, skills and practices.
The Sr Agile Coach at Target Dojo is responsible for coaching one or more Product team(s) of full stack engineers that is building highly innovative and cutting-edge enterprise solutions on Target recommended Engineering practices and tools. You will will be challenged with an environment of continuous and fast paced learning. You will be called upon to be the Agile and Product representative from Dojo for a given business function/portfolio during cross-team collaborative efforts and planning.
Success in this role will require strong and innovative approaches to problem solving, great technical leadership, ability to coach, influence, excellent communication (written and verbal, formal and informal), flexibility, accountability and a self-motivated working style with attention to detail. Core responsibilities of this job are described within this job description.  Job duties may change as per the business needs.
Responsibilities:
Understand Target's long-term Technology and Product roadmap
Enable teams to determine the appropriate Agile delivery framework (Scrum, Kanban etc)
Drive best practices to embrace Agile way of working
Champion adoption of Agile Manifesto – Values and Principles
Help teams' transition from project mindset to product mindset
Coach teams in their Agile journey, with hand-holding on all concepts/practices/tools related to backlog management, estimation, metrics etc.
Partner with Engineering coaches in identifying gaps/anti-patterns in team delivery model, make-it visible and address them
Skills:
Overall 8+ years' experience in software industry
Minimum 2+ years' experience of being an Agile/Product coach
Minimum 2+ years' experience of being a Scrum Master
Strong knowledge LEAN concepts and coached teams on their LEAN journey
Minimum 2+ years of strong experience developing software products in any programming language
Passion and Experienced in Agile and Product coaching
Past and Must experience of being part of medium-large scale organization transformation programs in capacity as Agile/product coach
Ability to handle medium to large teams on Agile and Product concepts
Exposure to Design thinking practices and able to deliver workshops to teams on the same
Ability to work in high performing Engineering teams and influence them to adopt to agile practices
About you:
4 years degree in or equivalent experience
8+ years of software industry experience. Experience with at least one full cycle implementation from requirement to production. 
Strong written and verbal communication with the ability to present complex technical information in a clear and concise manner to variety of audiences

Benefits
Eligible team members will receive market competitive package including competitive pay, health, accidental and life insurance coverage, gratuity and provident fund, training and development and other perks and benefits. Target is an Equal Employment Opportunity Employer and is a drug-free workplace.
About Target®
Expect the Best. At Target, we have a vision: to become the best - the best culture and brand, the best place for growth and the company with the best reputation. We offer an inclusive, collaborative and energetic work environment that rewards those who perform. We deliver engaging, innovative and on-trend experiences for our team members and our guests. We invest in our team members' futures by developing leaders and providing a breadth of opportunities for professional development. It takes the best to become the best, and we are committed to building a team that does the right thing for our guests, shareholders, team members and communities.
Minneapolis-based Target Corporation serves guests at stores nationwide and at Target.com. Target is committed to providing a fun and convenient shopping experience with access to unique and highly
differentiated products at affordable prices. Since 1946, the corporation has given 5 percent of its income through community grants and programs like Take Charge of Education®.
Get to know more about Target Dojo - https://dojo.target.com/
Apply Now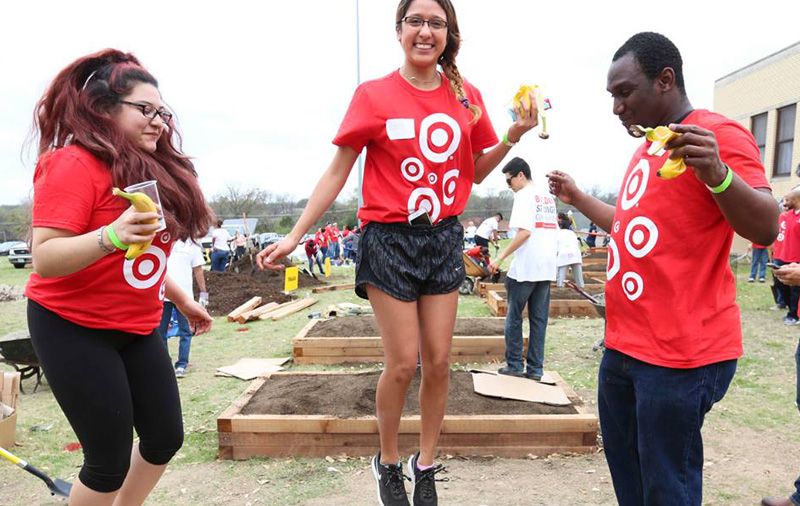 culture
What's it like to work here? We're asked that a lot. Target respects and values the individuality of all team members and guests—and we have lots of fun in all that we do.
experience our culture