Sr Analyst – Data Strategy P&I
Apply Now
Location: Target Corporation India Pvt. Ltd., Bangalore, Karnataka, India, 560045;
job id: R0000318415
job family: Business Intelligence Reporting & Analytics
schedule: Full time
Target is an iconic brand, a Fortune 50 company and one of America's leading retailers. 
Fueling the continued success of one of the world's most beloved and recognized brands is a distinctly capable, creative and innovative Marketing organization. Target Marketing is well known for inspiring and surprising guests, and we pride ourselves in connecting them to the products and experiences they expect and deserve from Target. We study our guests to discover new needs and insights, and then craft every interaction to build brand love and our business. We are market experts who insist on a clear and cohesive understanding of our business objectives, guest segments and behaviors, strategies and tactics, overcoming obstacles and measuring success. Our commitment to partnering both internally and with external agencies, media and ad tech companies gives us a wide range of capabilities, from award-winning creative work to exciting and performance-based marketing. Leveraging our collective assets and fostering a healthy, supportive and open team culture, we deliver a holistically gratifying experience that guests can only get at Target. 
Roundel is Target's entry into the media business; an advertising sell-side business built on the principles of first party (people based) data, brand safe content environments and proof that our marketing programs drive business results for our clients. We operate with the ethos of trust and transparency and that media works best when it works in everyone's best interest. At the very root of that, Roundel is here to drive business growth for our clients, and redefine "value" in the industry by solving core industry challenges vs. copy current industry methods of operation. We are here to drive a key growth initiative for Target and to lead the industry to a better way of operating within the media marketplace.
As the Senior Analyst – Data Strategy – P&I at Roundel, you would responsible for understanding the data needs across team and would also develop and execute a roadmap to maximize data capabilities that align with the evolving needs of the P&I team. You would be the data custodian for the P&I team responsible for scaling the data function in the form of new products and services. You will also be responsible to ensure that the data across the products is consistent with the highest standards of accuracy. You'll do so by bringing your knowledge and expertise of working in a data analytics/data-centric business environment with a strong foundation in data strategy.
You would work towards building new data capabilities in partnership with Roundel's Product functions to enhance the reporting and insights machinery within the P&I tem. You would work as a conduit between the product and P&I team to simplify data across sources to ensure data consistency and integrity and to develop new custom data products that support multiple use cases (MMM, Custom Analytics, etc.). Additionally, you will coordinate and lead both small and large working session with business stakeholders that drive to conclusions, agreement and outcomes. You would be expected to facilitate the process by which functional teams within roundel plan and executes key data initiatives through a formal governance process. 
Key Responsibilities
Data custodian for the P&I team to build and maintain data sets for reporting, insights, custom analytics and visualization
Data Quality and Reliability – Develop procedures to enhance the accuracy and integrity of data by performing data analysis as well as by collaborating with product team to enhance data collection and storage procedures
Ensure that the data from different sources which flows in the analyst facing products is consistent and accurate for all business use cases
Ensure data accuracy, as well as reporting output quality control, as required also troubleshoot and identify root causes for data inaccuracy- manual v/s system errors
Data Visualization - Ability to create and maintain multiple business health dashboard and ensure they reflect the correct data for all business use cases Data Warehousing – Identify new data sets that can be integrated in the existing reporting platforms to enrich our reporting & insights
Continue to develop and help drive the strategy for the different data need including data architecture, reporting, insights, analytics, MMM etc
Create new data products that align with evolving P&I reporting needs and also result in time & efforts savings for the analyst Work with Cross-functional teams – Product, Measurement, BII & GTM to align on the data strategy/ data roadmap Identify automation opportunities, gaps in technology & tools and work with product and business operations team to find solutions & support implementation Contribute to team upskilling efforts required to familiarize them with the data products as well as also address any data challenges faced by them
About You:
5-7 yrs of working experience in data wrangling & processing large data, cleaning and preparing data, querying data, and conducting exploratory analysis with a strong foundation in data strategy. Masters or bachelor's degree in one of the following: Analytics, Business Intelligence, Economics, Engineering. Knowledge of how to create and improve data sets, "big data" data pipelines, and infrastructures Strong hands-on programming skills in Python, SQL, Hadoop/Hive. Additional knowledge of Spark and Scala desired but not mandatory Proven hands-on experience developing metrics/scorecards, dashboards, and reports using Business Intelligence tools ( Experience with Domo is mandatory, Tableau and Power BI are good to have) Knowledge of data models, data mining, and segmentation techniques. Background in Ad-tech or Retail Media Network Experience is desirable but not mandatory Excellent oral and written communication skills and the ability to summarize and present complex information in a clear and concise manner to technical and non-technical audience Experience and passion for using data to explain or solve complex business problems and influence invention of new systematic and operational processes Experience working with ambiguity, in a dynamic & challenging environment to drive long-term sustainable solutions Proven experience of achieving results by leading, partnering, and influencing others
Apply Now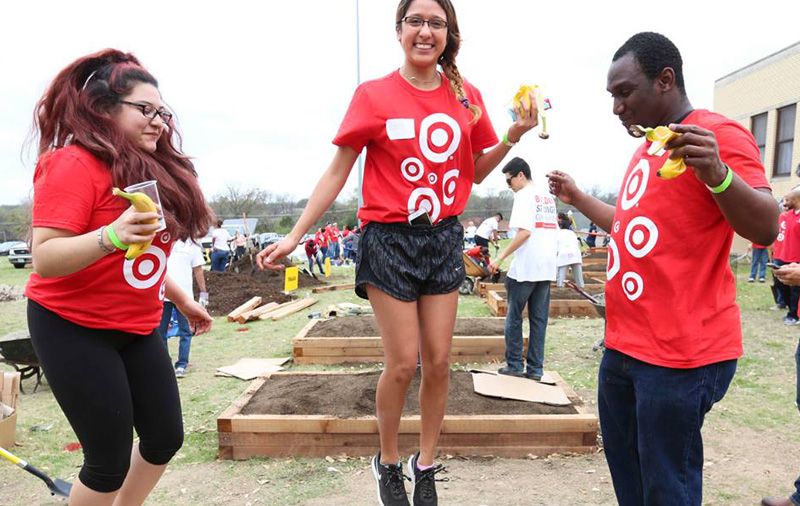 culture
What's it like to work here? We're asked that a lot. Target respects and values the individuality of all team members and guests—and we have lots of fun in all that we do.
experience our culture