Sr Corp Security Consultant
Apply Now
Location: Target Corporation India Pvt. Ltd., Bangalore, Karnataka, India, 560045;
job id: R0000302166
job family: Security & Loss Prevention
schedule: Full time
All About Target Corporate Security
A role within Corporate Security means protecting our Target community by managing physical security risks that have the potential to impact our team members, guests, and operations. Here, you may support our mission by generating intelligence & awareness, ensuring protective security, providing incident response, or guiding recovery & continuity procedures in the event of incidents or crisis. 
A Sr Corporate Security Consultant is responsible for delivering solutions to enterprise partners across TII (Target in India) through collaboration, subject matter expertise, and efficiency. This role is responsible for delivering department-level solutions through project management principles, cross-functional resource coordination, and optimized workload management of our team.
Job Description
Security risk management/ Governance
Implement Security Risk Management (SRM) principles into decision making across Corporate Security India capabilities. Execute exercises that operationalize SRM disciplines across security teams.
Guide the creation and development of Corporate Security India policies, procedures, and awareness programs.
Monitor, evaluate and update the effectiveness of the risk management plan regularly . This means reviewing metrics, audits reports and assessments to identify areas for improvement and adjusting risk management strategies as needed.
Creating metrics and dashboard to monitor performance across different verticals within CSA.
Communication & Awareness Program
Building CSA updates /Communication channels through Coms Team
Reviewing and updating CSA share point (Internal Portal)
Develop communication and awareness plan that outlines security risks, objectives, and risk management strategies. Thus ensuring team members and partners understand their roles and responsibilities in maintaining a secure environment.
Project Management
Lead project and program management for all large-scale Corporate Security India deliverables.

Influence

and leverage other teams within the broader organization to advance departmental and pyramid objectives (TTS, Finance, Target Properties, Legal Affairs etc.).
Maintaining Trackers and connects to track progress of CSA - projects.
Vendor Management
Lead Corporate Security vendor relationships and contracts management for India including any procurement and financial components for all consequential products and services contracts.
Collaborate with stakeholders (IS&P, Compliance, Internal team) on end-to-end process until final P.O / Contract is in place.
Working closely with Security Partners on Refresh Projects.
Ensure timely renewal of vendor contracts to invoice tracking on spent, timely approval and payment.
Budget Management
Lead Corporate Security India departmental capital and operational expense management including budgeting, forecasting, and ongoing spend decisions. Instill financial disciplines to monitor and control (training, process, and procedures).
Operation & Capital spend to be reviewed against actuals, tracking spends and YTD data.
BCM
Understanding of BCM principles and documentation
Reporting/Working Relationships
Reports to the Regional Director Corporate Security – Asia. Collaborates with cross functional teams from all pyramids. Works closely with security partners and HQ peers to drive CSA deliverables.
Professional Requirements
A successful candidate with a proven track record of strategic thinking, problem solving and strong collaborative approach to drive meaningful Results.
Key Requirements Include
5 years plus experience in project management, security risk management, vendor management and understanding of budget.

Team player who can quickly establish rapport, credibility, and trust.

Project Management: Ability to adapt, prioritize, and successfully manage multiple task or projects in response to changing, ambiguous, or competing priorities. This includes the ability to plan, execute, monitor, and close projects to meet specific objectives and success measures.
Change Management: Ability to apply change principles and processes to effectively identify, manage, initiate, and influence adoption to change initiatives.
Stakeholder Collaboration: Ability to facilitate meetings, resolve conflict, build consensus, establish rapport and collaborate effectively, internally and externally, across all levels of an organization. This includes understanding the appropriate time and method for timely issue escalation.
Automation: Ability to use or re-engineer a process in order to transition manual controls or processes to automation
Subject Matter Expertise: Ability to provide consultation to internal partners to enable effective decisions surrounding project and workload management. This includes completing continuous education or certification, participating in benchmarking discussions with industry partners or consultants, and applying innovative solutions that align with or exceed industry standards.
Communication: Ability to communicate effectively with stakeholders, sponsors, and senior management. This includes providing project updates to keep key decision makers informed of progress, issues, change management, and support needed for successful outcomes.
Process Mapping: Ability to identify process problems, document end-to-end baseline processes and develop improvement plans through documented process maps. Program ownership responsibilities include mastery over operational processes and key controls relevant to maintaining execution over time.
Administration: Highly proficient in use of Microsoft Office Suite programs including Excel, Word, and PowerPoint.
Security certifications, PMP, BCM certifications would be an added advantage.
Apply Now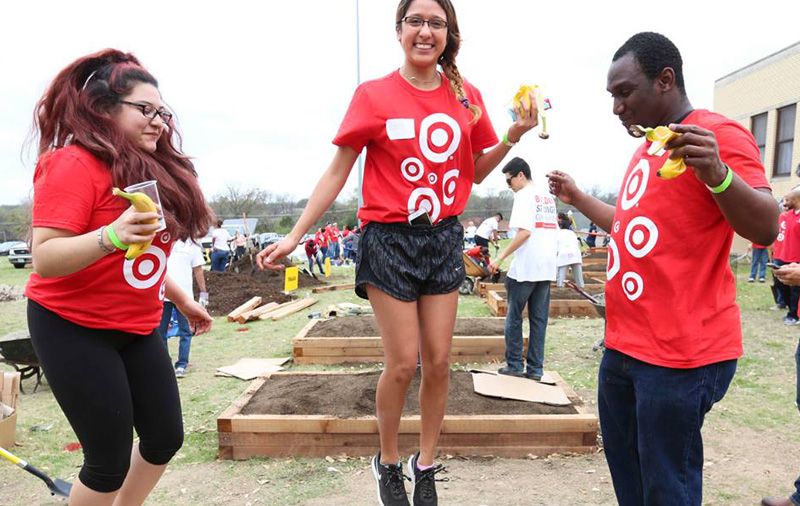 culture
What's it like to work here? We're asked that a lot. Target respects and values the individuality of all team members and guests—and we have lots of fun in all that we do.
experience our culture