Sr Corporate Security Consultant
Apply Now
Location: Target Corporation India Pvt. Ltd., Bangalore, Karnataka, India, 560045;
job id: R0000067160
job family: Security & Loss Prevention
schedule: Full time
PRIMARY FUNCTION

Responsible for collecting and converting raw information into finished intelligence in support
of Corporate Security and other departments as determined by leadership.

Work with cross-company partners to understand risk trends and provide relevant insights
and recommendations to enable informed decisions that safeguard Target's team members,
business, and reputation.

Participates as an on-call leader to provide guidance and direction to the Corporate
Command Center Asia (C3A) team, and function as a Headquarters Incident Leader (HQIL)
during activations of Target's cross-functional crisis response group (Green Team).

Support the Global Crisis Management (GCM) team in disaster recovery and preparedness
efforts to mitigate, prepare, respond to and recover from significant events and incidents that
impact Target Corporation.

Utilize analytical skills to execute Corporate Security projects aimed to advance crisis
management capabilities and processes.

Leverage project management experience to lead and/or support enterprise wide or cross
functional efforts related to crisis management.
PRINCIPAL DUTIES AND RESPONSIBILITIES

Strategic Intel Assessment:
Responsible for converting raw information into finished
intelligence products for corporate security leadership and stakeholders across India and APAC.
Conducting all-source collection, research, analyze, evaluate, and integrate data from multiple
reliable sources to produce cutting-edge intelligence assessments and recommendations. You
will support the production of various intelligence products that involve trend analysis, bespoke
risk assessment, and white papers among other deliverables.

Travel Security:
You will extensively support Target's Travel Security program in the APAC
region.
This involves reviewing travel requests to determine whether the travel is possible
through accurate and concise travel risk assessments. You will also follow a defined process to
call out requests that are deemed high risk. You will also support routine questions around the
process and will troubleshoot issues or escalate as necessary as well as play a key role in
maintaining the program's documents, policies, and processes.

Threat Intel monitoring:
will monitor multiple internal and external open-source intelligence
(OSINT) resources to proactively identify, analyze and alert potential physical security
vulnerabilities and/or threats to Target in India and APAC.
The Sr consultant will also assist with
the regional security measures by providing timely accurate information to the relevant teams by
discerning what information is important and relevant to operations.

Crisis Management, Communication, and Dissemination:
During a crisis or a developing
situation you will be responsible for working closely with the C3A team to monitor, research, and
produce analysis of gathered intelligence to support crisis management processes and situations.
This includes supporting the monitoring team with additional information using OSINT and
subscription tools.
This description is intended as a guide only. The listed duties may be changed at the discretion of the incumbent's supervisor.
REPORTING/WORKING RELATIONSHIPS
:
Reports to the Regional Director Corporate Security. Collaborates with cross company teams from
all pyramids. Supports Tactical Intelligence and Global Crisis Management partners across all
phases of Crisis Management (prepare, respond, and recover). Works closely with various public
and private partners/organizations globally.
PROFESSIONAL REQUIREMENTS
A successful candidate will have a proven track record of strategic thinking, problem solving and
driving meaningful results. Key requirements include:

Master Degree in International Relations or related field.

5 experience in project management and crisis management or a related field.

Ability to quickly establish rapport, credibility, and trust.

Strong analytical, critical thinking skills, and problem solving skills.

Strong conceptual skills.

Ability to assimilate information quickly and accurately; intellectually curious.

Ability to synthesize and clearly communicate highly complex findings to focus on the critical
issues and actionable opportunities.

Ability to handle multiple tasks and meet aggressive deadlines.

Ability to work effectively both independently and as part of a team.

Strong written and verbal communication skills.

Highly proficient in use of Microsoft Office Suite programs, including Excel, Word, and
PowerPoint.

Flexible schedule, willing to work outside of office hours as needed
Apply Now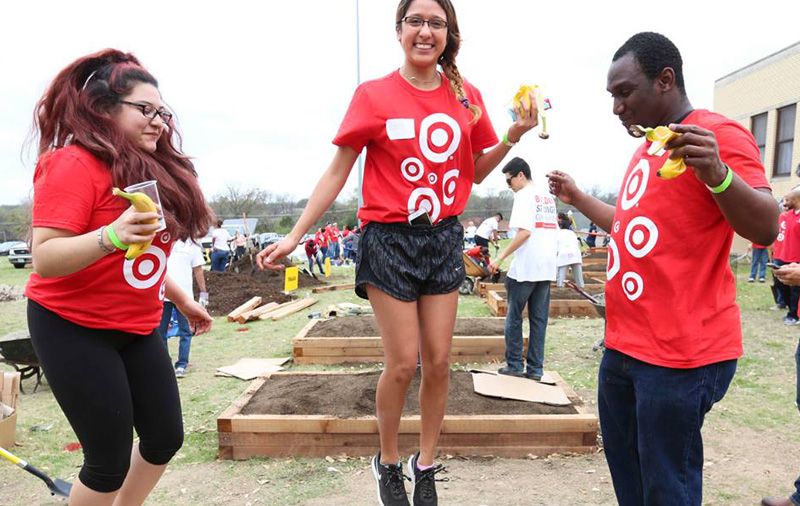 culture
What's it like to work here? We're asked that a lot. Target respects and values the individuality of all team members and guests—and we have lots of fun in all that we do.
experience our culture