Sr. Demand Planner
Apply Now
Location: Tower 02, Manyata Embassy Business Park, Bangalore, India, 540065;
job id: R0000291317
job family: Merchandise Planning
schedule: Full time
About us:
Target is an iconic brand, a Fortune 50 company and a leading global retailer. We are constantly reimagining how this $100 billion retailer offers innovative, guest-inspiring items for which Target is known and loved. We aim to deliver exceptional value, quality and style to elevate Target as the premier retailer in a competitive global marketplace.
Role:
A role in Planning means being in charge of the financials and forecasting for one of Target's businesses. Here, you'll conduct a comparative analysis of holiday or other seasonal performance reports and provide the insights that inform the Inventory team's work to ensure that the product supports projected sales. Acting as the hub between Merchandising and Supply Chain, you will create a financial link between these two essential groups and have a voice in some of the most critical decisions from a financial strategy standpoint.
Responsibilities:
Responsible for developing and implementing a comprehensive Food and Beverage Demand Planning capability building program from the ground up at Target in India. You will play a critical role in conceptualization, design and deliver integration of demand planning with inventory management function for Target's Food and Beverage business.
Develop accurate demand forecasts (operational forecasts) of all line items across multiple time horizons for their accountable business segment by using a combination of statistical forecasting integrated with insights gained via collaborating with HQ Planning, Merchandising, Inventory and Finance departments. Ensure consistent integration into the forecast of insights, base business trends, promotional merchandising plans, new item volumes, plan-o-gram changes and seasonal volume to minimize forecast error. Work cross-functionally toward continuous improvement of forecast accuracy and improve the error rate below targeted levels of Weighted Mean Absolute Percentage Error (WMAPE) and Bias.
Act as liaison between the HQ Planning and India-based Planning and Inventory teams.  
Develop/Support the monthly forecasting process; maintain baseline / statistical forecasts, collect Sales and promotional forecast drivers, and highlight changes and drivers in the plan to key stakeholders. Review historical sales trends, research demand drivers, prepare forecast data, develop statistical forecast models, and evaluate forecast results
Develop operational forecasts at various levels to drive global business awareness; this includes SKU level by region
Analyze historical data and current trends to identify risks and opportunities at the item level
Recap and analyze actual sales results to plan; forecast in-season daily and monthly sales and inventory monthly and quarterly.
Use and develop the systems and processes needed to ensure our core assortment is continually being assessed at the SKU level and sales demand is being met at all times
Play a pivotal role in helping our organization navigate and thrive in complex, uncertain, and ambiguous situations. You will be responsible for providing innovative solutions amidst uncertainty to make informed decisions and take decisive actions. Your exceptional problem-solving skills, adaptability, and ability to embrace uncertainty will be key to your success in this role.
Responsible for driving results by collaborating with multiple stakeholders across the organization in US & Target in India HQ. You will play a critical role in fostering effective communication, building relationships, and aligning efforts to achieve common goals. Your exceptional interpersonal skills, strategic mindset, and ability to navigate complex relationships will be essential in delivering successful outcomes and maximizing organizational success.
Qualifications:
Overall Ten years of relevant industry experience, with at least 6 of those with a focus on Demand Planning, preferably in the food & beverage or fast-moving global consumer goods industries
Thorough understanding of demand management, strong analytical skills, strong communication and influencing skills to bring diverse teams to consensus.
Demonstrated success in driving continuous improvement initiatives in customer service levels
Skilled in relationship management within your team, Planning, Inventory, Merchandising, and Finance to drive a continuous improvement mindset across the supply chain and the entire organization.
Strong knowledge of advanced analysis techniques and forecasting models
Proficiency in Microsoft Office Excel (vlookup, pivot tables, macros), PowerPoint.
Preferred Skills:
MBA – Operations and/or APICS – CSCP or IBF Certified Professional in Demand Planning
Knowledge of statistical methods of analysis, SQL Intermediate skills, and exposure to Python is an add on
Apply Now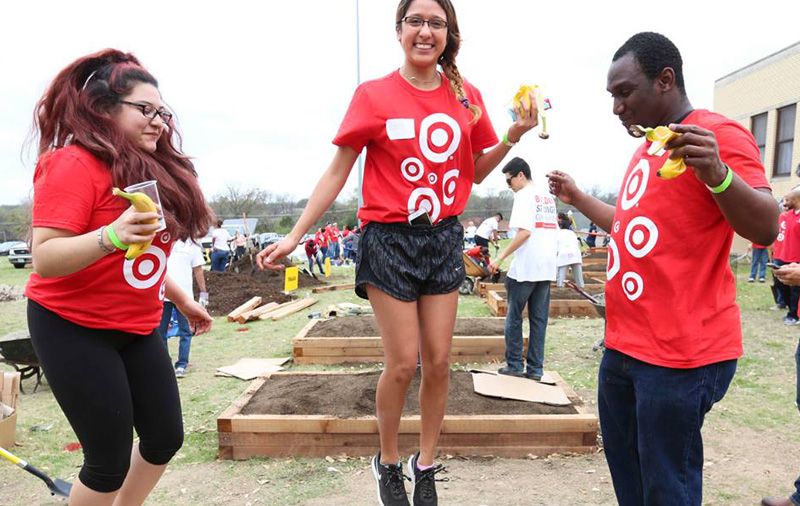 culture
What's it like to work here? We're asked that a lot. Target respects and values the individuality of all team members and guests—and we have lots of fun in all that we do.
experience our culture