Sr Engineer-Target India
Apply Now
Location: Target Corporation India Pvt. Ltd., Bangalore, Karnataka, India, 560045;
job id: R0000211272
job family: Product Engineering
schedule: Full time
Target is an iconic brand, a Fortune 50 company and one of America's leading retailers.

Target as a tech company? Absolutely. We're the behind-the-scenes powerhouse that fuels Target's passion and commitment to cutting-edge innovation. We anchor every facet of one of the world's best-loved retailers with a strong technology framework that relies on the latest tools and technologies—and the brightest people—to deliver incredible value to guests online and in stores. Target Technology Services is on a mission to offer the systems, tools and support that guests and team members need and deserve. Our high-performing teams balance independence with collaboration, and we pride ourselves on being versatile, agile and creative. We drive industry-leading technologies in support of every angle of the business, and help ensure that Target operates smoothly, securely and reliably from the inside out.

As a Senior Engineer, you serve as a specialist in the engineering team that supports the product. You help develop and gain insight in the application architecture. You can distil an abstract architecture into concrete design and influence the implementation. You show expertise in applying the appropriate software engineering patterns to build robust and scalable systems. You are an expert in programming and apply your skills in developing the product. You have the skills to design and implement the architecture on your own, but choose to influence your fellow engineers by proposing software designs, providing feedback on software designs and/or implementation. You show good problem solving skills and can help the team in triaging operational issues. You leverage your expertise in eliminating repeat occurrences.

Use your skills, experience and talents to be a part of ground-breaking thinking and visionary goals. As a Sr. Engineer, you'll take the lead as you…
Use your technology acumen to apply and maintain knowledge of current and emerging technologies within specialized area(s) of the technology domain. Evaluate new technologies and participate in decision-making, accounting for several factors such as viability within Target's technical environment, maintainability, and cost of ownership. Initiate and execute research and proof-of-concept activities for new technologies. Manage total product, financials and forecasting. Lead the design, lifecycle management, and total cost of ownership of services. Lead and conduct code review, design review, testing, and debugging activities at the application level. Lead functional design and architecture discussions with understanding of process flows and system diagrams to enable design decisions. Participate in routine and non-routine construction, automation, and implementation activities, ensuring successful implementation with architectural and operational requirements and best practices met. Provide technical oversight and coach others to resolve complex and severe technical issues. Lead disaster recovery activities and contribute to disaster recovery planning. Embed data quality protocols throughout data acquisition, processing, storage, and operational use. Core responsibilities of this job are described within this job description.
We're seeking an engineer who is able to jump in and contribute to Target's Data Sciences platform team.
If you're a software engineer with a passion for software architecture, cutting-
edge technologies, massive scale, building performant systems, and solving challenging
problems, then this career opportunity is for you!
Work as a member of a product team which builds features that impact the bottom line for Target
Contribute to our Java, Spring Boot, and Python applications
Continuously work to improve self and team through pair programming and pull request reviews
Implement design patterns to enhance our highly scalable and performant applications
Contribute to the design of our full system architecture
Contribute to an inclusive and rich engineering culture
Responsible for quality and stability of delivered work
Contribute to unit and functional testing efforts to certify the team's work is good
Initiate and facilitate necessary cross-organization communication to complete work
About you:
BS degree in Computer Science or related technical field
4+ years of software development experience
Proficient with an object-oriented language (i.e.: Java)
Computer Science foundational knowledge including competencies working with design patterns, data structures, and algorithms
Hands on experience building scalable REST APIs at significant scale
Experience with frameworks like Spring Boot, Micronaut, Ratpack, etc.
Experience integrating with a message streaming platform is a plus(i.e. Kafka)
Knowledgeable of microservice design patterns
Experience load testing and performance tuning
Experience automated testing and proficient with a testing framework (Spock,JUnit)
Familiarity with build tools Maven and Gradle
Experience working on projects orchestrating containerization (Docker,
Kubernetes)
Exposure to DevOps tools, processes, and culture (Drone, Jenkins, Git, etc.)
Experience working with a source versioning tool, such as Git
Awareness of new and emerging technologies
Experience working as a member of an Agile software development team
Strong verbal and written communication skills
Strong analytical and troubleshooting skills
Apply Now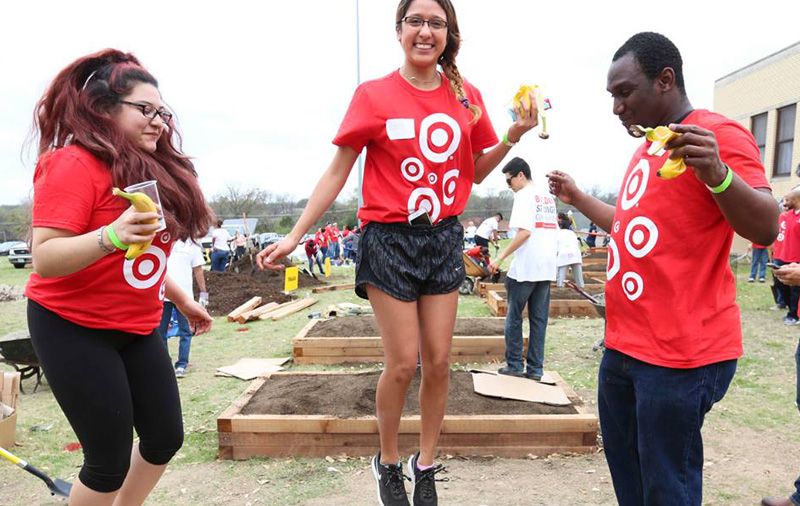 culture
What's it like to work here? We're asked that a lot. Target respects and values the individuality of all team members and guests—and we have lots of fun in all that we do.
experience our culture