Sr Engineer
Apply Now
Location: Target Corporation India Pvt. Ltd., Bangalore, Karnataka, India, 560045;
job id: R0000215293
job family: Product Engineering
schedule: Full time
Join us as a Senior Engineer – Machine Learning Platform
Work Location- Bangalore
About Vision computing platform – Our mission is to provide core capabilities in vision computing and machine learning. We want to enable unparalleled guest experience by deriving insights from structured data and unstructured content (videos, images and documents) using vision computing and machine learning platform and capabilities. The platform will provide end to end ubiquitous experience including acquiring, processing, analyzing and understanding content and extraction of high-dimensional data in order to produce numerical or symbolic information, e.g., in the form of decisions. Machine learning platform would enable ML developers to focus on writing efficient ML models solving business problems and train/ deploy/ manage with minimal effort.
Machine Learning Platform – This team is chartered to empower data scientists and enginers with a wide range of productive experiences to build, train and deploy machine learning models and foster team collaboration. Best-in-class support for open-source frameworks and languages including ONNX, PyTorch, TensorFlow, Spark, Flink, Python and R. Create reproducible workflows with machine learning pipelines and train, validate and deploy thousands of models at scale, from the cloud to the edge. Choose the development tools that best meet your needs, including popular IDEs, Jupyter Notebooks and CLIs.
Currently, Machine Learning Platform team is desining model explainability, model behavior during training and inferencing and build for fairness by detecting and mitigating model bias. Get model transparency at training and inferencing with interpretability capabilities. Assess model fairness through disparity metrics and mitigate unfairness.
About the Role
The key to the success of this position is having strong & innovative approach to problem solving, great technical, excellent communication (written and verbal, formal and informal), flexibility, and a self-motivated working style with attention to detail.
Use your skills, experience and talents to be a part of groundbreaking thinking and visionary goals. As a Senior Engineer, you'll take the lead as you
Provides technical expertise to the project team. This includes the recommendation of solution alternatives and the identification of risks.
Providing progress reporting to the team lead and Project Manager/Lead during the project lifecycle
Schedules and facilitates solution walkthroughs. Serves as a subject matter expert within the team. Works on continuous improvement projects within the team and mentors software engineers as appropriate
Follow software quality process and methodology standards, including those for design, data quality, code, version control, defect/change request tracking, documentation, work product review, unit testing and environment management.
Reviewing requirements and functional specifications and providing feedback to the project team. Includes participation/input to the requirements process.
Delivering detailed design in accordance with design documentation and ensuring that it undergoes design review by the development team.
Working with the technical lead and release services to migrate code and data to production and pre-production environments and working with them to execute release activities
Other duties and projects as assigned.
Requirements
Engineering degree in any stream
Has at least 6 years of prior experience in building computer vision based products/solutions. Excellent programming skills in any one of the language C++ or GoLang or Python or Java.
Hands on experience on open source libraries and framework- Tensorflow, OpenCV, Fastai, Pytorch, MLFlow, KubeFlow, Hadoop, Spark, Flink, Kafka, MLLib, DataBricks etc.
Experience in machine learning algorithms, including deep learning. Must have working experience on managing model serving with Convolution neural networks (CNNs), object detection/ recognition, image classification areas.
Developed and productized large scale models/algorithms in prior experience. Can drive fast prototypes/proof of concept in evaluating various technology, frameworks/performance benchmarks.
Familiar with software development practices/pipelines (DevOps- Kubernetes, docker containers, CI/CD tools).
Good verbal, written and presentation skills.
Works well under pressure and attention to detail with ability to self-organize to meet deadlines. Functions as an effective member of a team by modeling teamwork and team effectiveness
Ability to learn new skills and technologies
Effectively organizes and executes a demanding workload
Understands the implication work assignments have on one portion of a project
Ability to handle high pressure situations and come up with quick stop-gap arrangements for reducing business impact.
Benefits
Eligible team members will receive market competitive package including competitive pay, health, accidental and life insurance coverage, gratuity and provident fund, training and development and other perks and benefits. Target is an Equal Employment Opportunity Employer and is a drug-free workplace.
About Target®
Expect the Best. At Target, we have a vision: to become the best - the best culture and brand, the best place for growth and the company with the best reputation. We offer an inclusive, collaborative and energetic work environment that rewards those who perform. We deliver engaging, innovative and on-trend experiences for our team members and our guests. We invest in our team members' futures by developing leaders and providing a breadth of opportunities for professional development. It takes the best to become the best, and we are committed to building a team that does the right thing for our guests, shareholders, team members and communities.
Minneapolis-based Target Corporation serves guests at stores nationwide and at Target.com. Target is committed to providing a fun and convenient shopping experience with access to unique and highly differentiated products at affordable prices. Since 1946, the corporation has given 5 percent of its income through community grants and programs like Take Charge of Education®.
Apply Now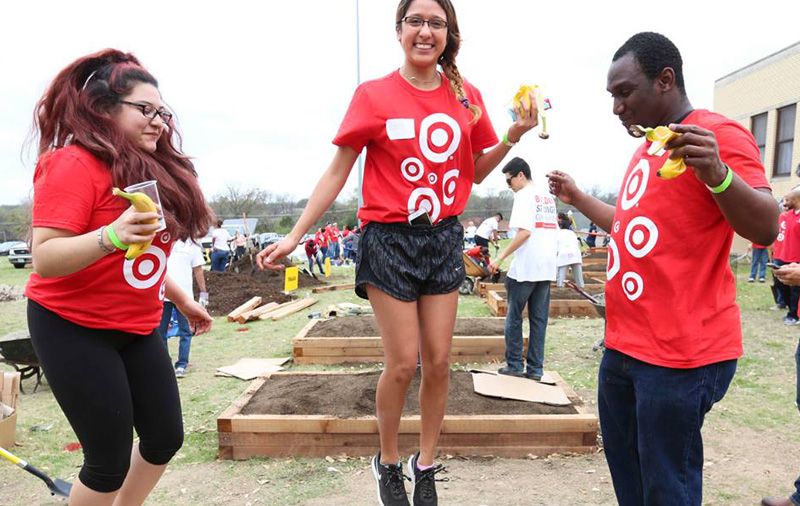 culture
What's it like to work here? We're asked that a lot. Target respects and values the individuality of all team members and guests—and we have lots of fun in all that we do.
experience our culture