Sr Manager Prjt Mgmt
Apply Now
Location: Target Corporation India Pvt. Ltd., Bangalore, Karnataka, India, 560045;
job id: R0000170844
job family: Project Management
schedule: Full time
About us:
Target is an iconic brand, a Fortune 50 company and one of America's leading retailers.

Fueling the continued success of one of the world's most beloved and recognized brands is a distinctly capable, creative and innovative Marketing organization. Target Marketing is well known for inspiring and surprising guests, and we pride ourselves on connecting them to the products and experiences they expect and deserve from Target. We study our guests to discover new needs and insights, and then craft every interaction to build brand love. We are market experts who insist on a clear and cohesive understanding of our guests, guest segments and behaviors, business objectives, strategies, and tactics, overcoming obstacles and measuring success. Our commitment to partnering both internally and with external agencies gives us a wide range of capabilities, from award-winning creative work to exciting and unique promotional marketing. Leveraging our collective assets and fostering a healthy, supportive, and open team culture, we deliver a holistically gratifying experience that guests can only get at Target. 
Roundel is Target's entry into the media business, a sell-side business built on the principles of first party (people based) data, brand safe environments, and proof that our marketing programs drive business results for our clients. We operate with the ethos of trust and transparency and that media works best when it works in everyone's best interest. At the very root of that, Roundel is here to drive business growth for our clients and redefine "value" in the industry by solving core industry challenges vs. copy current industry methods of operation. We are here to drive a key growth initiative for Target and to lead the industry to a better way of operating.
A role with Target in India Marketing (Roundel Program Management) is an opportunity to work with some of the best in the business for marketing, strategy, media & digital and you'd lead work that connects to millions of guests. Your influence will drive sales and grow brand love through work that's guest-centric, on brand, category relevant and channel focused.
The Roundel Program Management team comprises digital marketing experts with a deep understanding of Target's Creative vision & guardrails, creative project management, operations, and the guest experience. They steward the brand, drive end-to-end creative execution and associated process management ensuring on-time delivery and operational excellence.   
As a Sr. Manager, Project Management, Marketing (Roundel Program Management) you will operate at the intersection of your team and the business. At the core, you are expected to lead Program Management team at category business level. You will partner closely with Roundel Account Management, Creative, Media Ops, and Product teams to understand client's strategic priorities and lead end-to-end program management for campaign creatives. You will be responsible for campaign creative execution lifecycle management & client service across a category and series of accounts, leading a team of Program Managers.
You will also be responsible for working closely with many areas of Target leadership including Roundel Account Management, Creative, Media Ops, Roundel Site Merchandising, Target in India Marketing, and Target Creative. Other internal partnerships include Roundel Business & Sales Operations, Target Merchandizing, Target Brands, Business Affairs and Legal. External partnerships include external vendors, agency partners and 3rd party partners.
As a Sr. Manager, Project Management, Marketing (Roundel), you will be responsible to:
Digital Creative Execution Strategy:
Develop and drive campaign creative execution strategy & manage campaign creative lifecycle. 
Provide program management oversight to category of business in support of revenue goals.
Leverage insights and data as part of influencing creative execution strategy for category of business.
Serve as a steward of the Target brand in support of Target's purpose to help all families discover the joy of everyday life.
Articulate strategic thinking and creative direction to executive-level internal and external stakeholders (as needed).
End-to-End Process Management:
Drive end-to-end campaign creative process management for a category, ensuring on-time delivery and operational excellence. 
Provide guidance and oversight of process evolution and solutions to support new & changing business needs.
Partner with working CFTs and other internal stakeholders to drive vendor/client/brand strategic priorities by category. 
Relationship & Stakeholders Management:
Manage day-to-day operations and associated communication & relationship for a category
Develop strong partnerships with business and partners in Site Merchandising, Category Marketing, Merchandising, and Business Affairs to problem solve and drive revenue growth for category of business and support of teamwork flow.
Effectively present, communicate, and manage expectations regarding creative and business execution strategies, and key decisions to Roundel leadership teams and larger organization.
Drive business reviews at

team/category/capability

levels

Team Leadership:
Develop and oversee team resourcing, identify gaps and opportunities in support of your category of business, and activate appropriate actions.
Coach and lead teams through on-the-job experiences, connect resources, remove roadblocks, and provide feedback.
Elevate team expertise by leveraging industry trends to influence and evolve team.
Engage and inspire team to achieve challenging goals and high standards of performance.
Be required to work during US Day time (CST) for certain period in the year
Innovation:
Recommend and drive new digital solutions that facilitate additional revenue execution strategies in support of revenue goals.
Partner with Account Management, Product, and Operations to drive innovation and support risk taking to enhance the guest experience and drive revenue growth. 
Participate in creative testing strategies, in partnership with Account Management, Roundel Site Merchandizing, Creative, Media Ops, with the goal of driving better outcomes and increased guest engagement.
This position reports to the Director, Roundel Program Management. Core responsibilities of this job are described within this job description. Job duties may change at any time due to business needs.
About you: 
Graduate in any discipline (preferably Marketing / Communication Management) or equivalent
12+ years total experience with 8+ years in Account Management or Account Planning or Content Strategy in the Digital space with ability to manage multiple large projects
Team leadership & talent management experience is a must
Experience with a large marketing / advertising firm or directly with a corporation
Exposure to multichannel marketing creative & communication
Strong understanding of digital and social platforms as well as their use in marketing
Excellent project management and resource management skills
Strong analytical skills with superior attention to details, resourceful, and self-motivated
Excellent communication, presentation, interpersonal skills and ability to tailor message as appropriate
Proven ability to engage consistently and influence teams & stakeholders for better business outcomes
Ability to collaborate with multiple business partners and work effectively with global teams
Ability to work in a fast-paced environment & manage ambiguity
Demonstrated ability to share actionable recommendations in a concise and persuasive manner
Build a culture of creative thinking and innovation
Strategic thinker, passion for creative, initiative driven
Apply Now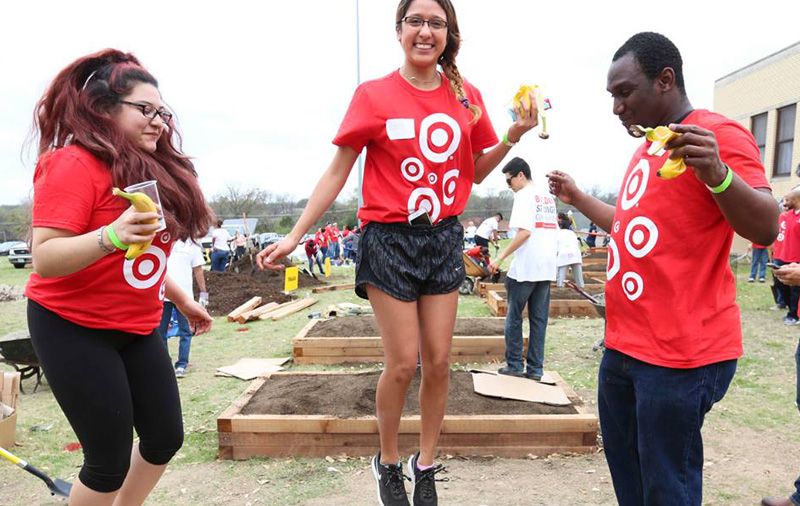 culture
What's it like to work here? We're asked that a lot. Target respects and values the individuality of all team members and guests—and we have lots of fun in all that we do.
experience our culture