Sr Media Analyst
Apply Now
Location: Target Corporation India Pvt. Ltd., Bangalore, Karnataka, India, 560045;
job id: R0000320374
job family: Digital Marketing
schedule: Full time
About us:
Target is an iconic brand, a Fortune 50 company and one of America's leading retailers. Fueling the continued success of one of the world's most beloved and recognized brands is a distinctly capable, creative and innovative Marketing organization. Target Marketing is well known for inspiring and surprising guests, and we pride ourselves on connecting them to the products and experiences they expect and deserve from Target. We study our guests to discover new needs and insights, and then craft every interaction to build brand love. We are market experts who insist on a clear and cohesive understanding of our business objectives, guest segments and behaviors, strategies and tactics, overcoming obstacles and measuring success. Our commitment to partnering both internally and with external agencies gives us a wide range of capabilities, from award-winning creative work to exciting and unique promotional marketing. Leveraging our collective assets and fostering a healthy, supportive and open team culture, we deliver a holistically gratifying experience that guests can only get at Target.
As an Sr.Media Analyst, you will leverage your position as a subject matter expert in digital ad operations to meet the needs of brand category marketing and Target Media Network (TMN) digital businesses.
This position is responsible for executing exceptional ad operation practices to launch digital campaigns (Ad Manager and Campaign Manager).  You will focus on flawless execution, maintaining the Ad Ops standards we set for Target.  You will participate and enforce key business enhancements in relation to tagging, trafficking, creative rotation, dynamic capabilities, third-party verification and compliance and all other ad ops related functions. This vital role will lead workflow automation development to continuously evolve our ad operations practice and ensure stringent compliance and enhanced productivity and efficiencies. The ideal candidate for this role will have vast experience in ad operations with track record for executing a multitude of various campaign types, including both scale and complexity. 
The candidate for this role must have a data-driven approach and an eye toward technological advancements that will make Target first-to-market in the digital media space. You will focus on efficiencies through automation in order to ensure goals are consistently achieved.  An ability to multi-task with an eye for detail is a must.
Responsibilities

Serve as Sr. Ad ops expert owning the set-up, management, and execution of several of our top accounts, while maintaining a high quality standard for the Advertising Operations
Serve as a trafficking expert owning the set-up, management, and execution of several of our top accounts, while maintaining a high quality standard for the Advertising Operations department to ensure 100% accuracy and to exceed client expectation

Own and support all pre- and post-launch trafficking responsibilities and inquiries

Work closely with different teams, like Media Strategy, Account Management, Sales etc.

Anticipate and identify issues with campaigns and ad-creative set-up, and provide troubleshooting support for trafficking issues related to creative, trafficking tags, etc.
QC Media Plan set-up, and process ad trafficking requests accurately and efficiently:
QA of trafficking sheets (identification and remediation of issues),

Assign creative to appropriate placements as detailed in the trafficking sheet

Implement business rules as instructed in the trafficking sheet

Implementation of additional ad tracking code (e.g. verification, MOATs etc.)
Generation, testing, and QA tags and trackers (identification and remediation of issues)

Solving issues regarding creative specs, campaign set-up and tracking

Implement, review and QA creative assets, tags, and tracking codes to ensure proper delivery and tracking of campaigns

Knowledge/keeping track of the latest trends associated with online marketing like PMP, RTB, Video, App and Native advertising operations.

Resolve a high volume of queue-based tasks with a primary emphasis on productivity and accuracy against strict deadlines and SLA's

Resolve issues that arise including reporting discrepancies, creative policing, trafficking requirements

Collaborate with team members by providing guidance on how to continually improve operational processes, supporting systems and communication channels where needed

Act as a strategic partner within account teams; providing consultation to clients on the correct setup of campaigns, tagging of clients sites, and the use of web technologies to meet client needs

Complete ad server and campaign audits using checklists to ensure accuracy and completeness of campaign, including go live workflows
About You
Possess a professional degree, preferably M.B.A/ B.Tech from a top-tier university or equivalent

8+ years' experience in digital ad operations and/or digital compliance

Complete understanding and familiarity of tools in digital ecosystem (DSPs, DMPs, Ad servers, etc.)

Experience managing a high volume of tasks and comfortable with prioritization of work irrespective of time.

Experience in digital ad operations, account management or technical support

Experience with a wide variety of creative/ad serving vendors (e.g. DCM, Sizmek, Celtra, etc.)

Experience with multiple third-party verification partners such as Moat, IAS, Double Verify, White Ops Collaborate closely with our development team on all Ad Server technical issues and updates

Conduct technical troubleshooting and resolve any issues identified as related to Ad Operations

Experience with various third-party tag specs including brand studies, DMPs, etc.

Experience with troubleshooting discrepancies, creative tag setup issues, delivery issues and other issues from a technical support perspective

Highly self-motivated and well-organized with strong verbal and written communication skills

Strong sense of urgency and demonstrates initiative 

High degree of professionalism and high sensitivity for confidentiality

Ability to solve problems creatively and effectively
Apply Now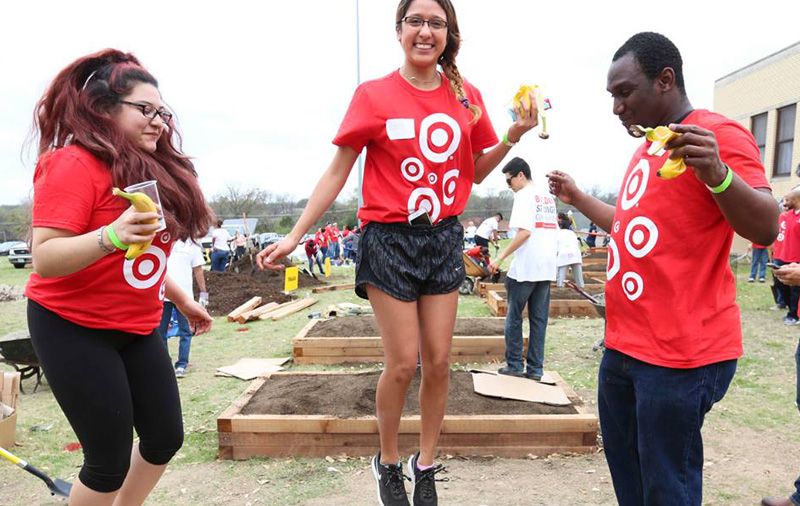 culture
What's it like to work here? We're asked that a lot. Target respects and values the individuality of all team members and guests—and we have lots of fun in all that we do.
experience our culture