Sr Operations Research Analyst
Apply Now
Location: Tower 02, Manyata Embassy Business Park, Bangalore, India, 540065;
job id: R0000274993
job family: Data Science
schedule: Full time
L5- Sr Operations Research Analyst
Target's Global Supply Chain and Logistics is evolving at an incredible pace. We are constantly reimagining how we get the right product to the guest even better, faster and more cost effectively than before. We are becoming more intelligent, automated and algorithmic in our decision-making, so that no matter how guests shop—in stores or on Target.com—we deliver the convenience and immediate gratification they demand and deserve. We are on a mission to win decisively over any competitor, with a seamless and superior guest service experience unlike any they can offer. Our teams work with the agility our mission requires, and we constantly come together to implement new processes in record time. We're looking for exceptional people who are proactive, creative, independent, innovative, risk-savvy and comfortable working in varying degrees of ambiguity. Are you a critical thinker who seeks the root cause and can analyze both qualitatively and quantitatively? Are you a creative problem-solver who simplifies problems, quickly identifies solutions, commits to a plan and then positively influences others to execute it? If so, you will have success on one of our dynamic teams.
A role in Enterprise Capacity Planning (Optimization) means creating industry leading intelligence solutions to drive best in class omnichannel guest experiences at the lowest cost to Target. You might focus on enabling the future inventory purchasing and flow model, optimizing inventory positioning and replenishment, driving echelon activation or leveraging deep business insights and analytics to propel Target's Supply Chain. As a network steward, we design inventory optimization strategies and leverage technology to ensure our inventory is available at the right time, in the right places and quantity to meet the needs of our guest, stores and operational goals. Super-powered first and foremost by our people, and supported by robust process and technology, we are a team of data-focused, curious minds who love to solve hard problems to enable a dynamic, fast paced Supply Chain Network. Our modern operating systems are built by Target and lead in the arena of automated large-scale supply chain planning and optimization systems running large-scale solves for complex optimization problems.
The Supply Chain Network Optimization team is part of Enterprise Capacity Planning team and responsible for providing insights, leading strategy, and optimization-based initiatives to drive the efficiency of Target's overall supply chain network. The team member will need to use data engineering skills, statistical knowledge, simulation and modeling techniques while collaborating with data science, product, technology and business partners to transform Target's fulfillment. This role will support cross-pyramid business teams and coordinate solutions across enterprise functions impacting productivity savings goals, system configuration accuracy (i.e. transit time, lead time, etc.), product roadmaps and process optimization
REPORTING/WORKING RELATIONSHIPS: Role is based out of Target in India HQ in Bangalore. Role will report to the Director , Operations Research (Supply Chain Network Optimization) based out of Target in India HQ in Bangalore. Role will work closely with Target Tech and data science team across globe and partners closely with Digital, Global Supply Chain & Logistics teams, Store Operations in USA.
PRINCIPLE DUTIES AND RESPONSIBILITIES
Analyze large amounts of supply chain data at the most granular level & develop key metrics to evaluate the performance of supply chain across sales, transportation, operations, and inventory.
Perform root cause analysis to understand key drivers related to operational performance and variance in the projected outcomes.
Works with lead optimization managers to analyze opportunities, quantify scope for improvement and define core areas of focus to improve guest experience and cost to serve in Target's SCM.
Conducts mathematical modeling, simulation, and statistical approaches to clearly define problems, build solutions and recommend next steps to the partners across Target like building operations, transportation teams, technology teams, etc
Partners with product and analytical teams, business teams, supply chain and other operations teams globally to deliver on business outcomes like ship expense reduction, improve speed of network, inventory availability to guest for various service levels.
Provides necessary information for and participates in pilot engagements to demonstrate business opportunities and ensures succession to standard process/practice where appropriate.
REQUIREMENTS:
BTECH/MTECH/MS degree
5+ years of retail or equivalent domain experience
Experience in business problem solving using analytical skills
Experience with statistical tools such as SAS, R, and with scripting languages such as Python for analyzing data and building prototypes and solutions
A strong passion for empirical research and for answering hard questions with data. Good understanding of analysis of algorithms, simulations, A/B testing, stochastic models, forecasting
Familiarity with supply chain concepts such as forecasting, planning, optimization, and logistics - gained through work experience or graduate level education.
Experience with Supply Chain or Ecommerce Order Fulfillment preferred
Ability to communicate complex concepts in easy to understand terminology with multiple audiences.
Technical aptitude and familiarity with the design and use of complex supply chain & logistics software systems 
Knowledge of statistics and data mining techniques and tools to analyze and make insights from big data such as historical sales data and simulation/experiment results
Apply Now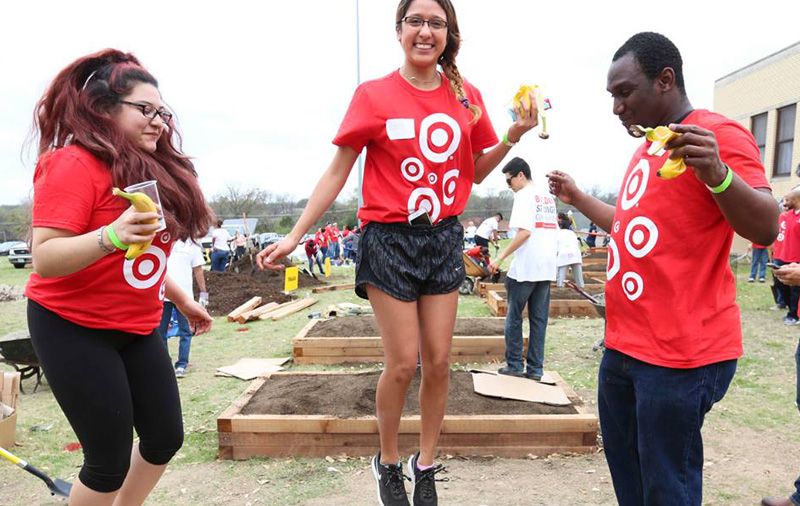 culture
What's it like to work here? We're asked that a lot. Target respects and values the individuality of all team members and guests—and we have lots of fun in all that we do.
experience our culture