Sr Product Manager, List and Gift Registry Capabilities - Target India
Apply Now
Location: Tower 02, Manyata Embassy Business Park, Bangalore, India, 540065;
job id: R0000232466
job family: Technology Product Management
schedule: Full time
As a Fortune 50 company with more than 350,000 team members worldwide, Target is an iconic brand and one of America's leading retailers.
Working at Target means the opportunity to help all families discover the joy of everyday life, inclusive of Black, Indigenous, people of color, people with disabilities, non-binary, and low-income guests. Caring for our communities is woven into who we are, and we invest in the places we collectively live, work and play. We prioritize relationships, fuel and develop talent by creating growth opportunities, and succeed as one Target team. At our core, our purpose is ingrained in who we are, what we value, and how we work. It's how we care, grow, and win together. 
Right along with Target's distinctive retail brand, we are constantly improving and innovating our digital shopping experience. Are you ready to excel in the fast-changing retail environment? Are you a customer service enthusiast who's curious about the guest and can see the shopping journey through their eyes? Then you'll have success on the Digital Strategy & Platform team, whose goal is to offer guests a seamless online shopping experience across our platforms—including Target.com and the store network's fulfillment capabilities. Here, you'll collaborate to create and implement digital strategies that enrich the online experience through the right mix of personalization, simplicity and intuitiveness. Your ideas will support Target in complementing the beloved in-store shopping interaction with a convenient, reliable and instantly gratifying digital experience.
Product Teams at Target Corporation are accountable for the delivery of business outcomes enabled through technology and analytic products that are easy to use, easily maintained and highly reliable. Product teams have one shared backlog that is inclusive of all product, technology, and design work.
The Senior Product Manager for List and Gift Registry Capabilities will lead the development of the back-end applications, databases, and other capabilities that power Target's List and Gift Registry products used by millions of guests online, in mobile apps, and in stores.
You will partner with product experience, site merchandising, marketing, and store operations teams and leverage guest research, quantitative data, and derive insights to set multi-year and multi-channel product strategies to grow List and Gift Registry revenue across all product categories and specific merchandising events.  
You will work closely with a dedicated technology team to create and execute the product roadmap and a best-in-class Lists and Gift Registry experience for Target guests. You will collaborate with data analysts and product teams to develop robust performance and business reporting dashboards and ensure data from your capabilities flows accurately and reliably to downstream to Target data repositories.
You will have a unique view across multiple guest experiences and connect the dots and find opportunities that others may overlook.  Key to your success will be your ability to identify guest problems and friction points then develop solutions that increase list and gift registry users, usage, value, conversion, and satisfaction.
This role is highly entrepreneurial with exposure to all aspects of Target's business and requires strong drive, a deep curiosity for the business and industry, analytical prowess, critical thinking and thoughtful decision-making, passion for the guest experience, and the ability to inspire and influence others. Also, this role is highly visible and requires knowledge of all aspects of your product and the business with the ability to confidently present updates to Target senior leaders and large audiences regularly.
Are you a List maker? Guests' list-making needs range from their routine Target trip, trips of discovery, exploration, and inspiration browsing Target aisles & online, and planning something they are excited about like a big vacation or event. You will anticipate guest needs and automate tasks to help save them time, money, and effort in their everyday lives and ensure they never forget any important items before they check out.  You will enable guests to capture and organize their product interests and ideas while also helping them learn, process, and compare product information to confidently make purchase decisions.  You will proactively inform guests on deals and inventory availability for items on their lists, so their lists are always maintained, and they never miss out on savings or something they want. The List portfolio currently includes Favorites, Shopping List, Your Usuals, Notify Me, Back to School Lists, and Backup Items.
Do you love giving or receiving gifts?  A gift registry or gift list is a particular type of wish list popular in Western countries such as the United States. At Target, the registrant (gift receiver) can compile a gift registry or gift list of items and make it available to anyone who may want to present them with the item as a gift such as family, friends, their community, or even the general public. Gift givers can be certain they are purchasing items the registrant will appreciate when buying from a gift registry or gift list.  After items are purchased in store or online, the registrant is notified, and the item is marked as purchased so no duplicate gifts are purchased.  If it's an online purchase the registrant can track the order.The Target Gift Registry portfolio currently includes baby, wedding, charity, and custom gift registries and other gift lists for holidays, birthdays, and more. 
As a Senior Product Manager, you will work in the product model and will collaborate with your product team and key stakeholders to develop a plan and business objectives (OKRs) for your respective product. You will need to build a strong knowledge of your product through product discovery to collect customer feedback and work to collect other relevant data points that explain the value and help you prioritize the direction and desired outcomes for your product. You will work in unison with engineers, UX designers, data scientists and business partners to deliver a product.
You will be the "voice of the product" with your product team and stakeholders to ensure that their needs are met, and you will be responsible to maintain and refine the product backlog (create user stories & acceptance criteria) while prioritizing the backlog to focus on the highest impact work for your team and stakeholders. 
You will encourage the open exchange of information and viewpoints, as well as inspire others to achieve challenging goals and high standards of performance while committing to the organization's direction. You will foster collaboration to achieve your team's goals within established timelines, leverage resources to overcome unexpected obstacles, and partner with product teams across the organization to help them achieve their goals as well.
Core responsibilities of this job are described within this job description. Job duties may change at any time due to business needs.
Four-year degree or equivalent experience
6+ years of product management experience or equivalent domain experience

You have a passion for list making, saving time, and saving money!

You have a passion for gifting!

Experience with technology and ability to facilitate communication between business and technology teams 

Experience working in an agile environment (e.g., user stories, iterative development, scrum teams, sprints, personas)
Experience engaging with customers, interpreting insights, and collaborating with research and design partners to apply findings

Demonstrated ability to create a vision, set measures of success, and motivate a product team to achieve outcomes

Ability to lead a body of work with cross-functional partners

Strong communication skills
Apply Now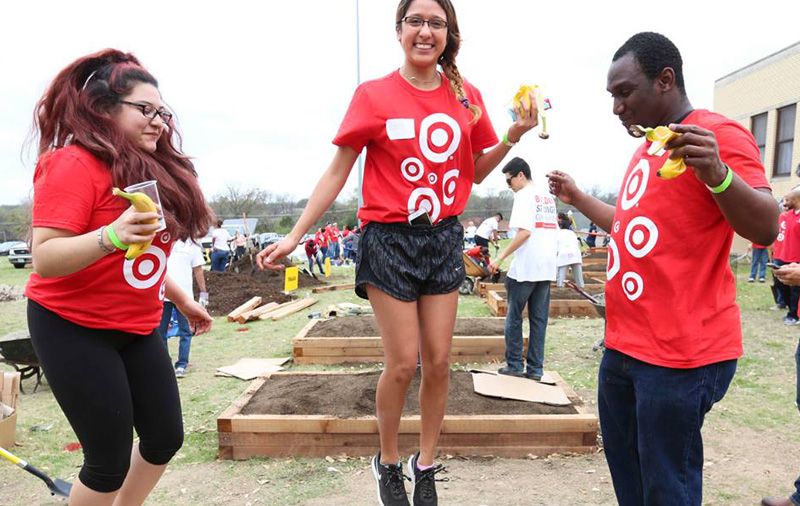 culture
What's it like to work here? We're asked that a lot. Target respects and values the individuality of all team members and guests—and we have lots of fun in all that we do.
experience our culture