Sr Product Manager - Target India
Apply Now
Location: Tower 02, Manyata Embassy Business Park, Bangalore, India, 540065;
job id: R0000232469
job family: Technology Product Management
schedule: Full time
About us:
Target is an iconic brand, a Fortune 50 company and one of America's leading retailers.
Right along with Target's distinctive retail brand, we are constantly improving and innovating our digital shopping experience. Are you ready to excel in the fast-changing retail environment? Are you a customer service enthusiast who's curious about the guest and can see the shopping journey through their eyes? Then you'll have success on the Digital Strategy & Platform team, whose goal is to offer guests a seamless online shopping experience across our platforms—including Target.com and the store network's fulfillment capabilities. Here, you'll collaborate to create and implement the digital strategies that enrich the online experience through the right mix of personalization, simplicity and intuitiveness. Your ideas will support Target in complementing the beloved in-store shopping interaction with a convenient, reliable and instantly gratifying digital experience. 
In this highly visible Digital Product Management position, Search Relevance team makes it easier for all customers to find the answer and products they're looking for at Target. We set the overall strategic vision for improving the Guest finding experience scientifically through data and balance this with the curated brand experience that Guests love. We are looking for a highly analytical, data driven and visionary Sr Product Manager to continue the vision of understanding Guest Intent and deliver relevant search results. You will be working closely with engineering, data science and experience teams across Target to give simplified experience to Guest by understanding their Intent and ranking items based on desirability and business signals. This team is working on top strategic priority, 'ease and convinence' and is the ground for fast paced innovation. In this role, you will focus on building digital shopping assistant for omnichannel Target Guest. While we are beting to build for future we are fast paced avid learner and is making progress every sprint.
As a Sr Product Manager, you will work in the product agile model and will partner with stakeholders across Target to develop a comprehensive product strategy, related roadmap, and set key business objectives (OKRs) for your respective product.  You will need to leverage the knowledge of your product, as well as, customer feedback and establish other relevant data points to assess value, develop business cases, and prioritize the direction and desired outcomes for your product.
While you are a visionry, you will know how to make trade off for short term wins for long term goals. You will be the "voice of the product" to key stakeholders (i.e. site merchandising, digital operations, marketing and advertising) to ensure that their needs are met and expertly distill technical complexity into customer and business value to this group. You lead with connection and inclusivity to influence partners and key stakaeholders. You will in turn represent the "voice of the Guest" to the product team (i.e. engineers, data scientists, UX, and data analysts) and ensure they get the direction and support needed to be successful. You will develop and actively understand the market, maintain a product roadmap and backlog outlining the customer themes, epics, and stories while prioritizing the backlog to focus on the highest impact work for your team and stakeholders.
You will encourage the open exchange of information and viewpoints, as well as, inspire others to achieve challenging goals and high standards of performance while committing to the organization's direction. You will foster sense of urgency to achieve goals and leverage resources to overcome unexpected obstacles, and partner with product teams across the organization to help them achieve their goals while pursuing and completing yours. Job duties may change at any time due to business needs.
About you:
4-year college degree (or equivalent experience). Technical background is preferred. MBA is a plus.
6 + years of consumer facing or equivalent domain experience in a product management role
Intense data orientation and solid understanding of ML, NLP techniques and best practices.
Story teller with the ability to establish rapport, credibility, and influence in a highly cross-functional, matrix organization across geographies.
Superior analytical and quantitative skills; experience using data and metrics to test theories, confirm assumptions, and measure success.
Ability to balance numbers with intuition and vision for the long-term guest experience.
Proven track record of taking end-to-end ownership and driving results; demonstrated ability to manage multiple projects - work prioritization, planning, task delegation and coordination across teams.
Experience working in an agile environment (e.g. user stories, iterative development, etc).
Apply Now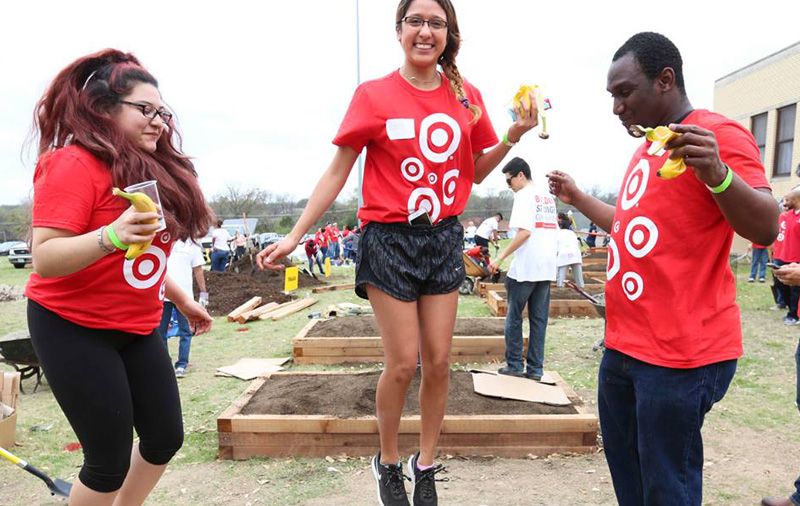 culture
What's it like to work here? We're asked that a lot. Target respects and values the individuality of all team members and guests—and we have lots of fun in all that we do.
experience our culture