Sr Product Owner
Apply Now
Location: Target Corporation India Pvt. Ltd., Bangalore, Karnataka, India, 560045;
job id: R0000193560
job family: Technology Product Management
schedule: nullProduct Manager
Senior Product Owner – Production Engineering
About us:
Target is an iconic brand, a Fortune 50 company and one of America's leading retailers.
Target as a tech company? Absolutely. We're the behind-the-scenes powerhouse that fuels Target's passion and commitment to cutting-edge innovation. We anchor every facet of one of the world's best-loved retailers with a strong technology framework that relies on the latest tools and technologies—and the brightest people—to deliver incredible value to guests online and in stores. Target Technology Services is on a mission to offer the systems, tools and support that guests and team members need and deserve. Our high-performing teams balance independence with collaboration, and we pride ourselves on being versatile, agile and creative. We drive industry-leading technologies in support of every angle of the business, and help ensure that Target operates smoothly, securely, and reliably from the inside out.
About the Team:
Product Teams at Target Corporation are accountable for the delivery of business outcomes enabled through technology and analytic products that are easy to use, easily maintained and highly reliable. Product teams have one shared backlog that is inclusive of all product, technology and design work. You will work in the product model and will collaborate with your key stakeholders to develop a plan and business objectives (OKRs) for your respective product. You will need to build a strong knowledge of your product through product discovery to collect customer feedback and work to collect other relevant data points that explain the value and help you prioritize the direction and desired outcomes for your product. You will work in unison with engineers, UX designers, business partners to deliver.
As a Senior product Owner, you represent the "voice of the customer" for the Performance & Efficiency team and the needs of stakeholders. You will work with SRE, Technology operations and portfolio Engineers to build and optimize mission-critical infrastructure, tools, and processes that will ensure the highest level of performance and scalability of our platforms and services. As a senior member of the team, you will be expected to work with peers, team members and guests to define and implement the technical vision of the team. This team builds and is responsible for the delivery of Application profilers that help several Product teams (application and platform) analyze and compare code performance at any given time in any environment, including production, with negligible overhead thus improving reliability, enhancing user experience, and reducing overall infrastructure costs.
Product Focus:
Defines product features according to product vision, roadmap, and strategy.

Actively plans and prioritizes the product feature backlog according to business value and clearly articulates priorities for the product team. Working with the team balances the need to address technical debt and supports technical innovation in addition to adding product features

Leads the planning of product releases and sets expectations for delivery of new features with stakeholders. Collaborates with stakeholders regarding the correction of defects.

Writes detailed user stories and acceptance criteria at a pace to ensure the product team always has an adequate number of prepared stories to work on. Works closely with the Engineering team to ensure stories in the upcoming sprint are fully understood and stories in future sprints are well groomed & estimated.

Actively participates in Agile ceremonies to provide immediate answers and direction to the team

Coordinates with multiple parties (vendors, strategic partners, engineering managers, business partners, etc.) to meet the customer s priorities while being aware of the insights, needs and constraints of those stakeholders

Interacts with competitive products and evaluates industry trends to set priorities and product plans aligned to industry norms

Can position/evangelize point of view within Target
About you:
4-year college degree (or equivalent experience)

5+ years of retail experience or equivalent domain experience

Experience with technology and ability to facilitate communication between business and technology teams

Experience working in an agile environment (e.g. User stories, iterative development, scrum teams, sprints, personas)

Proven ability to lead a body of work with cross functional partners

Collaborating with customers to understand and anticipate their needs and translate them into product requirements

Nurture ideas and solutions to existing customer problems

Creating a product road map based on our product vision

Work closely with the team throughout the development process

Schedule and lead meetings to identify issues and fixes for projects

Successful track record of developing products within deadlines
Apply Now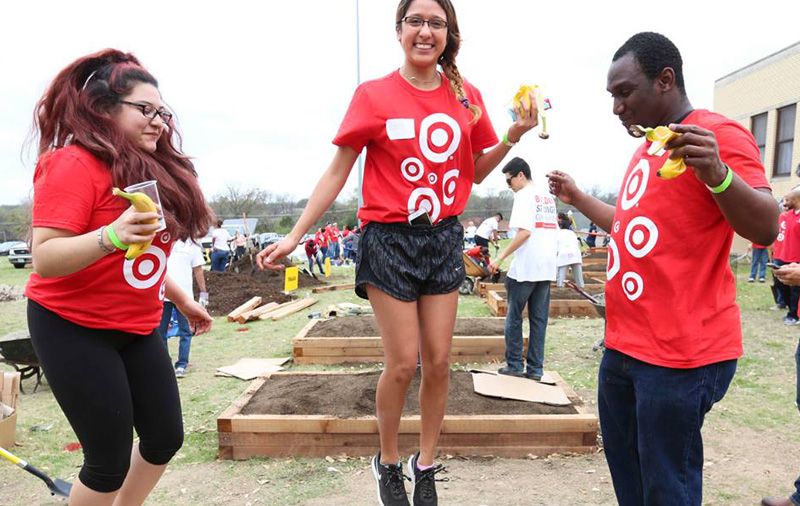 culture
What's it like to work here? We're asked that a lot. Target respects and values the individuality of all team members and guests—and we have lots of fun in all that we do.
experience our culture