Sr Specialist CSS
Apply Now
Job ID: R0000056066
schedule: Full time
Location: Target Corporation India Pvt. Ltd., Bangalore, Karnataka, India, 560045;
Description:
Sr. Specialist Corporate Security Services Asia (43465)
Classification: Exempt
Date: November 2019
About us:
Target is an iconic brand, a Fortune 50 company and one of America's leading retailers.
                                                                                                                                                  The Sr. Specialist, CSSA is responsible for ensuring a safe and secure work environment by responding, to all incidents that are impactful or potentially impactful to security operations, brand and team members. 
Sr. Specialist, CSSA supports security initiatives through methods of prevention, detection, response, and investigation. The Sr. Specialist, CSSA will work closely with Corporate Command Center Asia (C3A). In addition, the Sr. Specialist, CSSA will handle all reception operations and will help advance Target reputation through professional interaction with team members, guests, and public safety partners being seated at reception.
A role within Corporate Security means maintaining the physical security of our team members and property at our various facilities and locations. Here, you may support Target's crises operations and continuity planning that provides guidance and procedures in the event of emergencies such as catastrophic weather.
Primary Function
The Sr. Specialist, CSSA will enable safe and secure business operations at Target India's corporate location. This position supports, and executes security programs and processes to maintain a safe workplace environment. The Sr. Specialist, CSSA will engage with the corporate team member population in all aspects of access management, incident response, investigation, special event support, safe and secure concerns, and overall safe and secure culture.
Job description.  Job duties may change at any time due to business needs.
Principal Duties and Responsibilities
Protecting People by contributing to a Safe and Secure environment 
Controls access to the facility by following Routines, Protocols, and Best Practices 
Assists in the execution of Security Incident Action Plans to prevent workplace violence 
Promotes Safe and Secure work environment through Best Practices, Routines and Physical Security program management 
Effectively executes emergency response procedures and protocols, including incident notification to building leadership 
Documents incidents in Target's incident reporting system (EGRC) 
Directs interaction with law enforcement, fire department, emergency medical services and other agencies during emergency situations 
Assists and directs deployment of guards for escort services and ensure transport security of lady Team Members 
To be well versed with Target India 'Security Operation's Procedures' and ensure adherence of the same.
Works with systems including but not limited to Lenel, CCTV, EGRC, etc.  Assists in various processes including but not limited to: Access Control, Material movement, Investigations Support, etc.  Protecting the Profitability of Target 
Prevent the loss of Target equipment, property and merchandise through the execution of loss prevention strategies and material movement process 
Reviews and researches reports, data and incident information to identify irregular activity or corporate policy violations 
Advancing Reputation through professional community engagement 
Represents Target interests through CSS brand management and customer service 
Collaborate and build working relationships with various teams.
Reporting/Working Relationships:
This position will report directly to the Sr. Manager Corporate Security.
About you:
Bachelor's degree.
Three to six years of relevant work experience.
Strong analytical and problem solving skills.
Excellent verbal and written communication skills.
Strong passion for delivering a great guest experience with every interaction.
Strong inter-personal and networking skills to interact in a friendly, emphatic, and professional manner.
Self-motivated and detail oriented with an ability to prioritize.
Experience in leading a team.
Strong decision making ability during both crisis and non-crisis situations.
Ability to multi-task and use various resources to proactively answer questions, identify problems, and perform activities to resolve issues.
Able to work with confidential information.
Able to work and communicate effectively with all levels of leadership.
Ability to work in fast paced and changing environments.
Desired Requirements:
Bachelor's Degree or 4 year equivalent 
Delivers great results, provides a superior Target brand experience for visitors and team members
Demonstrates ability to multi-task as well as the ability to respond quickly and remain calm during crisis situations 
Strong oral & written communication skills and basic computer skills (MS Office) 
Apply Now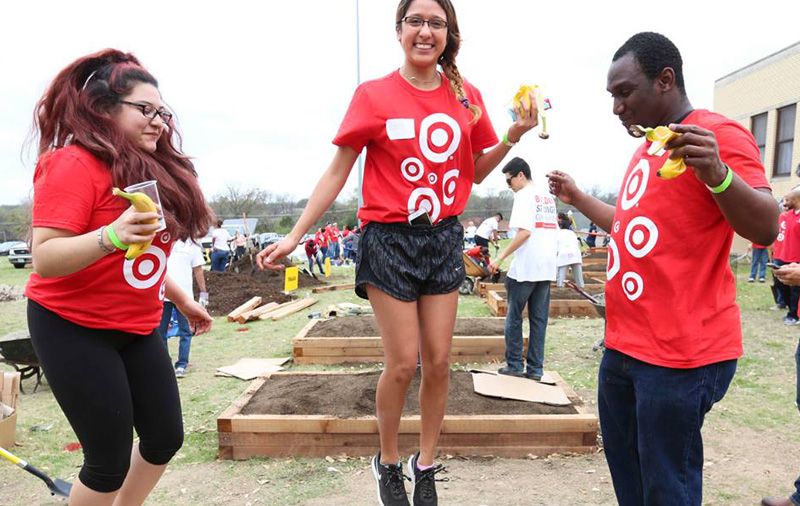 culture
What's it like to work here? We're asked that a lot. Target respects and values the individuality of all team members and guests—and we have lots of fun in all that we do.
experience our culture