Sr Specialist Transportation
Apply Now
Location: Target Corporation India Pvt. Ltd., Bangalore, Karnataka, India, 560045;
job id: R0000198324
job family: Accounts Payable/Receivable
schedule: Full time
PRIMARY FUNCTION
Responsible for researching Transportation shortage and damage receiving exceptions, determine carrier liability, and process carrier claims.  Review claims reporting and identify shortage trends.  Reconciles Claims database and the Claims Receivable Account to the General Ledger.  Resolve Freight on Hand Notices.  Ensure Transportation Service Providers are notified of shortages and damages following Target Corporation Transportation contracts.
PRINCIPAL DUTIES AND RESPONSIBILITIES
1.  Claims Research – Review shortage and damage receiving exceptions forwarded on by the Accounts Payable Business Units.  Determine final decision on carrier versus vendor liability by analyzing the Transportation Service Providers receiving documents, Distribution Center/Store delivery documents, carrier contracts, and damage notifications from the Distribution Centers, Stores, Target.com and Non-retail.  Research systems such as: (View Receipts Reports, EPOM, Accounts Payable TAP, WebFocus, Synergy, Importo, HOST etc) to resolve shortage by locating misships.  Provide follow-up shortage research for prepaid shipments delivered by Target Corporation's contract carriers to resolve shortage issues.  Research EDI transmittal errors and unscheduled purchase order issues.  Resolve Distribution Center receiving problems and errors.  Understand and stay current on Target Corporation contracts as it pertains to loss and damage. 
2.  Ensure Claims are filed timely and accurately – Prepare carrier claim documentation and file with carriers.  Document claims information in the FOCUS database. Process checks for payment of claims.
3.  Claims Collection and Resolution –Communicate with carriers on receiving acknowledgements to ensure the transportation provider has all the necessary paperwork to research the claim.  Responsible for follow-up with the Transportation Service Providers and Accounts Payable to resolve open claims.  Research and respond to Transportation Service Providers declinations in a timely manner.  Monitor monthly open claims statement and work with Transportation Service Providers to collect payment.  Create spreadsheets on a quarterly basis to aid in the resolution of claims.  Participate in conference calls with Transportation Service Providers to resolve claims issues.  Compile claims information for write-offs and negotiations of claims settlements. Work with the Distribution Centers, Accounts Payable, Transportation Service Providers, Stores, MPLS partners, Non-retail accounting and Vendors to reduce denied claims and improve the information provided on problem shipments.
4.  Communication – Responsible for developing a strong working relationship with the Transportation Service Providers claims staff and reps, Vendors, Accounts Payable Business Units, Asset Protection, Marketing and Distribution Centers, Stores, MPLS/CFT, Target.com, and Non-retail partners to identify shortage trends.  Prepare backup information for write-offs/negotiations.  Receive and respond to E-mail questions from carriers and also from internal partners in a timely and consistent manner.  Communicate problem issues with Transportation Management and Claims teammates.  Partner with the merchants on how to resolve loss and damage claim issues.
5.  Contracts – Work with Business Partner Management on interpreting the Target contract language, and its application to loss/damage claims.  Stay current on old and new contracts and convey contract language to carriers to back up carrier claims.
6.  Accounts Payable Issues - Monthly visits/conference calls/training sessions with Accounts Payable as requested.  Discuss specific vendor and Transportation Service Providers shortage and damage issues.  Partner with Accounts Payable/Transportation Liaison to resolve claims issues.
REPORTING/WORKING RELATIONSHIPS:
Reports to the Manager of Transportation Claims. 
Communicates and works directly with the Transportation Service Providers, Distribution Centers, Stores, Accounts Payable, General Accounting, Internal Audit, Inventory Control, Asset Protection, Merchants, Risk Management, Vendors, Vendor Operations, Marketing, MPLS/CFT, Target.com, Non-retail partners and all Target Corporation Transportation personnel.
MINIMUM REQUIREMENTS:
Commerce Degree

Strong interpersonal and communication skills (verbal and written)

Problem solving and critical thinking

Excellent business writing skills

Strong teamwork and conflict resolution skills

Team player

High sense of urgency/initiative
DESIRED REQUIREMENTS:
2+ years AP Experience
Accounting and Analytical skills
Strong systems skills
Proficient using Excel
SAP knowledge
Apply Now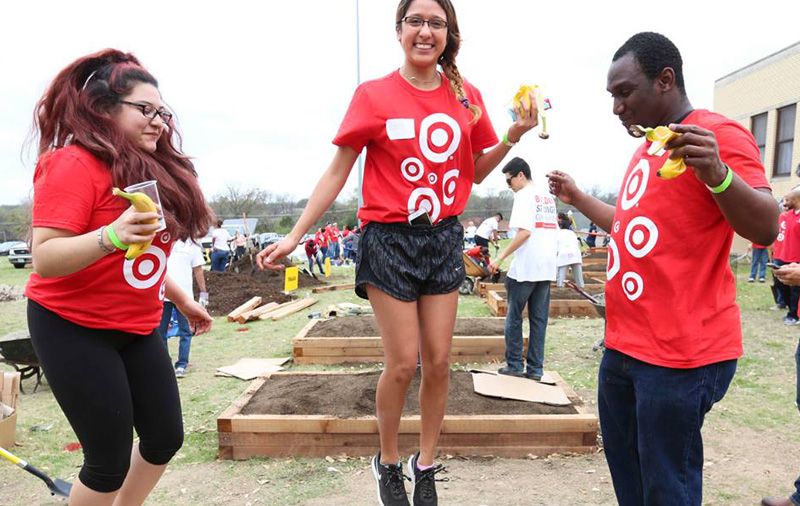 culture
What's it like to work here? We're asked that a lot. Target respects and values the individuality of all team members and guests—and we have lots of fun in all that we do.
experience our culture