Sr. TA Manager
Apply Now
Job ID: R0000064141
job family: Talent Acquisition
schedule: Full time
Location: Target Corporation India Pvt. Ltd., Bangalore, Karnataka, India, 560045;
Description:
About us:

Target is an iconic brand, a Fortune 50 company and one of America's leading retailers.

Target Human Resources is well known for its signature ability to build the very best teams, and we infuse our work with Target's distinctive retail brand by continuously experimenting, evolving and innovating. With the chance to positively impact nearly 350,000 people worldwide in our stores, distribution centers and headquarters, you'll be a strategic partner to both the leaders and the team members who elevate and nurture the Target guest experience. Our dynamic, passionate and responsive team comprises specialized people-professionals from several diverse disciplines. We operate behind the scenes to create a progressive culture of value, respect, reward and professional advancement.
Working within Talent Acquisition, your mission will be to attract new talent and launch people in roles that let them shine. Our recruiters accompany candidates along the new team member journey, from the very first engagement to day one on the job, and beyond. As a member of the Talent Acquisition team, you'll act as a brand ambassador in the employer marketplace, telling the story of Target as a top choice in a sea of other places to work, and showing candidates what it's really like to work somewhere they already love.
As a Senior Talent Acquisition Manager, you'll be responsible for the development, implementation and execution of staffing strategies supporting our businesses. You'll work with your business leaders to identify hiring needs and/or challenges and recommend solutions. You'll help ensure flawless execution by fully immersing yourself in every aspect of the staffing strategy, rollout and implementation. You'll keep a pulse of what's happening in the business and coordinate efforts across the TA team to keep everyone informed, aligned and best prepared to support where needed. As an effective collaborator, influencer and builder of strong partnerships, you will work consultatively to influence win-win solutions that drive meaningful recruiting results. 
Use your skills, experience and talents to be a part of groundbreaking thinking and visionary goals.  As a Senior Manager Talent Acquisition, you'll be responsible for;
Leadership: Manage a team of experienced recruitment professionals to ensure that all client requirements are met in a timely and brand right fashion.  Recommend and execute on global strategies and tactics that will maximize team performance and drive strong partnerships with the business.   
Team Development: Coach, provide career opportunities, and support training so that team members that perform well are readied for new experiences.  Provide regular written and verbal feedback and address performance issues as necessary.
Stakeholder Management:  Partner with clients to understand short and long-term business strategies that will result in future external staffing needs and offer feedback and advice on addressing those needs.  Act as the key point of contact for Senior Leaders.
Brand Management: Ensure the Target brand is communicated in all recruiting activities. 
Project Management: Lead and execute on a top priority or complex recruiting related projects to help streamline the recruitment process or enhance the brand experience for candidates.
Reporting: Track recruitment activity. Be aware of and communicate analytical data about all facets of the hiring process, including, effectiveness of recruiting sources, interviews, hires, turndowns, and declined offers.  Identify and measure key metrics that can quantify team performance. Ensure that technology is used productively.
Vendor Management:  Act as the principal partner with external vendors and consultancies.  Own and drive a strategic approach to determine which vendors are selected and how and when they are used.  Look for innovative ways to maximize the value Target in India received from these relationships.   
Requirements
Degree in any field
7-9 years of work experience, 5 years of recruitment and 3 years of leadership experience
Team player, a strong mentor, and ability to foster a collaborative team culture
Strong prioritizing, organization, problem solving and decision making skills
Ability to handle multiple tasks and balance fluctuating workload
Strong interpersonal skills with a high degree of sensitivity for confidentiality
Ability to work with all levels throughout the organization
Excellent time management skills
High level of initiative and self-motivation
Results driven and strong goal orientation
Apply Now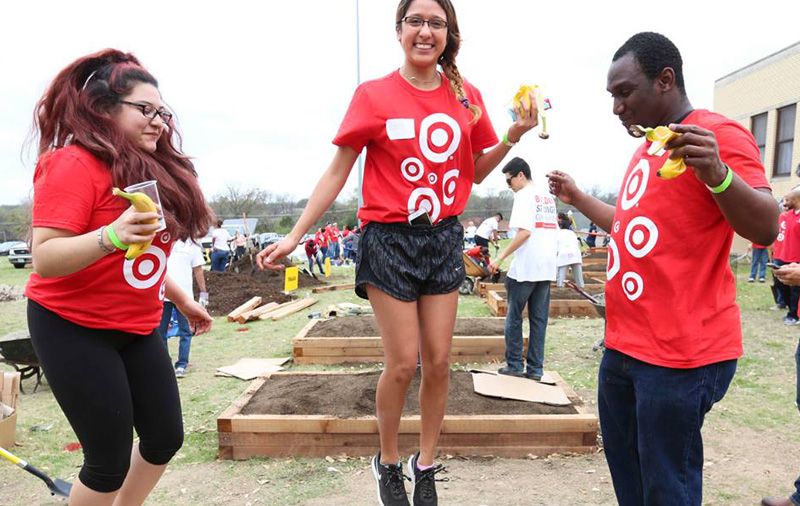 culture
What's it like to work here? We're asked that a lot. Target respects and values the individuality of all team members and guests—and we have lots of fun in all that we do.
experience our culture