Lead Product Owner - IAM
Apply Now
Job ID: INF000DBP
Date posted: 12/14/2018
Location: 0591 - HQ Target Northern Campus, Brooklyn Park, Minnesota
Description:
About us:
Target is an iconic brand, a Fortune 50 company and one of America's leading retailers.

Target as a tech company? Absolutely. We're the behind-the-scenes powerhouse that fuels Target's passion and commitment to cutting-edge innovation. We anchor every facet of one of the world's best-loved retailers with a strong technology framework that relies on the latest tools and technologies—and the brightest people—to deliver incredible value to guests online and in stores. Target Technology Services is on a mission to offer the systems, tools and support that guests and team members need and deserve. Our high-performing teams balance independence with collaboration, and we pride ourselves on being versatile, agile and creative. We drive industry-leading technologies in support of every angle of the business, and help ensure that Target operates smoothly, securely and reliably from the inside out.
Bring a new twist into an existing position as the Product Owner for the Identity Authentication engineering scrum. While you are capable of architecting and implementing the 'how' of what we do for Target, flex new muscles and help determine the 'what' and the 'why', instead.
As a Product Owner in this role, you will work in the product model and will partner to develop a comprehensive product strategy, related roadmap, and set key business objectives (OKRs) for your respective product. You will need to leverage the knowledge of your product, as well as customer feedback and establish other relevant data points to assess value, develop cases, and prioritize the direction and desired outcomes for your product.
You will be the "voice of the product" to all key stakeholders to ensure that their needs are met and that the product team is getting the direction and support that it needs to be successful. You will develop and actively maintain a product roadmap and backlog outlining the customer themes, epics, and stories while prioritizing the backlog to focus on the highest impact work for your team and stakeholders. You will encourage the open exchange of information and viewpoints, as well as inspire others to achieve challenging goals and high standards of performance while committing to the organization's direction. You will foster a sense of urgency to achieve goals and leverage resources to overcome unexpected obstacles, and partner with product teams across the organization to help them achieve their goals while pursuing and completing yours.
This specific position is for the Identity Authentication engineering scrum within Target's Information Security team. The Identity Authentication team delivers solutions and capabilities that reduce friction for our customers, improve productivity, enhance user experiences, and increase security. We focus on providing solutions which enforce appropriate access controls as Target team members, contractors, and suppliers access Target applications, data, and business processes, optimizing both user experience and security.We ensure that the right people have the right access to the right resources at the right time.We deliver solutions to problems & opportunities in front of the business today and for those in which the business didn't realize that we could positively impact. Our goal is to optimize experiences for Target product & infrastructure teams consuming our services through automation & self-service.Our customers rely on us every day for every authentication and Target relies on us to protect Target assets, data, and business processes globally. Be part of the team that Target can't be without.
In this role you will be expected to leverage previous product knowledge, analyze user feedback, understand Target's broader technology strategy, assess feature value and prioritize strategic direction of the product. Responsibilities will also include representing the "voice of customer" and driving a product culture within the Identity Authentication organization.
Looking For:
• Responsible for the go-to market strategy, including product marketing and roadmaps
• Identify and establish partnerships with stakeholders and customers across the Enterprise to ensure continual delivery of value to Target via our services and capabilities.
• Ensure market & business fit and availability by linking products to the overall business case and provide clear go to market strategies for the engineering scrum and stakeholders
• Foster relationships within the product team to set the scrum up to deliver at an optimized level
• Author documents relating to product life cycle including product strategy, roadmap, business requirements, use cases, and functional specifications


About you:
• 4 year degree or equivalent experience
• 5+ years of software development experience with at least one full cycle implementation
• Demonstrates strong domain-specific knowledge regarding Target's technology capabilities, and key competitors' products and differentiating features
• Able to apply knowledge of how a product is designed, built, deployed, and maintained in an enterprise environment
• Experience with technology and ability to facilitate communication between business and technology teams
• Experience working in an agile environment (e.g. user stories, iterative development, etc.)
• Have a broader understanding of industry trends in the Identity & Access Management space
• Experience in executing product strategy as well as hands on experience
• Strong leadership skills to influence a diverse group of stakeholders with ability to make difficult and quick decisions on a daily basis
• Communicates and coordinates with project team, partners, and stakeholders
• Stays current with new and evolving technologies via formal training and self-directed learning
Apply Now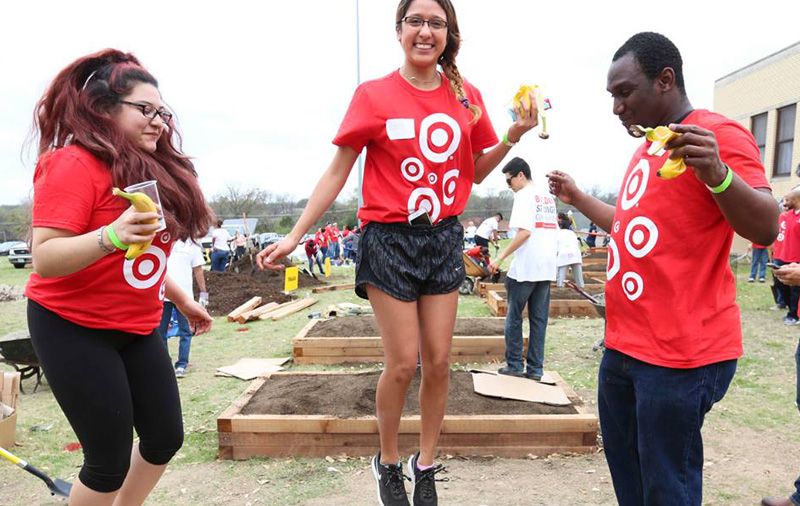 culture
What's it like to work here? We're asked that a lot. Target respects and values the individuality of all team members and guests—and we have lots of fun in all that we do.
experience our culture