Senior Engineer – Stores and Supply Chain
Apply Now
Job ID: R0000139761
job family: Technology Engineering
schedule: Full time
Location: 7000 Target Pkwy N, Brooklyn Park, Minnesota, United States, 55445;
Senior Engineer – Stores and Supply Chain
Target as a tech company? Absolutely. We're the behind-the-scenes powerhouse that fuels Target's passion and commitment to cutting-edge innovation. We anchor every facet of one of the world's best-loved retailers with a strong technology framework that relies on the latest tools and technologies—and the brightest people— to deliver incredible value to guests online and in stores. Target Technology Services is on a mission to offer the systems, tools and support that guests and team members need and deserve. 
Our high-performing team balances independence with collaboration, and we pride ourselves on being versatile, agile and creative. We drive industry-leading technologies in support of every angle of the business, and help ensure that Target operates smoothly, securely and reliably from the inside out. 
Target values engineers that care about: 
A diverse, inclusive and collaborative culture

Robust and distributed microservices and event-based architectures with mature CI/CD pipelines 

Code as craft with a desire to solve complex engineeringproblems

Automating everything 

Operational excellence with an approach to engineering that makes our guests and team members their toppriority

Triaging large scale issues with a bias to prevent them from happening in the firstplace

Canary and A/B testing to push code multiple times a day during businesshours

Learning and experimenting with technologies 

High observability with robust logs and metrics 

Leveraging edge computing and elastic infrastructure 

Agile teams and team ceremonies
BUSINESS CAPABILITIES AND IMPACT 
The mission of the Stores and Supply Chain engineering team is todelight our guests byhaving ourproducts available at the right place, right quantityandat the right timewith the most reliable, fast and secure checkout, payment and returns experienceat 1870+ stores across the US. We make this happen usingworld classsupply chain networks that comprises of 50+ warehouses and a massive fleet oftransportationservicesthat moves about $19Bof inventory to our storesand fulfillment centers.We provide multiple ways of fulfilling our guests needs from our network of distribution centers and stores.We build applications and services thatpower500,000+ team members in stores and distribution centers to ensure we have our products available to ultimately delight our guests.We enable team members to give the guest a great Target shopping experience on 60,000+ registers, self-checkout and mobile point of sale devices.Core responsibilities are described within this job description. Job duties may change at any time due to business needs.Core responsibilities of this job are described within this job description. Job duties may change at any time due to business needs.
Our engineering teams are empowered to select the appropriate technology for the problem they are trying to solve. Common technologies include: 
CICD:Code Pipelines likeDocker,Drone, Vela, Spinnaker, Testing frameworks, Gatlin

Languages and Frameworks like Spring Boot, Java, Kotlin, Micronaut,Golang, REST, http4k, KTOR, Gradle

Front end technologies like React, Redux, Native Android 

Databases like Postgres, Cassandra, Mongo, Influx, ELK Stack(Elasticsearch)
Distributed event streaming platform like Kafka

Metrics visualizations like Grafana 

Log aggregation with Logstash and Kibana 

Cloud platforms like GCP 

Elastic compute platforms like Kubernetes
OPEN ENGINEERING OPPORTUNTIES 
We havea number ofopen roles across our Storesand Supply Chainengineering teams. They vary across engineering level/experience, technology focus, or business area. If you are interested in learning more, contact us or apply to start a conversation. 
4-year degree or equivalent experience

5+ years of software development experience 

Demonstrates strong domain-specific knowledge regarding Target's technology capabilities, and key competitors' products and differentiatingfeatures

Working knowledge on package-specific configuration and deployment along with ability to build customsolutions

Designs new testing methods and resolves routine and non-routine technical issues with minimalassistance

Demonstrates strong proficiency in core development platforms within owndomain

Builds strong commitment within the team to support the appropriate teampriorities

Clearly communicates Agile concepts to partners within productteam

Demonstrates a solid understanding of the impact of own work on the team and/orguests

Writes and organizes code using multiple computer languages, including distributed programming and understand different frameworks andparadigm

Delivers high-performance, scalable, repeatable, and secure deliverables with broad impact (high throughput and low latency)

Influences and applies data standards, policies, andprocedures

Maintains technical knowledge within areas ofexpertise

Stays current with new and evolving technologies via formal training and self-directededucation
Americans with Disabilities Act (ADA)
Target will provide reasonable accommodations (such as a qualified sign language interpreter or other personal assistance) with the application process upon your request as required to comply with applicable laws. If you have a disability and require assistance in this application process, please visit your nearest Target store or Distribution Center or reach out to Guest Services at 1-800-440-0680 for additional information.
Apply Now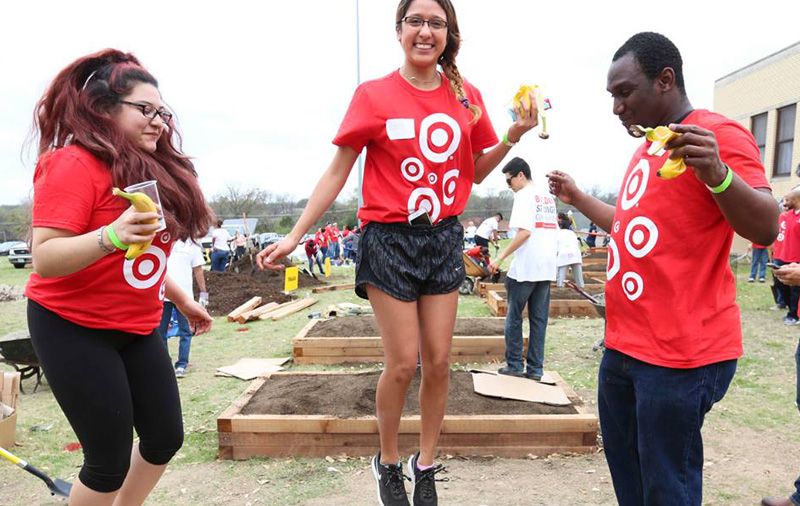 culture
What's it like to work here? We're asked that a lot. Target respects and values the individuality of all team members and guests—and we have lots of fun in all that we do.
experience our culture