Senior Process Owner
Apply Now
Job ID: FIN000A5W
Date posted: 02/22/2019
Location: 0509 - HQ FRS Target Northern Campus, Brooklyn Park, Minnesota
Description:
About us:
Target is an iconic brand, a Fortune 50 company and one of America's leading retailers.
Right on pace with Target's distinctive retail brand, Target Finance and Accounting are transforming for the better. As so much more than a financial analyst or a behind-the-scenes number-cruncher, you will be a truly collaborative partner with a seat at the table. You'll bring your unique point of view, experience and passion for the work to your team and internal clients. In Finance, you'll be an integral voice in discussions that lead to Target's unparalleled shopping experience. Your analysis and recommendations will be directly applied to critical business decisions, from sales to merchandising and beyond. Within Finance, you'll enjoy the interesting challenges of the competitive retail space, and you'll have a 360-degree impact—rather than on just one part of the business. You'll see your contributions come to life in virtually every area of this dynamic enterprise. And you'll grow and be challenged in your career while having a healthy balance with life outside of work.
A role in Finance Process & Technology means providing world-class client service that maximizes the business value of enterprise and technology strategies, including the Finance systems portfolio. You'll become a process and product "CEO," owning your vision, telling your story and helping others understand and support the product roadmap. 
Senior Process Owner, will work alongside team members from the business to understand current situation, identify drivers for improvement, analyze root causes of performance gaps, redesign end-to-end processes as part of the deployment of the lean system to a process or business area. The working group will include business, Product owners, TTS, EDABI and Risk & Controls teams. Through their partnership, Lead Process Owner will support an environment that reinforces continuous improvement of business processes, increases consistency, reduces pain points and empowers other team members to enhance the value of the service they provide to guests.

About you:
• Will be taking a hands-on approach to ensure the diagnostic, design and implementation of Lean tools within the business is performed to high standard and consistency
• Partnering with Product Owners as primary customer relationship management contacts for Finance, Target, and external business partners.
• Leading workstreams as part of process diagnostics and design to identify impactful opportunities for operational improvements across end to end value streams
• Facilitating – leading small and large groups (junior to senior management)
• Utilizing problem solving efforts on key projects to improve quality, reduce cost and eliminate waste
• Translating business needs into requirements, respecting a guest-centric perspective and end-to-end design vision
• Coaching process teams and on the standard lean systems, tools, techniques, mindsets and behaviors
• Becoming a Subject Matter Expert over the implementation of projects/initiatives in Target's Operational Excellence practices, development of frameworks, methodology design, tool suite selection, etc.
• Providing leaders with project status updates, feedback, and appropriate reporting on key process focused objectives
• Performing other duties as assigned or required
• Job duties may change at any time due to business needs.
MINIMUM REQUIREMENTS:
• Bachelor's degree
• 4+ years of work experience in the Process Improvement field
• Green Belt Certified or demonstrated knowledge of Lean or Six Sigma
• Exposure in working with Finance
• Willing to take risks, challenge the status quo and work under ambiguous circumstances
• Ability to structure ambiguous problems, analyze complex processes, synthesize data and results, and drive toward insight and solutions
• Strong problem solving and analytic skills (e.g. can conduct root cause analysis, make recommendations, and track results
• Strong written, oral, communication and presentation skills required (including comfort with Excel and PowerPoint)
• Competent in project management; has the ability to manage tight deadlines
• Passionate about leading process improvement and applying lean techniques in different environments to deliver greater value to the guest
• Strong interpersonal skills (listening and communication) characterized by effective interactions with a diverse range of internal and external constituents, stakeholders, and audiences.
• Awareness of and willingness to overcome the cultural challenges in every lean project
DESIRED REQUIREMENTS
• Demonstrated ability to coach and train all levels of leaders
• Work experience in an influential role (e.g., consultant)
• Work experience in Retail industry
• Familiar with challenges around driving change within an organization
• Good understanding of customer centricity concepts
Apply Now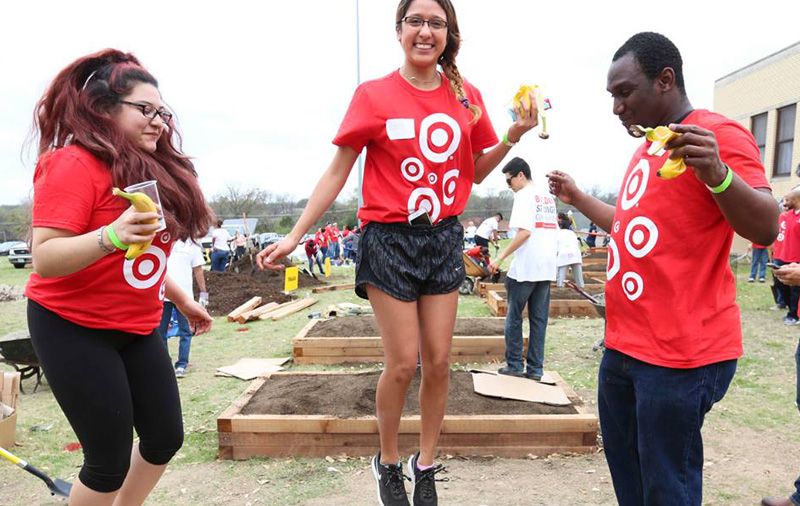 culture
What's it like to work here? We're asked that a lot. Target respects and values the individuality of all team members and guests—and we have lots of fun in all that we do.
experience our culture