Quality&Inventory Mgmt tech
Apply Now
Job ID: R0000079770
job family: Supply Chain Process & Operations
schedule: Full time
Location: 3255 Airport Rd, DENTON, Texas, United States, 76207;
Description:
Target is one of the world's most recognized brands and one of America's leading retailers.
Target Global Supply Chain and Logistics is evolving at an incredible pace. We are constantly reimagining how we get the right product to the right guest even better, faster and more cost effectively than before. We are becoming more intelligent, automated and algorithmic in our decision-making, so that no matter how guests shop—in stores or on Target.com—we deliver the convenience and immediate gratification they demand and deserve. We are on a mission to win decisively over any competitor, with a seamless and superior guest service experience unlike any they can offer. Our teams work with the agility our mission requires, and we constantly come together to implement new processes in record time. 
A role in a Distribution Center means being on the very front lines ofgetting product to the guests safely, accurately, and as quickly as possible—a critical differentiator and one of the most essential Logistics functions. You'll reach beyond the bounds of your team to partner across the enterprise and find solutions to support the business. Whether it's through focusing on our regional or upstream distribution centers, import warehouses, or fulfillment and flow centers, you'll have a chance to positively impact thousands of fellow team members and Target guests worldwide, further differentiating Target from all the rest. There's so much good work to be done, from Distribution Center Operations, where process and problem-solving drive our results; Quality Management, which influences and maintains our good name in the retail marketplace, or overall Distribution Center Productivity, where we're always analyzing and recalibrating how to best support our people, process and technology investments to support an ever evolving business. 
As aQuality Management Technician, you'llbe responsible for supporting food safety and quality while complying with and enforcing safety and sanitation regulations and standards.  You will inspect freight perTarget andUSDA procedures and ensure quality of items in storage while managing expiration of inventory.  You will perform inventory control activities to reconcile discrepancies through research and problem solving while working with building supervisors and partners to identify operational improvements.  
Core responsibilities of this job are described within this job description.  Job duties may change at any time due to business needs.
Able to lift and carry merchandise weighing 35-45 lbs. frequently throughout a shift and up to60lbs. occasionally

Ability to read, utilize matching skills and comprehend department/product documentation

Goodverbaland written communication skills

Ability to be trained on powered equipment as neededand use tools such as box cutters and thermometers
Basic mathematical skills

Experience with Microsoft OfficeSuiteand various other computer applications

Able tostand for long periods of time

Perform quality work within deadlines with or without direct supervision

Strong prioritization, organization, problem solving, decision making and follow-up skills
Further Break Down in billet form if needed: (Do not publish external)
Roles and Responsibilities:
Responsible for supporting food safety and quality in the Food Distribution Center.
Comply with and enforce sanitation regulations and safety standards.
Processing food according toHACPPregulations.
Inspect inbound loads to insure quality of food product, per Target and USDA inspection procedures. (i.e.: freshness, color, shape, temperature, and proper size and quality specifications)
Inspect product in storage to ensure maintained quality of items on hand.
Process and Document FDA food recalls for the safety of our guests and to maintain the Target Brand.
Setup incoming new items upon receipt within the Warehouse Management System (WMS)
Performs standard inventory practices- cycle counts, picking audits, processing and researching discrepancies
Manage expiring inventory.
Problem solve issues within operations to make certain product ships as directed.
Perform inventory control activities to reconcile discrepancies and problem solve the primary issues.

Continuously improve warehouse flow and control, identifying operational improvements;
Monitor and assign locations by size and segregation practices.
Communicate research and rectify all quality and inventory related discrepancies with supervisor and building partners
Basic mathematical skills.
Experience with Microsoft Office and various other computer applications. (Excel/Outlook/Word)
Ability to read and understand the written English language.
Theability to operate various warehouse equipment and tools (i.e. forklift, knives, thermometers, etc.).
Able to lift 40 pounds over head (this is the weight of a full box of cucumbers.)
Able to stand for long periods of time.
Perform quality work within deadlines with or without direct supervision.
Strong prioritization, organization, problem solving, decision making and follow-up skills.
Excellentcommunication skills.
Americans with Disabilities Act (ADA)
Target will provide reasonable accommodations (such as a qualified sign language interpreter or other personal assistance) with the application process upon your request as required to comply with applicable laws. If you have a disability and require assistance in this application process, please visit your nearest Target store or Distribution Center or reach out to Guest Services at 1-800-440-0680 for additional information.
Apply Now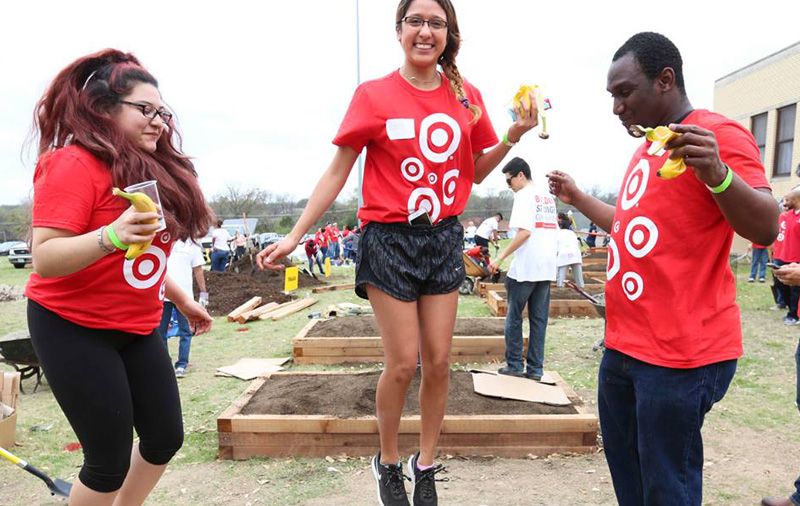 culture
What's it like to work here? We're asked that a lot. Target respects and values the individuality of all team members and guests—and we have lots of fun in all that we do.
experience our culture