Visual Merchandise Director - Bay Area, CA.
Apply Now
Job ID: R0000107981
job family: Visual Merchandising
schedule: Full time
Location: 2800 Dublin Blvd, Dublin, California, United States, 94568-4589;
Description:
ALL ABOUT TARGET As part of our collaborative and guest-obsessed team, you help us create an experience that makes guests say, "I love Target!" When you work at Target, you're helping every family discover the joy of everyday life. You're working alongside a dedicated team that brings their passion and pride to all that they do. Your industry expertise and visual merchandising experience will help create an experience that inspires our guests to discover new products, new looks and confidently bring their definition of style to life. 
ALL ABOUT VISUAL MERCHANDISING You support running a profitable business that has one purpose: to help all families discover the joy of everyday life. You influence, teach and train store and field leaders on effective visual moments and visual merchandising standards that build the guest basket. You develop visual expertise with store and field leadership teams that leads to sustainable merchandising presentations and visual standards. You make it easy for our sales force of consultants to style and accessorize our guests by leading our company visual merchandising strategy; designed to drive guest loyalty and inspire multiple guest purchases. At Target, we believe in our team members having meaningful experiences that help them build and develop skills for a career.
The role of a Visual Merchandising Director can provide you with the: 
Experience supporting a guest-centric culture across a multi-unit market through visual presentations in multiple visual moments areas such as;
Apparel & Accessories, Baby, Home, Company Space and Seasonal 
Skills in creating business and market specific strategies by leveraging data, metrics and partnerships with store, group, and HQ leaders to deliver results  Knowledge of retail business and visual merchandising fundamentals: department and market sales trends, guest shopping behaviors and inventory management. 
Ability to influence business decisions by assessing market competition, understanding guest insights and adapting to industry trends in Apparel & Accessories, Baby, Home, Company Space and Seasonal 
Ability to influence and provide thoughtful feedback to key partners (e.g. Group/District/Store leadership, HR, HQ) to support company and visual merchandising initiatives in Apparel & Accessories, Baby, Home Company Space and Seasonal areas As a Visual Merchandising Director, you will lead market-based merchandising expertise in order to bring company strategies to life.
These responsibilities include:
Drive your business to grow sales 
Lead and apply company visual merchandising direction to stores, while ensuring the development of visual expertise among store and field leadership teams that will deliver exceptional operational, service and financial results
Provide performance feedback on visual merchandising initiatives, identifying opportunities for improving results and providing solutions to store-specific visual and merchandising challenges 
Lead and influence In Store Marketing best practices that ensure the application of all signing implementation standards in stores 
Champion new merchandising tests, initiatives and proof of concept strategies in which visual expertise is required 
Know and assess the competition within your industry; leverage guest insights and feedback to drive the business and guest loyalty forward establishing Target as the destination of choice for our guests 
Leverage all available resources, including company communication and reporting (financial, operational, team and guest) to lead, prioritize and provide clear visual merchandising direction Cultivate a guest-centric salesforce to drive sales and efficiency 
Lead company visual merchandising efforts and business strategies that support an active selling environment in stores 
Assess and provide feedback on Visual Merchandiser talent in stores and support plans to recruit talent with the right skills and experiences 
Recognize, reinforce and demonstrate desired behaviors and skills to reinforce visual standards, signing standards, selling and service culture 
Engage store and field leadership teams on continuous learning topics that support our visual merchandising strategy and visual standards 
Lead the store and field leader teams through change as visual merchandising strategies evolve 
Demonstrate a culture of ethical conduct, safety, and compliance. Lead team to work in the same way and hold others accountable to this commitment.  All other duties based on business needs The good news is that we have some amazing training that will help teach you everything you need to know to be a Visual Merchandising Director. But there are a few skills you should have from the get-go: 
4-year degree or equivalent experience 
6+ years of experience in visual merchandising 
Lead strategic vision and drive organizational change 
Experience influencing key business partners 
Operate in an ambiguous and rapidly changing work environment 
Proven experience quickly adapting to changing priorities and tasks 
Project and process management/ownership experience 
Work in high intensity situations with composure and ease 
Strong process background as well as critical thinking and problem-solving skills 
Outstanding written and verbal communication skills 
Establish and maintain cross-functional working relationships
We are an awesome place to work and care about our teams, so we want to make sure we are clear on a few more basics that we expect: 
Strong leadership and influencing skills 
Training experience 
Experience providing solutions to visual merchandising challenges
Americans with Disabilities Act (ADA)
Target will provide reasonable accommodations (such as a qualified sign language interpreter or other personal assistance) with the application process upon your request as required to comply with applicable laws. If you have a disability and require assistance in this application process, please visit your nearest Target store or Distribution Center or reach out to Guest Services at 1-800-440-0680 for additional information.

Target will consider for employment qualified applicants with criminal histories in a manner consistent with the San Francisco and Los Angeles Fair Chance Ordinances.
Apply Now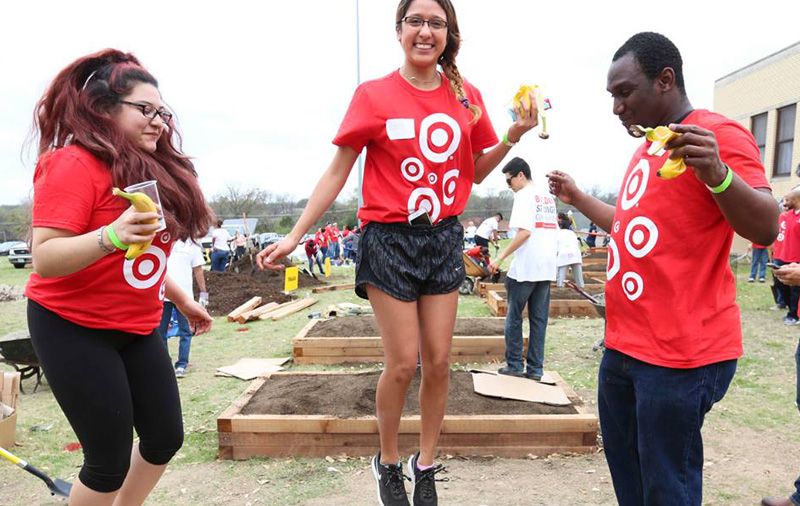 culture
What's it like to work here? We're asked that a lot. Target respects and values the individuality of all team members and guests—and we have lots of fun in all that we do.
experience our culture