Training Specialist- Elmhurst Sortation Center
Apply Now
Location: 615 W Lake St, Elmhurst, Illinois, United States, 60126-1409;
job id: R0000241367
job family: Supply Chain Process & Operations
schedule: Full time
Must be available to work late afternoon-overnight hours to support operational teams on 2nd and 3rd shifts and also have flexibility to work weekends and holidays based on business demands.
About Us:
As a Fortune 50 company with more than 350,000 team members worldwide, Target is an iconic brand and one of America's leading retailers.​
Working at Target means the opportunity to help all families discover the joy of everyday life. Caring for our communities is woven into who we are, and we invest in the places we collectively live, work and play. We prioritize relationships, fuel and develop talent by creating growth opportunities, and succeed as one Target team. At our core, our purpose is ingrained in who we are, what we value, and how we work. It's how we care, grow, and win together.  
Target Global Supply Chain and Logistics is evolving at an incredible pace. We are constantly reimagining how we get the right product to the right guest even better, faster and more cost effectively than before. We are becoming more intelligent, automated and algorithmic in our decision-making, so that no matter how guests shop—in stores or on Target.com—we deliver the convenience and immediate gratification they demand and deserve. We are on a mission to win decisively over any competitor, with a seamless and superior guest service experience unlike any they can offer. Our teams work with the agility our mission requires, and we constantly come together to implement new processes in record time.  
A role in Distribution and Receive Centers means being on the very front lines of getting product to the guest as fast as possible—a critical differentiator and one of the most essential functions within Logistics. Whether it's through focusing on regional or upstream distribution centers or import warehouses, you'll have a chance to positively impact thousands of fellow team members and Target guests worldwide. There's so much good work to be done, from Distribution Center Operations, where process and problem solving drive our results; Quality Management, which influences and maintains our good name in the retail marketplace, or overall Distribution Center Productivity, where we're always analyzing and recalibrating how to best support our people, process and technology investments to support an ever evolving business.  
As a Training Specialist, you will have the opportunity to enable the growth of our expanding supply chain network through a focus on providing an exceptional onboarding experience for new team members and fostering a culture of learning, development, standardization, and teamwork in the Distribution Center. You will work closely with your manager, the Training Operations Manager, to develop a deep understanding of training program content and strategy so that you are able to ensure they are consistently and effectively implemented for both new and tenured team members. Responsibilities include:
Preparing new hire orientation and other training materials
Facilitating and delivering new hire orientation and other team member trainings
Setting up and maintaining training spaces to present training content to varying group sizes of new hires and current team members
Communicating staffing numbers and timelines to key parties in the building
Quickly building relationships with team members across the building in order to support their onboarding with an overall goal of improving team member performance and retention.
Onboarding, guiding and upskilling new trainers and may assist with some team member training
Assisting with administrative tasks that support core training programs, such as printing training material, completing program adherence and practical tests, keying completed training, reviewing reports, or sending communication to building partners.
Measuring and monitoring training program adherence
Identifying opportunities for improvement, inconsistencies or inaccuracies, or other concerns in current training programs, and providing feedback to the appropriate parties in a timely manner
Design and implement solutions to resolve inconsistencies, inaccuracies, and other concerns identified in current training programs with direction from Training Operations Manager
There will be times when you may also perform Warehouse Worker or Warehouse Associate job functions. This will require you to work quickly, safely and efficiently to handle product within the warehouse to ensure the accurate processing of merchandise to our stores network and our guests. You'll do this by moving cartons and/or pallets to and from trailers, storage, and staging areas by hand to mechanized conveyor systems using safe lifting techniques. This work may also require you to safely operate equipment such as a pallet jack and/or electric fork lift, and you'll be trained and provided with the tools and gear you need to be safe.  
Core responsibilities of this job are described within this job description. Job duties may change at any time due to business needs.
Physical Demands (must be able to perform with or without reasonable accommodation):
Able to operate all power equipment, warehouse technology, and others systems safely 
Able to lift and carry merchandise weighing up to 47 lbs. regularly, and up to 60 lbs. on an infrequent basis 
Able to walk and stand for up to 10-12 hours
Able to work in various temperature controlled environments including temperatures below freezing (Food Distribution Center only) 

Able to access all areas of the Distribution Center, including the ability to traverse conveyor crossovers and reach mezzanine platforms
About You:
1+ years of experience; employee training experience preferred, including utilizing program materials such as training reports, job breakdowns, or playbooks to train new and tenured employees
Maintains positive and respectful attitude while working independently and in a team environment 
Able to comprehend oral, written and visual communication; ability to effectively read materials such as labels, tickets, product documentation, and training program guides
Able to accurately use basic math skils  
Excellent interpersonal and organizational skills
Able to handle changing priorities with little notice
Able to work a flexible schedule in order to provide support across multiple shifts
Americans with Disabilities Act (ADA)
Target will provide reasonable accommodations (such as a qualified sign language interpreter or other personal assistance) with the application process upon your request as required to comply with applicable laws. If you have a disability and require assistance in this application process, please visit your nearest Target store or Distribution Center or reach out to Guest Services at 1-800-440-0680 for additional information.
Apply Now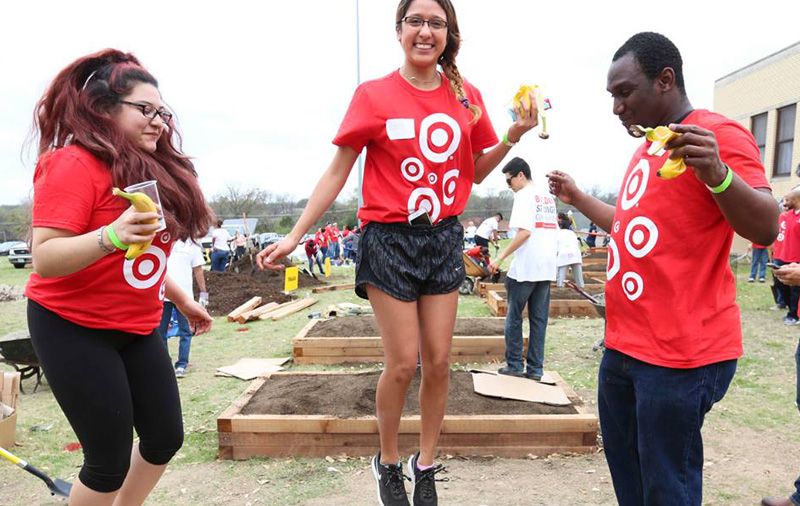 culture
What's it like to work here? We're asked that a lot. Target respects and values the individuality of all team members and guests—and we have lots of fun in all that we do.
experience our culture