Distribution Center Senior Facility Engineer - Fontana, California
Apply Now
Location: 14750 MIller Avenue, Fontana, California, United States, 92683-1685;
job id: R0000214332
job family: Building Operations Engineering
schedule: Full time
Target is an iconic brand, a Fortune 50 company and one of America's leading retailers. Target Global
Supply Chain and Logistics is evolving at an incredible pace. We are
constantly reimagining how we get
the right product to the right guest even better, faster and more cost effectively than before. We are
becoming more intelligent, automated and algorithmic in our decision
-
making, so that no matter how
guests shop
—
in store
s or on Target.com
—
we deliver the convenience and immediate gratification they
demand and deserve. We are on a mission to win decisively over any competitor, with a seamless and
superior guest service experience unlike any they can offer. Our teams work wi
th the agility our mission
requires, and we constantly come together to implement new processes in record time.
A role inDistribution and Receive Centersmeans being on the very front lines of getting product to the
guest as fast as possible
—
a critical di
fferentiator and one of the most essential functions within
Logistics. Whether it's through focusing on regional or upstream distribution centers or import
warehouses, you'll have a chance to positively impact thousands of fellow team members and Target
gu
ests worldwide.
The
Engineering & Facilities Senior Facility Engineer
enables
high performance for the supply chain
facility by fostering a reliability
-
centered maintenance culture that
ensures
high equipment availability.
You
will
develop a continuous improvement ethic in your
department by
creating
daily
processes that
are
data driven and focused on root cause elimination.
You will improve
the reliability of
systems through
ownership in defect handling, breakdown elimination
,
and planning and scheduling.
You will
u
se diagnostic software to monitor performance of systems
,
and collect and analyze data to identify
trends, prompt maintenance, and recommend improvements to operations
. You will u
tilize
condition
-
based monitoring
tools,
troubleshooting and
root cause
investigative
techniques
,
and
analytics to
ensure
desirable
equipment reliability
.
You will develop standard
process
documentation
for assigned
equipment and
help
ensure
sustainable compliance with corporate asset
management standards
.
You will
oversee the site's important
non
-
material handling support systems,
managing the
overall
health, reliability, and life cycle management for
all of the equipment types.
You will track energy and
utility budget performance and take actions to minimize expense.
You
will
perform maintenance
oversight of the site's Powered Industrial Truck fleet (
100
-
200 vehicles
) through the site's technicians or
vendor service providers.
You Will Coordinate
vendor
-
suppor
ted maintenance of site's Over t
he Road
(OTR) trailer fleet (200
-
300 trailers).
You
will
c
oordinate with
equipment
asset owners
in
the
Headquarters Supply
Chain
Engineering Team To
plan and execute Capital Expenditure proj
ects to repair
or replace systems and maximize asset life span
.
You will lead the site's Computerized Maintenance Management System technicians who utilize Target's
Enterprise Asset Management tool (Maximo).
You
will
help plan effective maintenance processes within
Maximo, and coordinate scheduling of major equipment work orders with operational departments.
You will establish
data integrity
expectations
and
enforce department
adherence to
corporate asset
management
s
tandards
.
You will ensure
team utilization of handheld devices and mobile apps to create
and close Work Orders with appropriate data
.
You
will
e
nsure that MRO spare parts are always
available when needed with
effective cycle counting, issue/receipt processes, and
management of
inventory
stock levels
. You
will
use
reports and metrics to analyze
the asset health of the spare parts
function
and
make cost
-
effective decisions to optimize the site's inventory.
You w
ill
deliver solutions for challenging problems,
manage
external
contractors and
validate their
quality of work
,
are
on call for emergencies, handle multiple projects and daily activities, and meet
tough time lines.
You will d
evelop and maintain positive
working relationships across all levels of the
organization
,
work
ing
with building
operational
leaders
to
optimize use
of
building
systems
, and
other
engineering
leaders
and technicians
to accomplish
the
department
's
business plan
.
You will participate
in
safety
investigations and incident after action reviews to determine root causes and develop action
plans. You will be
an ambassador for safety within the team and promote safe working across the site
by eliminating potential equipment safety hazards
.
Job duties may change at any time due to business
needs.
Four

year

degree in Engineering or related disciplines

, or equivalent experience

De

monstrated ability to manage, lead, and influence others on

a

team

Demonstrated ability to

multitaskand prioritize

many different projects and workload

Experience

with

multi

-

contractor management

S

elf

-

motivated and customer

-

centric

Excellent

competency with

PC

s and

mobile apps



Experience with Continuous Improvement processes

Experience

with Enterprise

A

sset

M

anagement (EAM)

tools

Experience with Overall Equipment Effectiveness (OEE) or Total Productive Maintenance (TPM)

measurement and optimization
Desirable additional qualifications:
Six Sigma Green or Black belt

certification
Project

Management

Professional (PMP) Certification

Certified Reliability Engineer
Americans with Disabilities Act (ADA)
Target will provide reasonable accommodations (such as a qualified sign language interpreter or other personal assistance) with the application process upon your request as required to comply with applicable laws. If you have a disability and require assistance in this application process, please visit your nearest Target store or Distribution Center or reach out to Guest Services at 1-800-440-0680 for additional information.

Target will consider for employment qualified applicants with criminal histories in a manner consistent with the San Francisco and Los Angeles Fair Chance Ordinances.
Apply Now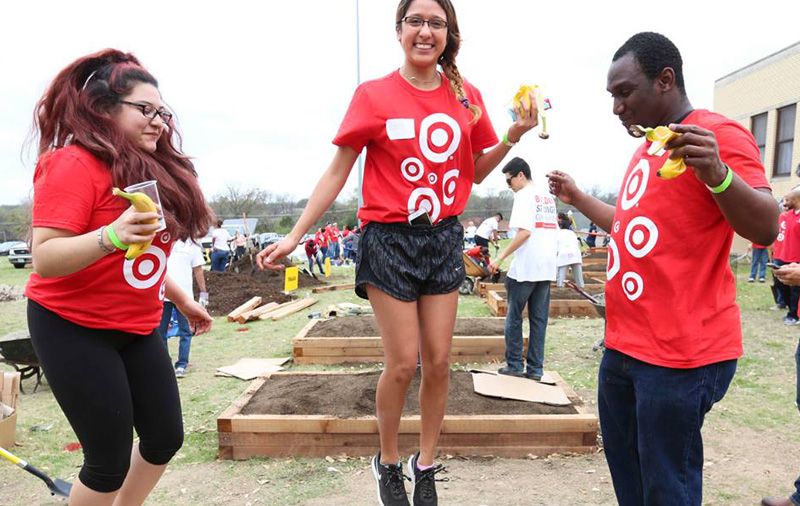 culture
What's it like to work here? We're asked that a lot. Target respects and values the individuality of all team members and guests—and we have lots of fun in all that we do.
experience our culture