Seasonal Target Security Specialist
Apply Now
Job ID: R0000072543
job family: Security & Loss Prevention
schedule: Variable
Location: 995 S Cotton Ln, Goodyear, Arizona, United States, 85338-4604;
Description:
About us:
Target is an iconic brand, a Fortune 50 company and one of America's leading retailers. 
Target Global Supply Chain and Logistics is evolving at an incredible pace. We are constantly reimagining how we get the right product to the right guest even better, faster and more cost effectively than before. We are becoming more intelligent, automated and algorithmic in our decision-making, so that no matter how guests shop—in stores or on Target.com—we deliver the convenience and immediate gratification they demand and deserve. We are on a mission to win decisively over any competitor, with a seamless and superior guest service experience unlike any they can offer. Our teams work with the agility our mission requires, and we constantly come together to implement new processes in record time. So we're looking for exceptional people who are proactive, creative, independent, innovative, risk-savvy and comfortable working in varying degrees of ambiguity. Are you a critical thinker who seeks the root cause and can analyze both qualitatively and quantitatively? Are you a creative problem-solver who simplifies problems, quickly identifies solutions, commits to a plan and then positively influences others to execute it? If so, you will have success on one of our dynamic teams. 
The Assets Protection (AP) Supply Chain Operations Field Team comprises field team members that help support and drive Assets Protection initiatives and physical security standards throughout the supply chain. One of the world's leading and most recognized brands requires an industry-leading Asset Protection team who ensures the safety and security of our teams, guests, stores and merchandise. We use preventive techniques to maintain a comfortable, safe and secure environment, whether within our stores, our headquarters or our distribution centers. Here, you'll help promote a culture of mindfulness around safety and security while preventing and responding to incidents that fall within our many areas of expertise.
As a Senior Target Security Specialist (sTSS) you will be responsible for assisting in the development of a safe and secure work environment for all Target team members, temporary workers, vendors and visitors at a Target supply chain building. You'll support strategic merchandise loss initiatives through methods of prevention, detection, and investigation. You'll help advance Assets Protection partnerships through professional interaction with all team members, temporary workers, visitors, vendors and public safety partners. In addition to these responsibilities, you will:
·Promote a safe & secure work environment through best practices, routines and physical security program management. 
·Effectively execute emergency procedures and protocols in the event of emergencies, including incident notification to building leadership. 
·Assist with the appropriate level of interaction with law enforcement, fire department, emergency medical services and other emergency management agencies during emergency situations. 
·Assist with the management of security operations at the security desks to support the business needs of the facility. 
·Prevent the loss of Target equipment, property and merchandise through the execution of loss prevention strategies. 
·Perform audits, inspections and reviews available data to identify potential loss attributed to operational shortage or theft & fraud activity.
·Assist in accurate delivery and shipment of trailers by following best practices and procedures relating to trailer management and security. 
Core responsibilities of this job are described within this job description.  Job duties may change at any time due to business needs. 
About you:
·High School degree or equivalent
·Must be at least 18 years of age or older
·Demonstrated ability to deliver great results and provide a superior Target brand experience for visitors and team members
·Demonstrated ability to multi-task as well as the ability to respond quickly and remain calm during crisis situations
·Able to be certified to operate power equipment
·Able to climb ladders
·Able to access all areas of the building to respond to guest or team member issues
·Able to access and move around all areas of the building quickly
·Proven ability to work with highly confidential information
·Strong oral and written communication skills
·Basic computer skills (Microsoft Office, Intranet systems, etc.)
·Successful completion of position-based training
·Target experience preferred
·Assets Protection and/or security experience preferred
·College education preferred
Americans with Disabilities Act (ADA)
Target will provide reasonable accommodations (such as a qualified sign language interpreter or other personal assistance) with the application process upon your request as required to comply with applicable laws. If you have a disability and require assistance in this application process, please visit your nearest Target store or Distribution Center or reach out to Guest Services at 1-800-440-0680 for additional information.
Apply Now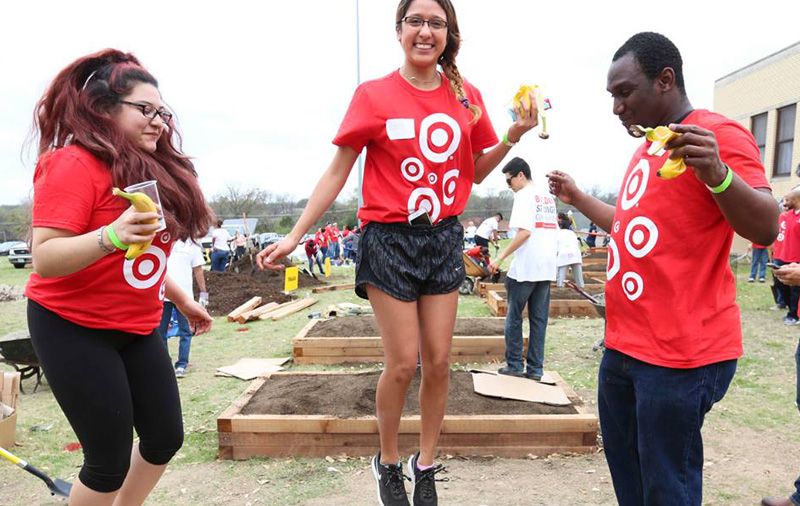 culture
What's it like to work here? We're asked that a lot. Target respects and values the individuality of all team members and guests—and we have lots of fun in all that we do.
experience our culture