Sr. HR Specialist GSCL
Apply Now
Location: 900 River Rd, King of Prussia, Pennsylvania, United States, 19406;
job id: R0000321446
job family: Human Resources Generalist
schedule: Full time
The pay range per hour is $19.23 - $34.62
Pay is based on several factors which vary based on position. These include labor markets and in some instances may include education, work experience and certifications. In addition to your pay, Target cares about and invests in you as a team member, so that you can take care of yourself and your family. Target offers eligible team members and their dependents comprehensive health benefits and programs, which may include medical, vision, dental, life insurance and more, to help you and your family take care of your whole selves. Other benefits for eligible team members include 401(k), employee discount, short term disability, long term disability, paid sick leave, paid national holidays, and paid vacation. Find competitive benefits from financial and education to well-being and beyond at https://corporate.target.com/careers/benefits.
About us:
As a Fortune 50 company with more than 400,000 team members worldwide, Target is an iconic brand and one of America's leading retailers.​
Working at Target means the opportunity to help all families discover the joy of everyday life. Caring for our communities is woven into who we are, and we invest in the places we collectively live, work and play. We prioritize relationships, fuel and develop talent by creating growth opportunities, and succeed as one Target team. At our core, our purpose is ingrained in who we are, what we value, and how we work. It's how we care, grow, and win together.  
Target Global Supply Chain and Logistics is evolving at an incredible pace. We are constantly reimagining how we get the right product to the right guest even better, faster and more cost effectively than before. We are becoming more intelligent, automated and algorithmic in our decision-making, so that no matter how guests shop—in stores or on Target.com—we deliver the convenience and immediate gratification they demand and deserve. We are on a mission to win decisively over any competitor, with a seamless and superior guest service experience unlike any they can offer. Our teams work with the agility our mission requires, and we constantly come together to implement new processes in record time.  
A role in Distribution and Receive Centers means being on the very front lines of getting product to the guest as fast as possible—a critical differentiator and one of the most essential functions within Logistics. Whether it's through focusing on regional or upstream distribution centers, target.com fulfillment centers, or import warehouses, you'll have a chance to positively impact thousands of fellow team members and Target guests worldwide. There's so much good work to be done, from Distribution Center Operations, where process and problem solving drive our results; Quality Management, which influences and maintains our good name in the retail marketplace, or overall Distribution Center Productivity, where we're always analyzing and recalibrating how to best support our people, process and technology investments to support an ever evolving business
In support of Target's Global Supply Chain and Logistics business, Human Resources is a critical partner in the ability to build the very best teams, and as HR we infuse our work with Target's distinctive retail brand by continuously experimenting, evolving and innovating. With the chance to positively impact our teams in distribution centers across our Target network, you'll be a strategic partner to both the leaders and the team members who elevate and nurture the Target experience. Our dynamic, passionate and responsive team comprises specialized people-professionals from several diverse disciplines. We operate behind the scenes to create a progressive culture of value, respect, reward and professional advancement.
As a Senior Human Resource Specialist, you'll also provide technical and administrative support to the HR team by accurately maintaining employee records, owning administration of employment orientation, compensation/benefits, supporting execution of cyclical processes, workers compensation, payroll and owning all required record keeping. To complete this work, you'll be required to interact with our Target team members at varying levels within the organization (Field and HQ), as well as our external candidates.  You'll support the staffing needs of the distribution center through ensuring our teams are set up for employee orientation, ensuring compliance with Federal and State employment regulations and company policy in all areas of employment (including hiring, promotion, transfers, resignations, and terminations). You'll also work to ensure our compensation and benefits programs are executed timely, follow the appropriate timekeeping and record keeping practices, and assist with any questions as needed. Our employee training is also a priority and as a Senior HR Specialist, you'll ensure that the training programs are executed in a timely manner, and that there is accurate record of regulatory and corporate trainings. We service our teams, and in order to do that, you will assist with answering employee questions and escalating concerns to leadership as appropriate. There may also be special projects assigned to you, which include coordination of building cyclical processes and new initiatives. You will do all this by working efficiently both individually and as a team, by sharing your ideas, and adapting to change. It is also vital that you report to work on time and complete job tasks assigned accurately and on time to contribute to the overall distribution center results.  As a Senior HR Specialist,  you'll be a key strategic partner for leadership, as well as a valuable resource and guide for team members, providing guidance, and support to make them successful. You'll make a positive impact on how team members experience organizational change, and you'll use information and close partnership with leaders to build the teams that achieve their specific business goals.  
Core responsibilities of this job are described within this job description. Job duties may change at any time due to business needs.
About you: 
High school diploma or equivalent experience
1+ years of administrative experience
Maintains positive and respectful attitude while working independently and in a team environment 
Proficient in word processing, spreadsheets, computer systems (examples include Excel, Word, O365)
Strong customer/client service skills and ability to communicate (written and verbal) with all levels of organization, both internal and external  
Anticipates problems (and escalates when appropriate), demonstrates strong prioritization and organization skills, catches errors, and takes action to complete tasks accurately and on time 
Ability to work with highly confidential information 
Ability to take initiative, and make fair and consistent decisions that align with our strategy and values
Ability to multi-task and be a flexible team player, who can easily adapt to change   
Schedule:
Sunday - Thursday
1pm - 9pm; with some flexibility
Americans with Disabilities Act (ADA)
Target will provide reasonable accommodations with the application process upon your request as required to comply with applicable laws. If you have a disability and require assistance in this application process, please visit your nearest Target store or Supply Chain Facility or reach out to Guest Services at 1-800-440-0680 for additional information.
Apply Now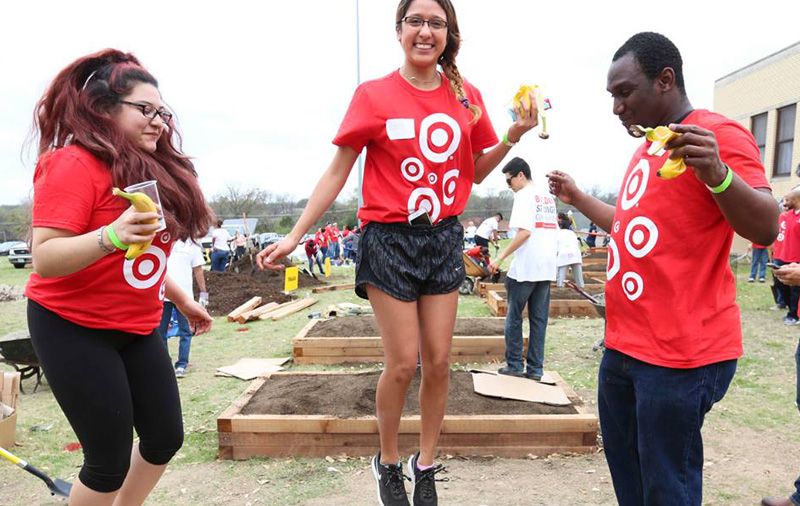 culture
What's it like to work here? We're asked that a lot. Target respects and values the individuality of all team members and guests—and we have lots of fun in all that we do.
experience our culture