Operations Coordinator
Apply Now
Job ID: R0000133384
job family: Clerical
schedule: Full time
Location: 300 Creekview Ave, Bldg H, Logan Township, New Jersey, United States, 08014;
About us:
Target is one of the world's most recognized brands and one of America's leading retailers.
Target Global Supply Chain and Logistics is evolving at an incredible pace. We are constantly reimagining how we get the right product to the right guest even better, faster and more cost effectively than before. We are becoming more intelligent, automated and algorithmic in our decision-making, so that no matter how guests shop—in stores or on Target.com—we deliver the convenience and immediate gratification they demand and deserve. We are on a mission to win decisively over any competitor, with a seamless and superior guest service experience unlike any they can offer. Our teams work with the agility our mission requires, and we constantly come together to implement new processes in record time.
A role in a Distribution Center means being on the very front lines of getting product to the guests safely, accurately, and as quickly as possible—a critical differentiator and one of the most essential Logistics functions. You'll reach beyond the bounds of your team to partner across the enterprise and find solutions to support the business. Whether it's through focusing on our regional or upstream distribution centers, import warehouses, or fulfillment and flow centers, you'll have a chance to positively impact thousands of fellow team members and Target guests worldwide, further differentiating Target from all the rest. There's so much good work to be done, from Distribution Center Operations, where process and problem-solving drive our results; Quality Management, which influences and maintains our good name in the retail marketplace, or overall Distribution Center Productivity, where we're always analyzing and recalibrating how to best support our people, process and technology investments to support an ever evolving business. 
PRIMARY FUNCTION
With supervision, assists the Operations Managers (OM) and Logistics Business Partner(s) (LBP)
in the following activities; managing and tracking high priority merchandise, solving distribution
related problems for merchandising, coordinating inbound load arrivals, coordinating the movement
of all receiving and shipping trailers to support warehouse operations, outbound deliveries to
guests, communicating with stores, backhaul routing and research of trailer and carrier
performance as necessary.
PRINCIPLE DUTIES AND RESPONSIBILITIES:
· Uses software applications to schedule inbound merchandise into the warehouse.
Ensures all modes of transportation are scheduled within the current best practice
guidelines. Contacts carriers to determine status of late arrivals and reschedules loads
as needed. Ensures all delivery paperwork is prepared appropriately and verified.
Ensures all loads in the warehouse yard are scheduled in a timely manner to ensure
level of service and avoid detention charges by carriers.
· Monitors merchandise to track its flow throughout the warehouse by utilizing warehouse
management systems. Ensures high priority merchandise is processed to meet
receiving expectations determined by the merchandising departments. Communicates
the status of merchandise to the receiving, shipping, and warehousing operations
managers and to the merchandising departments.
· Works with team members from receiving to resolve issues that prevent the proper
receipt of goods. Ensure product weight and dimensions are accurate, audits
completed to comply with shipping requirements. Communicates issues to
merchandising, vendor operations and carriers to ensure that issues are resolved in a
timely manner. Ensures shortages, overages, exceptions and damage is notated
appropriately. Ensures product recalls are executed within the guidelines of the best
practice and recalled product does not reach the guests home. Assists the Logistics
Business Partner and OMs in reporting the status of all merchandise recalls.
· Evaluates equipment requirements on a daily basis. Works with LBP and E&F partners for fleet
needs.
· Ensures the yard management system is updated to reflect the current status of all
trailers in the yard. Ensures all trailers are admitted and assigned to yard locations
according to the current best practices. Communicates effectively with all executives
regarding trailer needs, movement and progress.
· Works with delivery carriers to ensure Outbound loads are picked up in a timely manner
and manifests are delivered to the carriers daily.
· Produces reports for carrier and outbound performance measurements. Evaluates performance and provides feedback for key quality measures that impact the flow of freight into the warehouse, outbound deliveries and dwell time at other facilities. Participates in monthly carrier performance meetings. Notifies carriers when damaged merchandise is received. · Works with all carriers to ensure that Target's needs for drivers and equipment are met based on volume updates. Communicates weekly trailer delivery forecast to stores or other distribution centers and makes adjustments daily as needed. · Responsible for the accountability of all Target equipment. This includes conducting trailer inventories and monitoring global positioning reports. Ensures that the equipment is available for preventive maintenance checks and submitting work orders for maintenance needs.
REPORTING/WORKING RELATIONSHIPS:
Reports directly to the Operations Manager and has contact with many levels of merchandising,
stores, carriers, HQ Transportation, and external business partners. Works closely with warehouse
team members.
JOB REQUIREMENTS
MINIMUM REQUIREMENTS:
· High school graduate or equivalent
· Two years administrative support experience or some college coursework
· Work independently and in a team environment.
· Able to lift and carry merchandise weighing 35-45 lbs. frequently throughout a shift and up to
60lbs. occasionally.
· Able to use powered equipment (if applicable).
· Ability to read, utilize matching skills and comprehend department/product documentation.
· Good oral and written communication skills.
· Able to operate computer systems with minimal direction after receiving training.
· Ability to research defects/issues and root cause the drivers of those defects.
· Ability to perform basic data analysis in excel.
· Ability to work until "the work is done," which may consist of daily shifts of more than eight hours
Americans with Disabilities Act (ADA)
Target will provide reasonable accommodations (such as a qualified sign language interpreter or other personal assistance) with the application process upon your request as required to comply with applicable laws. If you have a disability and require assistance in this application process, please visit your nearest Target store or Distribution Center or reach out to Guest Services at 1-800-440-0680 for additional information.
Apply Now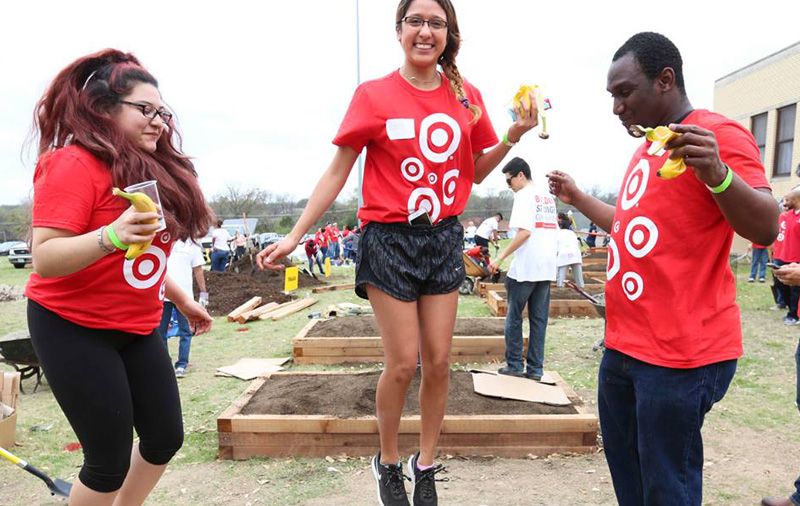 culture
What's it like to work here? We're asked that a lot. Target respects and values the individuality of all team members and guests—and we have lots of fun in all that we do.
experience our culture