Director of Communications
Apply Now
Job ID: MAR0001IF
Date posted: 04/12/2019
Location: 0501 - HQ MN Minneapolis Downtown, Minneapolis, Minnesota
Description:
Director of Communications at Target

Classification: Exempt

Date: February 2019

About us:
Target is an iconic brand, a Fortune 50 company and one of America's leading retailers.

A role with Target Communications means a chance to continuously improve the quality, relevance, creativity and authenticity of both internal and external storytelling. Bring your skills as a bold and forward-thinking professional communicator who thrives on building confidence, driving brand love and creating value. Here, you'll shine as a relationship-focused pro who's strategically minded, an expert executor and an articulate brand ambassador. Rise to the challenge of driving results with smart risk-taking, constant innovation and perpetual teaching and learning. Comprised of Public Relations, Public Affairs, Crisis Management and Internal Enterprise Communications, this team strengthens and protects Target's reputation and helps drive traffic, sales and guest loyalty. You'll develop deep relationships with business partners to ensure critical information flows through multiple channels, building confidence with team members and external stakeholders and strengthening Target's position within the competitive retail marketplace.

As Director of Communications at Target you and your team will be responsible for bringing to life the story of Target's priority merchandising initiatives across a variety of product categories, including: apparel, accessories, home, beauty, essentials, baby, kids, toys, electronics and more. You will oversee all aspects of internal and external communications, including executive communications and both proactive and reactive media relations. Your job is to reach a variety of stakeholders, from reporters and financial analysts to Target team members and guests, in a compelling manner that builds confidence, mitigates risk for one of the largest retailers in the U.S. and inspires consumers to shop.

Responsibilities include:

• Serve as communications counselor to Target's chief merchandising officer, developing his comprehensive positioning plan, inclusive of internal and external strategies, and supporting all communication needs including speechwriting
• Apply a strategic lens to the communications support of each of Target's product categories to ensure alignment and generate the most favorable outcome for the organization
• Work with your team to develop holistic communications plans in support of Target's priority merchandising initiatives and partner with the department's channel owners to bring stories to life via our owned platforms (i.e., A Bullseye View, internal marketing, etc.)
• Manage all proactive and reactive media inquiries related to Target's product categories
• Serve as a spokesperson for Target with business and consumer media
• Work with your team to manage any public relations related activities initiated by Target's merchandising vendor community and ensure they adhere to Target's vendor policies
• Manage external agency partner relationships and budgets
• Oversee Target's multicultural public relations activities and agency partners
• Serve as a member of the Communications leadership team, with a focus on department-wide planning and talent development

Skills required:

• Minimum of 10-15 years of professional experience, preferably including experience working at an agency and in a corporate environment
• A proven leader, with an ability to develop a strong bench of talent
• Ability to develop compelling communication strategies with clear and measurable goals
• A creative storyteller and versatile writer, with an ability to hone in on key themes based on audience segment
• Fluent in all aspects of internal and external communications, from executive speechwriting to media relations
• Expert media relations skills, with a high degree of comfort working with consumer and business press
• Experience serving as an external spokesperson
• Experience managing multiple external agency partners and large budgets
• Strong executive presence, with an ability to coach and counsel C-suite executives
• Strong business acumen and knowledge of the retail environment, media landscape and an ability to distill trends into communication implications
• Strong understanding of social media, including influencer marketing, and its intersection with traditional media and consumer perceptions
• Ability to work across multiple business units within a large, matrixed organization

Apply Now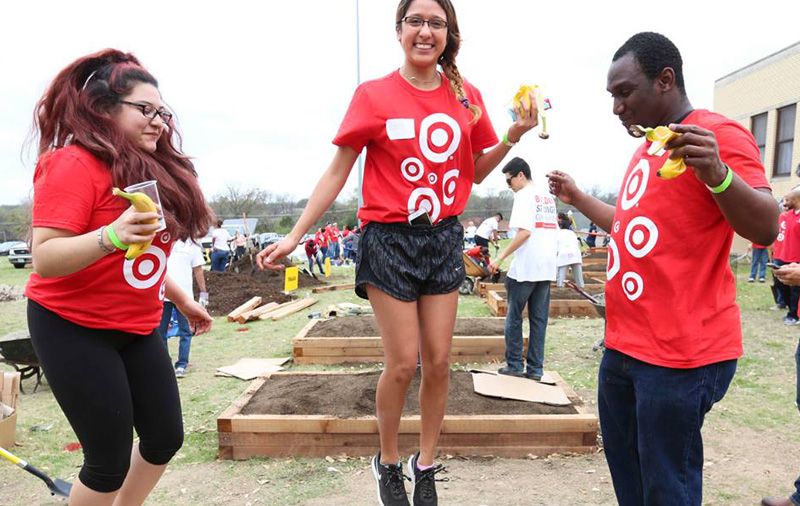 culture
What's it like to work here? We're asked that a lot. Target respects and values the individuality of all team members and guests—and we have lots of fun in all that we do.
experience our culture