Principal New Ventures
Apply Now
Job ID: R0000059420
schedule: Full time
Location: 33 South 6th Street, Minneapolis, Minnesota, United States, 55402-3601;
Description:
Principal, New Ventures
Target's New Ventures and Accelerators team (NVA), within our Strategy and Innovation function, seeks to prove out innovative concepts spanning the entire enterprise – new value propositions, omnichannel experiences and digital products, or exploration of use cases of emerging technologies. We prototype and experiment in order to prove out (or disprove) new ways for Target to grow. Principals think big and lead teams to conduct experiments and make recommendations (go / no go, business case, operationalization plans, etc.) around complex innovation opportunities within the New Ventures team portfolio. Principals are "T-shaped" people who have domain expertise in a key function (store operations, human centered design, digital / ecommerce, supply chain, merchandising, etc.) as well as the multi-disciplinary breadth to apply lean startup approaches to drive the project management of complex and ambiguous bodies of work. Principals can think strategically and envision bold, different, and new opportunities for Target and evangelize these opportunities with senior leaders and functional peers. They use both internal and external networks to "borrow" resources, drive cross-functional alignment, manage critical timelines, design and structure experiments, and lead creation of synthesis materials or other collateral as needed to support assessment of experiments and communication with executives. Must be a humble, curious, roll-up-your sleeves self-starter and jack-of-all-trades with the ability to imagine boldly, communicate effectively, think critically, get scrappy / entrepreneurial, and navigate ambiguity. 
Key Responsibilities
Provide bold vision, sound strategic judgment, day-to-day team leadership and development, structure, and project management through often ambiguous bodies of work. Responsibilities include but are not limited to:
Scope innovation projects, connect them to a clear business need, identify key senior and functional stakeholders, and articulate sharp and specific measures of success
Think boldly about opportunities, applying creativity and non-linear thinking to imagine new possibilities and inspire others
Evangelize to and align senior executives, internal functional leaders, and external resources as needed to get buy-in, create clarity / align expectations, secure resources, and provide transparency / visibility
Lead cross-functional "pod teams" to validate concepts, including business designers (strategists), experience designers, and engineers
Apply design thinking, lean startup, and other innovation methodologies (e.g., provocation-based research, low-fidelity prototyping, jobs-to-be done assessments, etc.) to projects; facilitate team alignment on approaches to research and methodology, actively teach these skills to team members, and continuously update the NVA toolkit for how to approach our work
Help teams define a "learning plan" for the work that includes industry, market, UX, or provocation-based research as needed
Drive teams to define and create prototypes of varying fidelity to support both research and live, in-market experiments
Define and execute in-market experiments to generate proof / disproof of desirability / feasibility / viability of concepts; define key performance indicators and metrics for each experiment; ensure these are statistically significant and that the appropriate signals are being measured given the stage of concept development
Project manage across generally ambiguously defined bodies of work; create clear structure, timing, action plans, meeting cadence, and support creation of recaps, presentation materials, ad hoc analyses, and other supporting materials as needed
Own project management tools (i.e. Trello, work plans, etc.) to ensure priority alignment across the New Ventures cross-functional team and other internal and external stake holders
Create and maintain weekly, monthly, and quarterly KPI reporting and communicate this out regularly to key stakeholders
Identify new processes and tools that need to be created or implemented to help the team achieve its goals 
Requirements
BS / BA
10+ years working experience, with specific experiences in an experiment-driven / entrepreneurial environment helping launch new products, services, experiences or businesses
Consumer-facing domain expertise in a key functional area (store operations, human centered design, ecommerce, etc.) with a successful track record of bringing experiences to market 
Proven ability to navigate and influence internal and external networks; ideally brings a strong horizontal internal Target network (but not required)
Experience coaching and developing team members, providing feedback and day-to-day guidance
Strong executive project management skills. Must be able to provide structure, be proactive, navigate ambiguity, manage stakeholders, hold others accountable without authority, and lead creation of appropriate professional collateral (e.g., decks, white papers, design briefs, RFPs, project plans, etc.)
Exceptional communication, active listening, critical thinking, and presentation skills, with experience presenting to executive leadership
Team player with ability to interact with multiple levels of the organization and external partners.
Humility, learner's mindset, with a high tolerance for ambiguity
Americans with Disabilities Act (ADA)
Target will provide reasonable accommodations (such as a qualified sign language interpreter or other personal assistance) with the application process upon your request as required to comply with applicable laws. If you have a disability and require assistance in this application process, please visit your nearest Target store or Distribution Center or reach out to Guest Services at 1-800-440-0680 for additional information.
Apply Now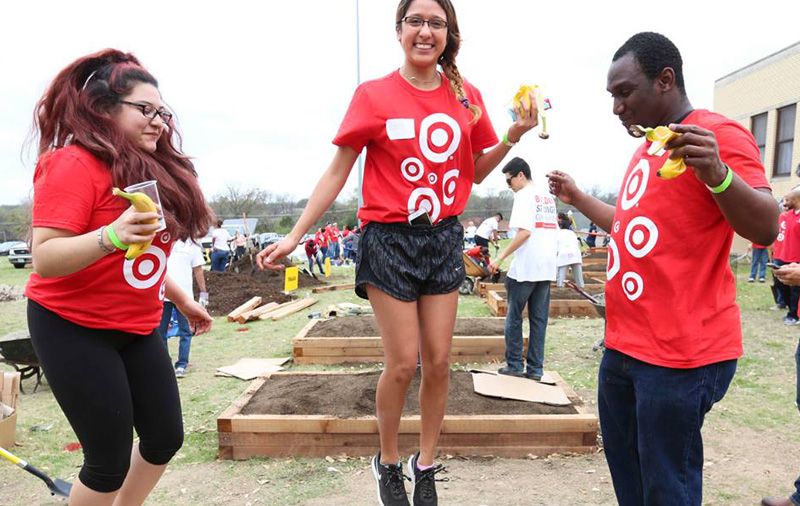 culture
What's it like to work here? We're asked that a lot. Target respects and values the individuality of all team members and guests—and we have lots of fun in all that we do.
experience our culture