Principal Product Manager – Site Reliability Engineering (Full-Time Remote or Hybrid)
Apply Now
Location: 1000 Nicollet Mall, Minneapolis, Minnesota, United States, 55403-2542;
job id: R0000243555
job family: Technology Product Management
schedule: Full time
As a Fortune 50 company with more than 350,000 team members worldwide, Target is an iconic brand and one of America's leading retailers.
Working at Target means the opportunity to help all families discover the joy of everyday life. Caring for our communities is woven into who we are, and we invest in the places we collectively live, work and play. We prioritize relationships, fuel and develop talent by creating growth opportunities, and succeed as one Target team. At our core, our purpose is ingrained in who we are, what we value, and how we work. It's how we care, grow, and win together. 
Every time a guest enters a Target store or browses Target.com, they experience the impact of Target's investments in technology and innovation. We're the technologists behind one of the most loved retail brands, delivering joy to millions of our guests, team members, and communities.
Join our global in-house technology team of more than 4,000 engineers, data scientists, architects, coaches and product managers striving to make Target the most convenient, safe and joyful place to shop. We use agile practices and leverage opensource software to adapt and build best-in-class technology for our team members and guests—and we do so with a focus on diversity and inclusion, experimentation and continuous learning
Target Infrastructure & Operations is the digital root system of Target Technology Services. Our power lies in both anchoring Target business operations and fueling its competitive edge for continued growth. Here, you'll be essential to our mission to deliver world-class products and services. You will help us differentiate through customer-centricity, reliability and unmatched seamlessness of interaction. On our team, you'll foster our culture of collaboration and celebrating achievements. Your work will result in the successful integration of guests, team members and Target HQ to leverage the collective strength of the Target team and the technology and supplier ecosystem. You'll be able to directly connect your work to the value our guests expect and deserve, and the infrastructure your teammates and partners rely on. You'll answer the call for flexibility, availability and responsiveness by empowering our developers with the right tools to make life easier for team members at headquarters, stores and distribution centers
Product Teams at Target Corporation are accountable for the delivery of business outcomes enabled through technology and analytic products that are easy to use, easily maintained and highly reliable. Product teams have one shared backlog that is inclusive of all product, technology and design work. 
You will be supporting the Site Reliability Engineering (SRE) organization, who are part of the Production Engineering team within Infrastructure. Our mission includes the faster detection and recovery of experience centric infrastructure components. This organization quickly iterates on software to solve immediate business challenges and range in scope from tooling to enable observability services to automating CI/CD pipelines.You will not be responsible for product development practices or, at first, product scoping. You will be depended upon to understand and highlight opportunities to share, reuse, and further invest in SRE solutions to known problems. You will help all of Production Engineering and our larger Infrastructure organization learn and leverage SRE expertise through your work. At times, that will mean spearheading new product lines that fill discovered gaps. Other times, you will be encouraging divesting in one product space to reinvest in another.
As a Principal Product Manager, you will work in the product model and will lead the development of a comprehensive product strategy and set key business objectives (OKRs) for your respective product domain. You will need to leverage extensive knowledge of your product, as well as, customer feedback, key data and analytics, and other relevant data points to assess value, develop business cases, and prioritize the direction and desired outcomes for your product. 
You will be the "voice of the product" to all outside stakeholders advocating for your product and ensuring their needs are met and that the product team is getting the leadership and support that it needs to be successful. You will need to cultivate strong relationships across the enterprise in order to drive collaboration and alignment with key partners and stakeholders across pyramids. 
You will develop and actively maintain a product roadmap outlining prioritization for the customer themes, technical needs, and design challenges to be delivered and you will be accountable to make final decisions on scope and prioritization relative to the product backlog. You will be accountable to create and manage product objectives and key results, key metrics for your product, as well as related P&L impacts. 
You will oversee progress against product backlogs to ensure work and priorities are in line with the product strategy while prioritizing themes, epics, and stories, to ensure work focuses on those with maximum value that are aligned with the product strategy. 
Core responsibilities of this job are described within this job description. Job duties may change at any time due to business needs.
Four-year degree or equivalent experience

10+ years of product management or equivalent domain experience involvingSRE, incident response, or release management

Strong communication skills with proven ability to influence peers, key stakeholders and leaders

Expert at working in an agile environment (e.g., user stories, iterative development, scrum teams, sprints, personas)

Ability to plan and set a strategy, define Organizational Key Results (OKRs), communicate and drive business outcomes

Experience making significant contributions to product decisions and navigating ambiguity to get there

Experience and interest in influencing a product organization to learn from SRE expertise

Experience with SRE and business technology and ability to facilitate communication between teams
This position may be considered for a Full-Time Remote or Hybrid work arrangement based on Target's needs.  A Hybrid work arrangement means the team members core role will be a blend of virtual and onsite at a Target location.A Full-Time Remote work arrangement means the team member works full-time from home or an alternate location that's not a Target location, does not have a desk at their primary HQ work location and may travel to HQ up to 4 times a year.
Colorado, Connecticut or Nevada Residents Only: The salary range for Colorado, Connecticut or Nevada residents is $137,500 to $247,500. Pay is based on several factors including but not limited to education, work experience, certifications, etc. In addition to your salary, Target cares about and invests in you as a team member, so that you can take care of yourself and your family. Find competitive benefitsfrom financial and education to well-being and beyond.
Americans with Disabilities Act (ADA)
Target will provide reasonable accommodations (such as a qualified sign language interpreter or other personal assistance) with the application process upon your request as required to comply with applicable laws. If you have a disability and require assistance in this application process, please visit your nearest Target store or Distribution Center or reach out to Guest Services at 1-800-440-0680 for additional information.
Apply Now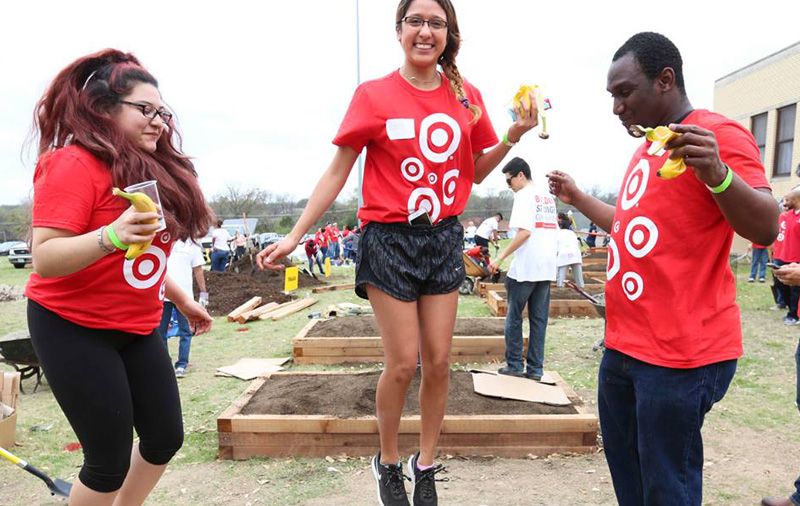 culture
What's it like to work here? We're asked that a lot. Target respects and values the individuality of all team members and guests—and we have lots of fun in all that we do.
experience our culture