Product Designer Beauty
Apply Now
Job ID: R0000167344
job family: Creative Design
schedule: Full time
Location: 1000 Nicollet Mall, Minneapolis, Minnesota, United States, 55403-2542;
Target is one of the world's most recognized brands and one of America's leading retailers.
Product Design & Development
At the heart of one of the world's best loved and most recognizable brands is an impeccable Product Development & Design organization. We thrive on the magic of discovering that just-right thing, and we infuse everything we do with our passion for affordable chic. We concept, develop,makeand deliver the stylish new favorites that Target guests expect and deserve. We are uber-savvy trend and style experts who stay ahead of the curve, proactively identifying our market's needs and exceeding them, every time. Join one of our dynamic and inventive teams to influence the style, quality and value that decisively position Target above the competition. Your input will have a direct and positive effect, whether on home, hardlines or apparel & accessories. Here, you'll be close to the action of dreaming up and bringing to life the Target-owned brands that surprise and gratify guests, wherever and whenever they love to shop. 
A role with theDesign& Developmentteam means a big opportunity to start from scratch and create something truly original.  Do you have an entrepreneurial spirit? Are you a design expert who can support your business by staying one step ahead of industry trends, newmaterialsand techniques? Can you demonstrate the utmost attention to detail and create products that are unprecedented in the marketplace for their design and quality for the price? Then you'll have success on our Design team who owns the design and development of all Target-owned brands, from apparel to home goods, and beauty to essentials. In close partnership with our merchant and sourcing counterparts, you'll drive brand cohesion and continuity, ensuring that our products meet the merchant line plans, assortment strategies, price points and overall creative direction.  The exciting part of retail? It's always changing!  Core responsibilities of this job are described within this job description.  Job duties may change at any time due to business needs.
Self-starterthatis able tobring together both strategic and critical thinking to craft a vision for product thatexceeds Guests' expectations through unexpected quality atsurprisingprices.
High ability to critically break down market brands, launches and assortments to creatively and clearly communicate"what it means for Target"-visuallycapturingbothanholistic POV +theindividual components thatcompriseitsDNA.
Ability to create inspirational visual presentationsthat clearly lay out opportunity andsolution
Ability to present and review work on a regular basis with Director and Sr. Leaders is critical; as well as attendance at development meetings to represent point of view and product as appropriate.
Be adept at developing and demonstrating a clear point of view/vision for the brand/product along withother Designers & Scientist usingstrategic initiatives, costing goals,trend ideas,Guest needs/valuesand market knowledge. 
As aProductDesigner,you will partner withfellow Designers, Trend Designer,Scientists,Technical Designers, Industrial Designers, Packaging,Merchants, Sourcing and Vendors to understand the business initiatives, product functional requirements and performance expectations to ensure consistency of product.
Must exhibit an understanding of divisional strategic initiatives and proactively workto implement supportingproductsolutions. 
Create and design product through sketches, mood boards, renderings,modelsand control drawings that meet business strategy.
Collaborate with Merchants, Sourcing and Scientists to ensure product designs are manufacturable and meet set price-points; take part in Cross Functional Team meetings (including Design, Merchants, Sourcing, Packaging and Compliance).
Keen focus on developing products that meet brand intent for style, quality, performance,valueand payoff.
Must use judgement/discretion to make decisions on product direction and changes or escalate appropriately. 
Clear and timely communication with external partners viatimely sample evaluations, understanding current manufacturing processes, innovations limitations and to ensure the brand vision is appropriately understood and executed.
Target is a Guest led company and the ability to understand the overall Target guest, the core guest within the product/brand/category and how the guest will use the product is key to success.  
Demonstrate the ability to survey competitive landscapeanddevelop best-in-class products by identifying trends as well ascurrent and emerging competitors.
Stayingon top of the latest beauty and lifestyle trendsfindingopportunities for new products, variations and ideasis critical.  
As anintegral part of the CFT you will need to deliver market research -competitor product offerings & positioning to help guidestrategy.
Attendance atconferences, trade shows and trainings to remain current on industry innovation and regulation climateis expected.
Soap – bodywash, handand sanitizer
Four-year degree in design, fineartor related degreeor equivalent work experience
2-4years relevant experience.
Technical skills:  Photoshop, Illustrator, InDesign, PPT or basic computer design system skills.
Passionate about thetotalbeautyand personal careindustries.
Demonstrates a can-do attitude.
Thrives in ahighly collaborative,entrepreneurial environment.
Comfortable navigating ambiguity and bringing a clear vision to life
Demonstrated creative sense and ability including trend/market awareness.
Demonstrated ability to work independently with minimal supervision.
Excellent written/verbal communication skills &abilitytoleadcreative, focused, visual presentations.
Ability to successfully workand leadothersin a team environment.
Ability to work in a fast-paced, often changing collaborative environment.
Ability to communicate business and design details across various department levels.
Ability to travel as needed.
Americans with Disabilities Act (ADA)
Target will provide reasonable accommodations (such as a qualified sign language interpreter or other personal assistance) with the application process upon your request as required to comply with applicable laws. If you have a disability and require assistance in this application process, please visit your nearest Target store or Distribution Center or reach out to Guest Services at 1-800-440-0680 for additional information.
Apply Now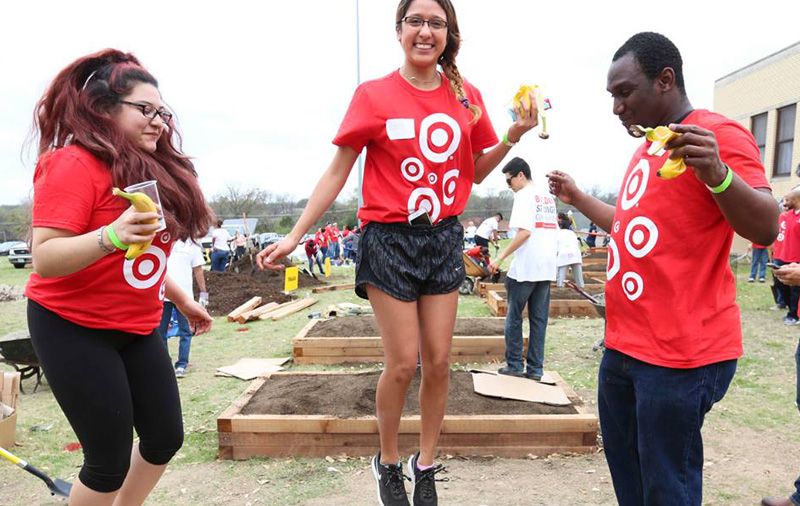 culture
What's it like to work here? We're asked that a lot. Target respects and values the individuality of all team members and guests—and we have lots of fun in all that we do.
experience our culture