Product Operations Project Manager
Apply Now
Job ID: R0000170552
job family: Project Management
schedule: Full time
Location: 1000 Nicollet Mall, Minneapolis, Minnesota, United States, 55403-2542;
About us:
Target is an iconic, beloved, and well recognized brand, a Fortune 50 company and one of America's leading retailers.
Target Owned Brand Sourcing & Development (OBS&D) - At the heart of one of the world's best loved and most recognizable brands is an industry leading Owned Brand organization. We thrive on the magic of discovering that just-right thing, and we infuse everything we do with our passion for affordable chic. We concept, develop, make, and source the stylish new favorites that Target guests expect and deserve.  Join one of our dynamic and inventive teams to influence the style, quality, and value that decisively position Target above the competition. Your input will have a direct and positive effect, whether on home, food & beverage, or apparel & accessories. Here, you'll be close to the action of dreaming up and bringing to life the Target-owned brands that surprise and gratify guests, wherever and whenever they love to shop.
The Strategy & Operations team within OBS&D is comprised of project managers, operations managers, and innovation strategists. A Project Manager drives all phases of Owned Brand product creation, from project kick off through results analysis.  The Project Manager is responsible for understanding business objectives as well as establishing the optimal product and packaging approach to deliver on guest expectations.  The Project Manager may be accountable to sample management for their respective categories as well as leading a team of product specialist. 
Project Managers will manage smaller department(s) and/or product categories and may lead smaller initiatives beyond their normal responsibilities. 
Create and own Project Plan, State-Gate Approach & End to End Timing & Action (T&A) to support an integrated project & packaging creation process. 
Responsible for establishing the optimal approach for the project, product category, and business partners to ensure efficiencies are in place and guest needs are met, including R&D and out of cycle activities for all Owned Brand categories.
Partners with project team and stakeholders to define project requirements, constraints, and assumptions in order to establish the project deliverables, resources needed, and timelines. 
Outlines project requirements and seeks necessary input from all functional areas.
Ensures project aligns with master project calendar and delivers on business objectives, strategy, and project goals.
Coordinates all tasks outlined in the project plan (from kick-off through results analysis).
Identifies opportunities for efficiencies in future projects by leveraging analytics, reporting, & hind-sighting to drive future State-Gate and Project Plan improvements.
Responsible for establishing a single source of truth T&A that clearly outlines owners, actions, and timing from project activation through results analysis evaluation.
Oversees and tracks T&A activities, documents change to drive accountability, and applies learnings to future projects.
Own project resource management activities & process
Partners with key stake holders to align resources to project plan(s) to achieve desired outcomes.
Manages and facilitates resource scoping and project plan alignment in partnership with Pipeline Management, Directors, and project team.
Ensures resources and skills are appropriately aligned to meet the deliverables of the project.
Tracks resource changes, risks, and applies learnings to future projects.

Drive Owned Brand Business Results by facilitating the cross-functional Owned Brand Product & Packaging creation process, including Phase & Stage-Gate management
Unbiased, strategic thought partner that leads CFT members through Owned Brand product & packaging creation
Establishes and manages relationships with all AOE's required to participate in the project
Leader & facilitator of cross-functional team meetings, phase & stage-gate meetings
Monitor's compliance of activities from Project Kick-off through Results Analysis
Identifies, tracks, & facilitates risk mitigation plans by anticipating potential roadblocks & risk before they occur, understand implications of risk, and escalate conclusions to the appropriate levels.
Project leader that leverages interpersonal skills to influence project teams & leaders to find quick resolution and move the project forward in a constructive manor 
Use problem solving & critical thinking skills to facilitate effective decision making within the cross-functional team
Create State-Gate & Project Plan visibility through the use of a Project Command Center.  Establish a centralized location for project teams and leaders to access information regarding the health & progress of phase and lock gates. 
Champion change management and incorporate methodologies as project teams experience various degrees of change
Conducts crises management during production by bringing the right project team members together to resolve the issue.  Develop a communication & escalation plan to CFT & leaders as needed
Conducts post launch project evaluation for every project and use lessons learned to identify opportunities to enhance future Stage-Gate and project plans.  Share these findings with project team, pipeline management, & Sr. leaders when applicable. 
Minimum Job Requirements
3+ years of Project Management experience or experience running structured well-coordinated approaches to projects
Project Management Certificate, PMP Certification, or Agile training
Excellent written and verbal communication skills & comfortable communicating with all levels, including Sr. level leaders
Excellent organizational skills & attention to detail 
High sense of urgency, initiative, & proactive planning
Ability to work in collaborative team environment and manage relationships with team and key business partners
Strong interpersonal skills
Excellent attention to detail
Ability to think critically and solve problems
Respects, appreciates and values diverse voices and approaches
Committed to creating equitable experiences and fostering an inclusive team
Desired Requirements
Understanding of product development
Mentoring or coaching of others
Capable of leading teams through change
Knowledge of Project Management systems & tools
Americans with Disabilities Act (ADA)
Target will provide reasonable accommodations (such as a qualified sign language interpreter or other personal assistance) with the application process upon your request as required to comply with applicable laws. If you have a disability and require assistance in this application process, please visit your nearest Target store or Distribution Center or reach out to Guest Services at 1-800-440-0680 for additional information.
Apply Now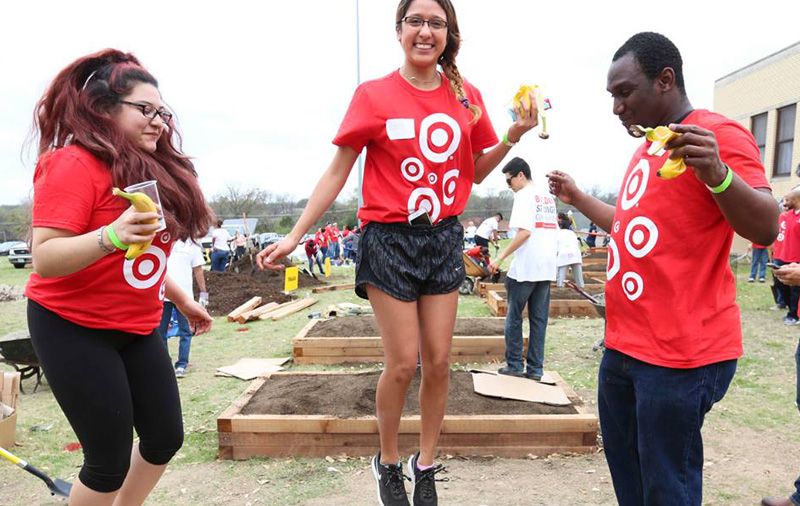 culture
What's it like to work here? We're asked that a lot. Target respects and values the individuality of all team members and guests—and we have lots of fun in all that we do.
experience our culture